At Eurobike 2015, SRAM unveiled its long-awaited electronic wireless drivetrain, named SRAM RED eTAP. At Interbike 2015, Cyclocross Magazine had one of the first rides on the new drivetrain. While the first test was on a Focus road bike equipped with road tires, you can be sure of one thing: I was evaluating the SRAM RED eTAP componentry on their cyclocross and gravel-worthiness. Maybe you've read a few words already about the group on road-oriented websites, but we sought to bring a cyclocross and gravel-dirtied lens to view the new electronic and wireless group.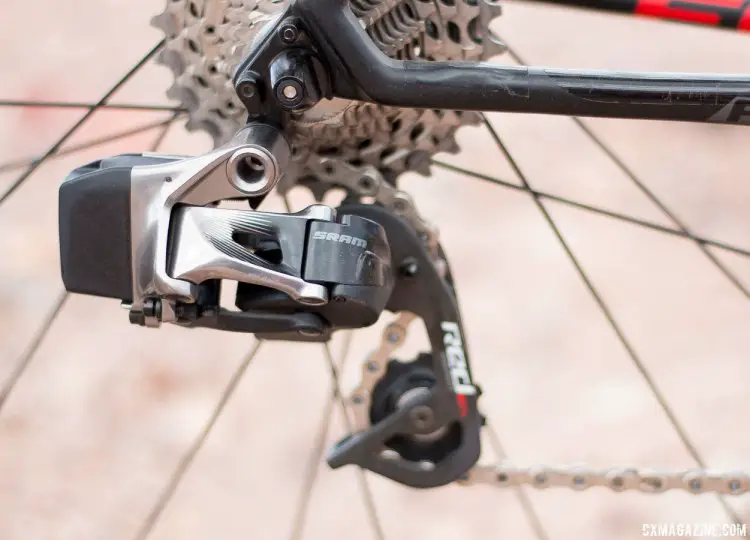 The SRAM RED eTAP electronic / wireless drivetrain shares the same type of battery with the front derailleur, and controls all the pairing. Short cage only, max 28t for now. © Cyclocross Magazine
SRAM has its cyclocross-oriented Force 1 (formerly CX1) component group, and nearly all of its sponsored cyclocross athletes will remain on Force 1 this season, with a few notable exceptions, such as Wout van Aert riding with SRAM RED 22 mechanical at CrossVegas. But you can be sure that enthusiasts building their dream cyclocross or gravel bike, and racers looking to try the latest and greatest, will be anxious to test the new electronic group in the harsh elements of cyclocross and gravel riding. As CXM's resident senior bike geek, I certainly fall into that group.
On paper, SRAM's accomplishments are impressive, and there are a few attributes that separate it from Di2 and Campagnolo. The SRAM RED eTAP wireless system makes installation easy, quick and clean, eliminating battery or wiring placement concerns. Also, in typical SRAM fashion, the system also gives a nod to weight weenies, with a negligible weight gain over its already lightest-in-class RED 22 mechanical groupset (when you consider the weight of cables and housing with the mechanical system). It's also more than half a pound lighter than Di2 for a full component group. See the table in our slideshow for full SRAM RED eTAP component weights.
Riding SRAM RED eTAP:
Now that we've gotten that out of the way, let's talk about how the actual ride experience of SRAM RED eTAP. If you haven't read our previous post on the group, I'll remind you that the right eTAP shifter upshifts the rear derailleur (harder gears), while the left eTAP shifter moves you to lower gears. Hold down either shifter and it moves through the cassette with sequential shifts.
To shift the front derailleur, you need to tap both eTAP shifters simultaneously, and the front derailleur will move you to the other chainring.
New cyclocross and gravel bike shoppers will have to be patient, as the first iteration of SRAM RED eTAP is road-oriented, lacking hydraulic, single chainring (1x) and wide gearing options, but with a 28t maximum cog out back, and cyclocross (36/46) chainring compatibility up front, the initial iteration of eTAP can still handle standard cyclocross gearing.
Having spent time on many variations of drivetrains, including a lot of time on SRAM DoubleTAP-equipped review bikes, I was worried I'd be confused and that it'd take time to master the system, but it really only took a few shifts and then it became second nature. Granted our test ride was a rather leisurely (but blustery) road ride through relatively smooth bike paths and roads from Boulder City to the Las Vegas Strip rather than a redline-inducing, cowbell ringing environment of cyclocross. Even so, the single tap of the shifter almost seems immediately more intuitive than the short throw/long throw of DoubleTAP.
Keep reading for more impressions and a video of the new SRAM RED eTAP electronic wireless drivetrain.