Today, SRAM gave the green light on releasing the details surrounding their latest wireless eTap drivetrain, a group that has been five years in the making, long enough to see Shimano Di2 and Campagnolo EPS come to market before. Will the wait for wireless be worth it? You may have to be stay tuned for our review.
Let's get a few of the most burning questions out of the way. Naturally, there will be more batteries associated with a wireless system, however, SRAM cleverly employed them throughout the system. Because the motors of the derailleurs take the lion's share of the energy in electronic groups, each wireless derailleur will have its own large rechargeable battery directly mounted, while the shifters themselves will only require the small coin CR2032 batteries. (Amazingly enough, the total system weight isn't that far off from Red Mechanical groups).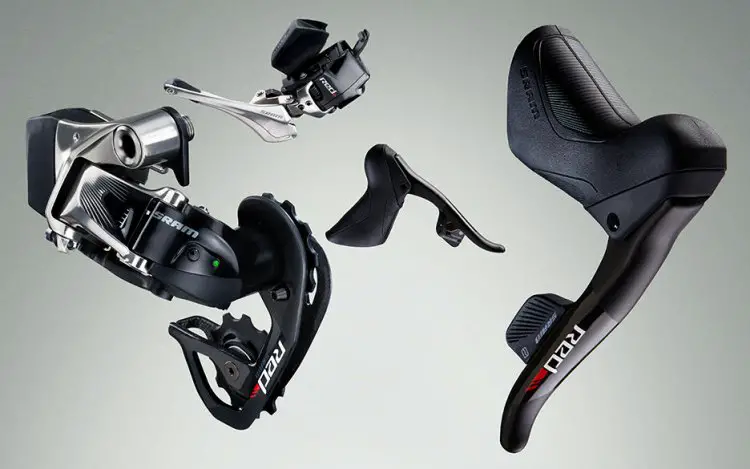 Secondly, the Wireless system is called Airea, and it's not Ant+ or Bluetooth. Sure that means you can't control the shifters from your smartphone, but it also makes the system incredibly difficult to hack into. To put this in perspective, plenty of automobiles on the road today use a comparable technology.
Most importantly to our readers, gravel and cyclocross riders will have to make a few sacrifices. Right now, the rear derailleur only makes accommodations for a largest rear cog of 28t, so don't start dreaming of mating eTap with your newest XD driver just yet. Secondly, SRAM reports that the system is not compatible with the Force 1 or Rival 1 front chainring. Also, SRAM's eTap isn't compatible with hydraulic brakes just yet. We're expecting changes to be made in these respects, and soon.
Lastly, the shifting itself is reportedly one of the most intuitive out there. The right lever paddle downshifts while the left lever paddle upshifts. The front derailleur is controlled by pressing both buttons at once. This is certainly a far cry from DoubleTap, and will likely be welcome by riders who don't have a vast experience shifting on a road bike.
Complete Road Groupset MSRP: $2,758 €2,691* £2,059*
From SRAM:
At SRAM, we know that if a technological advancement clutters the experience, it shouldn't be called an advancement at all. Because it's a bicycle. It's supposed to be simple. To make something elegant to the point where it removes what's in the way… that's advancement. And that is the standard we held ourselves to while developing our first electronic shifting system. It's called SRAM RED eTap.
Featuring SRAM's advanced shift logic (right lever makes it harder, left lever makes it easier, both levers to change the front ring) with SRAM RED eTap you'll shift more, with less effort and spend lest time doing it. Shifting has never been more intuitive or as easy as this.
And SRAM RED eTap is engineered to go the distance. It has been rigorously and successfully tested for years on the professional and WorldTour level. And now, it's ready for the rest of the world. Are you ready to shift forward?
SRAM RED ETAP Shift Levers
Our revised ERGOFIT controls seamlessly connect rider and machine with REACHADJUST™ to fit any hand. Carbon ERGOBLADE levers and large SRAM eTap© paddles provide positive controls for rider input that make it virtually impossible to mistake an upshift for a downshift. Weight: 260g per pair
SRAM RED ETAP Rear Derailleur
The SRAM RED eTap rear derailleur executes shifts the moment you demand it, with military precision. Wirelessly. It's easy to set up, clean in appearance and delightfully uncomplicated. Mechanical necessities such as a carbon pulley cage, ceramic pulley bearings, and high polished alloy artfully blend with proprietary electronic advancements to deliver a 239g* shifting wonder. *including battery
Maximum 28t cassette capacity.
SRAM RED ETAP Front Derailleur
SRAM YAW™ technology changed front shifting forever, eliminating the need for trim. The SRAM RED eTap Front Derailleur makes a good thing better by executing front shifts confidently and quickly over our proprietary wireless communication protocol. While the eTap shifter optimizes Yaw™ shifts as needed throughout the gear range with no need for rider input. At 187g including battery, the SRAM RED eTap front derailleur maintains SRAM's best-in-class weight title.
SRAM RED ETAP Blips
SRAM RED eTap Blip satellite shifters allow you to shift when you want, where you want. Run up to two remote positions per side with limitless placement options. When mated with the aero bike specific BlipBox control module, your aero machine's gearing is as forward leaning as the rest of bike.
Complete Road Groupset MSRP: $2,758 €2,691* £2,059*
Includes:
Pair of Shift/Brake Levers
Front Derailleur with battery
Rear Derailleur with battery
GXP Crankset
GXP Team English Bottom Bracket
XG-1190 Cassette
RED 22 Chain
Brakeset
Battery Charger
USB Stick
Complete TT Groupset MSRP: $2,678 €2,621* £2,014*
Includes:
Blips x2
Blips x2
BlipBox
Front Derailleur with battery
Rear Derailleur with battery
GXP Crankset
GXP Team English Bottom Bracket
XG-1190 Cassette
RED 22 Chain
Brakeset
Battery Charger
USB Stick
SRAM RED eTap comes as standard equipment on top 2016 complete bikes from brands including, but not limited to: Specialized, Giant, Trek, Focus and Canyon.
*Including VAT
More Info: sram.com
You can also see first impressions, uploaded to YouTube, by GCN: