Parlee has a long history in cycling and bike racing. Way back in the day, friend of CXM and occasional contributor Steve Ransom helped founder Bob Parlee cut up and study competitors' carbon fiber frames as the company was forming outside Boston in 2000. Perhaps long-time road racing fans remember almost as far back when Tyler Hamilton raced a custom Parlee Z1 rebadged with Look logos to second in the Giro D'Italia.
But Parlee's pedigree isn't just on the pavement. More recently, CXM readers have seen podium-earning Parlee cyclocross bikes from Masters Cyclocross National Champion Phil Bannister and cyclocross pros Danny Summerhill and Erica Zaveta of the Maxxis-Shimano cyclocross team, with their custom Z-Zero XD machines last season.
Yet only recently did we have an opportunity to throw a leg over a Parlee, and the new bike caused some confusion. Is it named after a Star Wars character? And was it a cyclocross or gravel bike?
Of course, loyal readers know that Cyclocross Magazine fights strict categorization of bikes. Many of us don't just ride one or the other, and can't afford a bike for every surface. Parlee is acknowledging this philosophy with its new Chebacco disc brake drop bar bike. Named after the mid 1600s European settlement Chebacco Parish in Massachusetts's Essex County that's filled with old roads, paths and trails, the Chebacco is described by Parlee as:
"…it's at home wherever roads can get rough and rides turn into adventures. Gravel grinding, cyclocross racing, tackling a commute in the urban jungle. Now, for the first time, you can do all those things on one bike that delivers remarkable versatility plus the signature Parlee ride quality."
So basically the Chebacco is a high-end carbon do-it-all bike, which makes sense in that if you're able to spend a bit of coin on a nice ride, you'll probably want to ride it on most of your rides, regardless of terrain.
And since we brought it up, the Chebacco might be as adventuresome as the similarly-named fury friend in Star Wars, but it's spelled differently (Chewbacca), and aims to be more refined in its feedback than Chewie.
The Parlee Chebacco Frame
Now that we got that confusion out of the way, what do we have? We've got a versatile bike that Summerhill, Zaveta and team will be lining up on to contest UCI cyclocross races this season. The Maxxis-Shimano team started on Z-Zero XD bikes last year as the stock Chebacco frames weren't available at the time, but Parlee says its new bike's geometry works well for its riders.
Parlee only works in carbon. Our ML test frame doesn't make waves in terms of geometry, with moderate angles, a relatively low bottom bracket (7cm drop), and tad-long chainstays at 43cm. Parlee Cycles offers three different sizes of its iconic, aero-shaped contoured headset top cap it calls Flex Fit, and the different heights provide stack measurements of 58.9-60.3cm and a reach of 37.5-37.9cm (the taller top cap has a bigger stack, shorter reach) on our ML frame.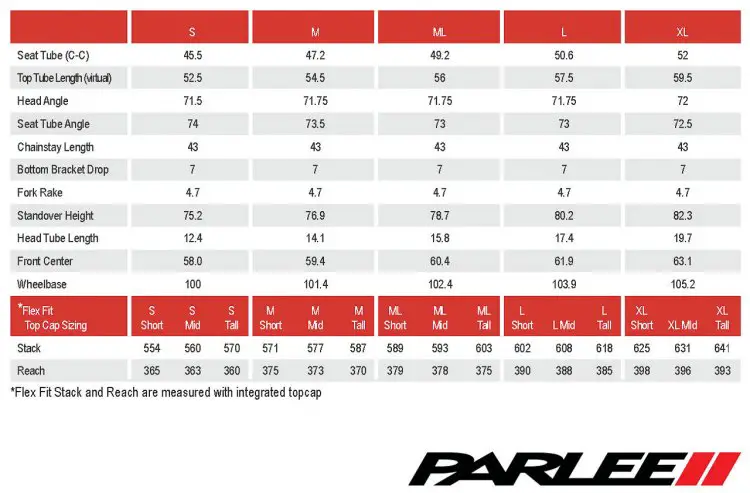 The lower bottom bracket is welcomed, especially when paired with higher volume tires like the Maxxis 40c Rambler rubber that came on our test bike.
The frame features a PF30 bottom bracket shell, a slightly sloping top tube, big tire clearance (40c with fenders according to the company), and mountain bike standard thru axles of 142/12mm rear and 15mm front. The company says a medium frame should weigh around 1000 grams.
Unlike its custom models that are made in the USA, stock models like the Chebacco are handmade in China.
If you've read this far, chances are you know Parlee bikes aren't for the budget-constrained cyclist, but at least with the Chebacco, Parlee is confident it could handle the duties of many of the bikes in your stable, and help you justify the cost by replacing a few of them.
A frameset only is $3999. Think of all the complete bikes you can buy for that. And that's the point, in that Parlee is hoping you'd rather buy a complete bike from them.
Parlee Chebacco Build
Parlee sells complete Chebacco bikes with Shimano 105 for under $4500, while Ultegra/RS785 Di2 bikes start at $5999.
Our Ultegra Di2 test bike featured Parlee's own carbon cockpit, including a carbon bar and stem, and a carbon post with 25mm offset that's designed to flex and add comfort. That upgrade? A whopping $950.
Add in the $700 the Mavic Ksyrium Pro Allroad wheels, and we're suddenly riding a $7649 machine, and sure have come a long way from Cheap Bike Hunting.
On our scale, the complete bike with Maxxis Rambler 60tpi 40c tires and inner tubes was not a featherweight at 18.2 pounds, but take away the wheels (and tires, cassette, etc.) and it's quite light at 10.9 pounds. So if you've got a set of race day wheels, the Chebacco can be a weight weenie pleaser.
Parlee Chebacco Initial Impressions
Will such an investment be worth it? Without a view into your financials, we can't answer that, but a few initial test rides certainly have left us impressed. First rides took very little getting used to. We've bombed singletrack, climbed fire roads, and ridden what we imagine are Chebacco Parish-like roads without feeling like we were ever compromised on any of those surfaces.
Our only complaint so far? We haven't figured out a way to quiet the brake hose that's internally routed inside the frame. On washboard surfaces, it takes advantage of the full carbon echo chamber and lets you know it's there. It's a common issue we've seen on internally-routed bikes including the new Cannondale SuperX, but it's a solvable one.
Parlee has done its homework in designing a versatile bike that will let you race cyclocross, gravel, road and singletrack without compromise, and we're so far liking what we've experienced. Stay tuned for our full review in our print and digital magazine, but see the full photos and specs highlights of this review bike below.
Parlee Chebacco Bike Specs:
MSRP: $3999 frameset only, $5999 Ultegra/R785 Di2 bike, $7649 as tested with Mavic Kysrium Pro Allroad wheels (+$700) and Parlee Cockpit (+$950)
Front Derailleur: Shimano Ultegra Di2 RD
Rear Deraileur: Shimano Ultegra Di2 FD
Headset: Cane Creek Carbon Headset
Bottom Bracket: Parlee Shimano PF30 BB
Crankset: Shimano Ultegra Crankset
Brakes: Shimano RS785
Shifters: Shimano R785 Di2
Cassette: Shimano Ultegra
Chain: Shimano Ultegra
Handlebar/Stem/Seat Post: Parlee
Wheels: Mavic Ksyrium Pro Allroad Disc
Saddle: Fizik Arione Kium Saddle
Country of Origin: China
Weight: 18.2 pounds w/0 pedals, 10.9 pounds w/o wheels
More info: parleecycles.com
Parlee Chebacco Photo Gallery: