by Greg Evans
With bold, orange decals over a bare carbon frame, the Parlee Z-Zero XD stood out in a sea of pro bikes that were ready to contest this year's CrossVegas World Cup cyclocross race. Parlee is based in Beverly, MA, and builds its frames from high modulus carbon fiber.  The frame is constructed through tube-to tube construction, but with a goal of producing a lightweight carbon frame.  Some highlights of the frame include molded carbon dropouts and a tapered head tube.
The Z-Zero XD is the bike of choice for the brand new Maxxis-Shimano Cyclocross Team, and teammates Danny Summerhill and Erica Zaveta were the two riders tasked with piloting the Parlee through the course.  Danny and Erica ended up with 32nd and 21st place, respectively.
The builds vary slightly between riders, and feature some interesting component choices.
Danny Summerhill's Parlee Z-Zero XD on raceday at CrossVegas 2015. © Cyclocross Magazine
Danny Summerhill, the former U23 American National Champion and 2007 U23 World Championship silver medalist, had his bike outfitted with a Shimano Dura-Ace Di2 9070 drivetrain and RS785 hydraulic disc brakes.  While the trend of 'cross bike builds has shifted toward a 1x setup, Danny has chosen to stick with two rings up front.  Equipped with a 52t outer chainring, the bike featured a monstrous gear, much bigger than seen on the single ring setups, and even the typical 36/46 double typically stocked on cyclocross builds.  Shifting across the cassette is assisted by remote Di2 climbing shifters, positioned on the underside of the PRO Vibe 7s handlebar.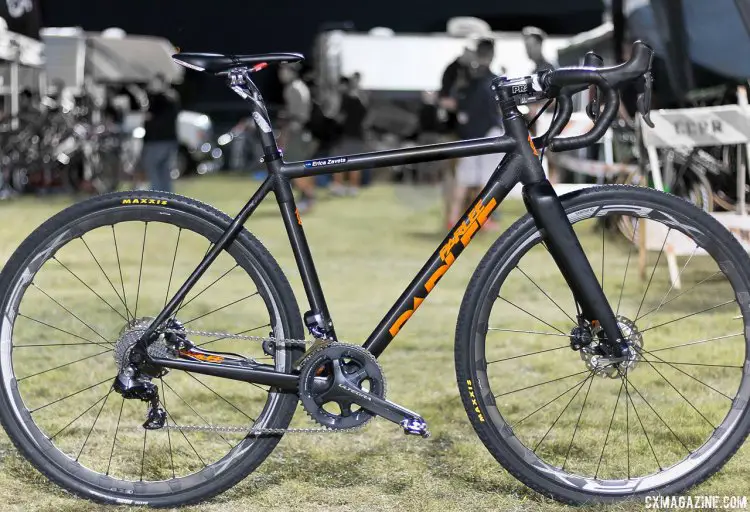 Erica Zaveta's Parlee Z-Zero XD on race day at CrossVegas 2015. © Cyclocross Magazine
A PRO Vibe 7s aluminum cockpit provided the bike's handling.  The setup was likely chosen over the lighter weight carbon version because of its superior durability in a crash scenario.
The bike rolls on unmarked carbon tubular wheels, wrapped in Maxxis badged tubular tires.  However, Maxxis doesn't make a tubular cross tire, and judging by the tread pattern, they appear to be Clement PDX tubulars.
Zaveta's pit bike was set up with electronic shifting as well, provided by a Shimano Ultegra Di2 6870 drivetrain that was wired with the same climber shifters setup seen on Danny's bike. She was also running a Vibe 7s cockpit, with stopping power delivered by RS785 hydraulic brakes. Shimano provided the wheels; with the new WH-RX830 hoops wrapped in 700x33c Maxxis Raze clinchers, for her pit bike.
Use the slider below for the bike photos. More info: parleecycles.com