Belgian Wout van Aert, winner of the 2015 CrossVegas World Cup, rides a Colnago Cross Prestige cyclocross bike. For long-time cyclocross fans, the sight of a young Belgian dominating international cyclocross is a familiar one, even if the 21-year-old van Aert is, as of today, not as recognizable as Sven Nys.
Nys and van Aert worked together to chase early attacker Michael Vanthourenhout, and have been linked together as Nys' team is reported to van Aert's sponsor starting in 2016. So perhaps it shouldn't be surprising that van Aert is following Nys' pedal strokes by winning on Colnago cyclocross bikes during his early professional years.
Wout van Aert's 2015 CrossVegas-winning Colnago Prestige cyclocross bike. © Cyclocross Magazine
Van Aert's Colnago Cross Prestige bike is fully decked out with SRAM components, and unlike most of the other SRAM-sponsored racers, van Aert opted for cantilever brakes and two chainrings instead of hydraulic disc brakes and the Force 1 single chainring group.
It's rare to see SRAM cyclocross racers sporting two rings, but van Aert opted for 36/46 chainrings (while women's winner Katerina Nash, riding Shimano Di2, opted for a single chainring in a bike identical to this, minus the saddle).
#crossvegas fun fact. Katherina Nash wins on Shimano & single ring, Wout van Aert won on double ring SRAM. Bike profiles coming soon!

— Cyclocross Magazine (@cyclocross) September 17, 2015
Van Aert's bike featured a Red 22 drivetrain, including Red 22 Double Tap levers that move the Red 22 Yaw front derailleur to shift between his 46 and 36 tooth chainrings on a Red 22 GXP crankset, and a Red 22 rear derailleur.
It appears that the 11-28 11-speed cassette is an 1170 rather than a Red Powerdome, for better mud clearance, although in Vegas there wasn't a drop of mud to be found.
Avid Shorty Ultimate cantilever brakes put the clamp on Zipp 303 carbon tubular wheels with Dugast Typhoon 33's that appear to be painted with an extra layer of urethane on the sidewalls.
The cockpit is an FSA Plasma one-piece carbon handlebar and stem combination.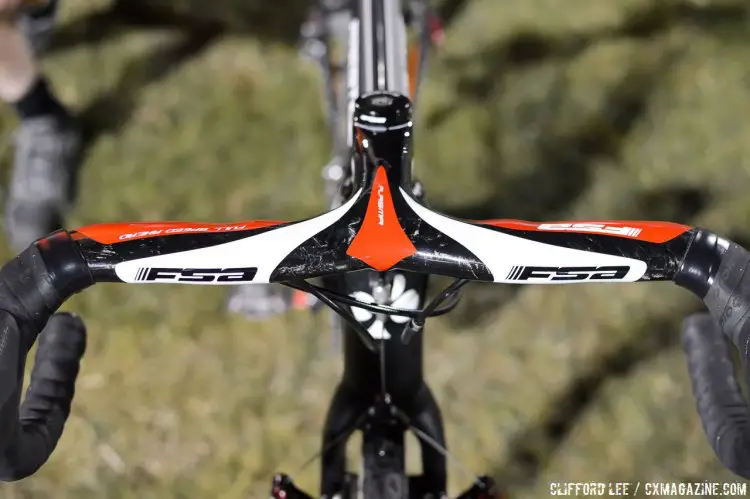 Wout van Aert pulled on the FSA Plasma handlebar/stem combo on his 2015 CrossVegas-winning Colnago Prestige cyclocross bike. © Cyclocross Magazine
The seatpost is a standard FSA SL-K carbon topped with a Prologo Scratch 2 saddle set high, with a fairly aggressive saddle to bar drop. Different from the majority of the field, Van Aert uses Time ATAC XC pedals.
Van Aert's mechanic would not reveal the tire pressure of choice, but our calibrated fingers tells us that one the relatively smooth CrossVegas course, it was around 25psi (1.7 bar, a pressure other riders told us they were using).
See Wout van Aert's Cross Prestige cyclocross bike and more details in the slideshow below. Bike geeks can compare to Sven Nys' winning Colnago Cross Prestige from two years ago.
Wout van Aert's CrossVegas-winning Colnago Cross Prestige Cyclocross Bike Photo Gallery: