Thule has long been a big name for transporting bikes and other sports equipment. Cyclocross Magazine readers certainly gravitate towards the brand, and for our first-ever Favorite Bike Rack for the Readers' Choice Awards, Thule handily won the vote.
At Interbike 2015, we were able to take a tour of Thule's latest products with Michael Maximenko, Thule's Project Development Coordinator, along with husband and pit mechanic to rising cyclocross star Cassie Maximenko.
At the center of Thule's display area stood the T2 Pro Rack, which had been recently adorned with a Media Preview Award. The original model has been out for a while, and is one of Thule's biggest sellers as users can mount their bikes to a car without having to take a single part off their bike. Maximenko said that the T2 Pro needed a face lift and an upgrade as competitors began "coming up with better-looking models."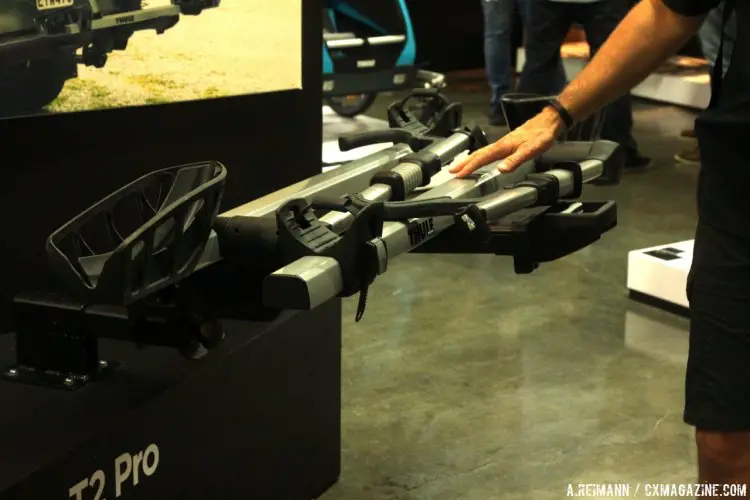 The T2 Pro Rack allows bike mounting without needing to remove any part including the wheels. © A. Reimann / Cyclocross Magazine
The latest model might still not have the flair of some other brands, but is much like the understated products of the Thule line for folks who want more attention on their bike than the rack that holds it. "This can hold everything from a skinny cyclocross tire to a full suspension fat bike," Maximenko continued, pulling up the arms before pointing to the nearest lever of the rack. "It's really easy to use, it folds up out of the way using the handle on the outside, and it can fold down so you can get into the hatch as well."
The T2 Pro Rack is available for $549.
For cyclocrossers who race on long-distance family holidays, or try and hit events all across the country, Thule has travel cases as well with the RoundTrip Pro and RoundTrip Transition. Although the company classifies them as a soft shell and hard shell case, respectively, Maximenko likes to refer to the Pro as more of a hybrid.
The Pro has removable panels on each side to make the case soft or formed, while the bottom is a solid plastic. The Transition, however, is unmistakably a hard shell case. "That one's for that cyclocrosser who needs to bring lots of equipment, such as an extra set of wheels," Maximenko said. "You can easily pack your shoes in here, too."
Both cases come complete with two individual wheel bags, and are built with an internal front wheel mount that comes with 9, 15 and 20mm thru axle adapters. Both also have the same removable bottom that can be converted into the bike stand for those who prefer not building their bike up directly on a hotel carpet. Both are available now for $599.
Stay tuned for a full review and complete roundup of travel bike cases coming soon. Use the slider below for the images of all three products. More info: thule.com