by Kat Statman
With cyclocross heading towards mid-season, and already solidly there for us US racers, pro cyclocross rumors and general cyclocross rumors continue to bubble to the surface. This week we have the Dutch and Belgian European Cyclocross Championship teams announcement; An update on Ryan Trebon's groin injury from Boulder; Katie Compton gets more recognition as the international superstar we all knew she was and will announce a new equipment sponsor next week; Mark Legg-Compton admits that the Boulder Cup course was far more technical than they he originally thought; The Canadian National Cyclocross Championships will take place this weekend in Toronto; Lars Boom has announced his cyclocross schedule for this winter; Kaitlin Antonneau tackles both UCI Elite racing and collegiate racing; Campagnolo enters the electric shifting market with a new drive train (is SRAM next?); The Canadian city of Ottawa bans cyclocross from its city parks, leaving local 'cross promoters to scramble for new locations; Adam Myerson is writing a book?; and, finally, are there too many UCI 'cross races in the US?
Teams Selected for this Weekend's European Championships
This weekend is the European Cross Championships and the Dutch and Belgian women's teams have been announced. Racing for the Netherlands will be Daphny van den Brand, Sophie de Boer, Arenda Grimberg, Reza Hormes, Sanne van Paassen, Linda van Rijen and Sabrina Stultiens. A stacked field, look for possible team tactics when they are battling the small, though, strong, one-woman team of Sanne Cant from Belgium. Other notable absences from this weekend of racing will be Marianne Vos and Hanka Kupfernagel. Vos has stated that her season will start in December and she wishes her teammates luck to keep the European championship in the Netherlands. Why is Kupfernagel not on the start list?  She has been racing at the front of the big events, especially the World Cups, this season.  Maybe she played too much off-season beach volleyball in Mallorca?
Ryan Trebon Gets Over the Groin Pull
This has been a rough season for the American tall man Ryan Trebon. Between his 'butt cramp' in Madison and the continuous second place finishes to the dominant Cannondale-Cyclocrossworld.com team, it seems as though he's falling a little bit behind. Then in Boulder this past weekend on Day 1, he pulled his groin muscle during one of the many sand sections at the infamous Boulder Res course. Is Ryan Trebon going to finally get back to his dominant ways? This past week we've learned from his Twitter account and various sources that he has been training in sunny southern California in preparation for the UCI weekend in Los Angeles. Look for a dominant ride by Trebon this weekend, but don't count out Sid Taberlay and Chris Horner as both of them will be looking to take down the 'cross specialist from Bend.
Stevens Bikes, sponsor of European 'cross superstars including Hanka Kupfernagel, Niels Albert, Marianne Vos and others, knows who the best riders in the world are and supports them generously. This year they have made a huge jump and placed an American woman 'crosser at the forefront of their newest ad campaign. Here in the US we have known that Katie Compton is an amazing athlete and keep our fingers crossed for her continued success nationally and internationally. Now it's clear that the Europeans have that same attitude, with Katie taking the most prominent spot on the new Stevens Bike poster ahead of those Euros, who are all former world champions.
With Katie's clear presence as an international 'cross superstar, we've also gathered that she's looking to sign another new equipment sponsor in the next week. Who could she be signing with? Katie has a reputation for being a very picky athlete, only riding what she considers to be the best equipment on the market that will stand up to the extreme demands she puts it through. What new equipment will we see her sporting at the next round of the USGP in Fort Collins? New helmets and glasses? Hydraulic Disc Brakes? New Tires? It will be interesting to see.
Mark-Legg Compton Takes Back his Negative Boulder Cup Comments
Last week we reported on both Mark Legg and Katie Compton's negative comments pertaining to the Boulder Cup course. In a recent email from Mark, he gave an apology. He said, "Turns out Boulder Cup course was a really challenging course. I slipped out on one of the ever increasing slippery corners during the race.The pre-ride video did make the course look like a grass crit, however Chris at DBC events developed a great course in a creative way that challenged riders' skills and fitness. My mistake on highlighting this course as the problem with US courses. Next time I'll ride first before talking." It is good to hear that the promoters of the Boulder Cup were able to create a technically challenging course that stands up to the scrutiny of this 'cross aficionado, though Legg-Compton did mention that the overall discussion of the technical nature of courses is one that needs to be happening in the United States.
We all know that in Europe cyclocross is not a participant sport like we have here in the US, and since promoters in Europe are not required to cater to lower category racers, they can make the courses as challenging as they want. However, are we at the point where we need to separate the Elite courses from the amateur courses in order to prepare our athletes for racing in Europe? Or should amateurs be subjected to increasingly harder courses around the country by adding difficult sand pits or tricky corners that are hard to navigate? Please chime in below, what do you think about the nature of US courses with respect to US growth in 'cross and international competitiveness?
Canadians To Duke it Out in Toronto for the Honor of the Maple Leaf Jersey
This weekend is the Canadian National Cyclocross Championships in Toronto. On the men's side look for Geoff Kabush to defend against the on-form Chris Sheppard and Derrick St-John. Will Kabush be able to hold on to the maple leaf for another year, or will Sheppard or St-John dethrone the multiple time Canadian 'cross champion? On the women's side, look for the battle to be between Wendy Simms, Natasha Elliot, and Cyclocross Magazine's very own Vicki Thomas. It will be an interesting weekend of racing and we look forward to seeing who will be donning the red and white jersey for the next year.
Lars Boom has Announced When and Where We Will See Him Racing this Winter
From Lars Boom's official website, "It was made known today that Lars will be competing in five 'crosses in December and January. Lars will start on Sunday, December 12th, in Overijse, followed by the Scheldcross on Saturday, December 18th, in Antwerp. On the day after Christmas, Lars will compete in Heusden-Zolder, followed by December 29th in the Azencross in Loenhout. In January Lars will line up for the National Cyclocross Championships in Sint Michielsgestel in order to defend his national title." With a hard schedule of some of the best December and January races in Europe, is there a possibility of Lars Boom coming back to his roots at some point? Though Boom has denied all such rumors, his chosen schedule does beg the question whether or not he is going to attempt a return to the top of the wintery hard man discipline. A better question is whether Boom will compete in the World Championships if he wins another Dutch National Championship. Keep your eyes here for more as the season progresses.
Kaitlin Antonneau has been receiving a lot of press this fall for gaining a spot on the Cannondale-Cyclocrossworld.com team, working with Katie Compton as her coach and finishing with top results in a number of UCI race weekends as a first-year Elite. But, is she the next big thing? Well, though she might not have popped up on any UCI results sheets this past weekend, she did dominate a collegiate racing weekend for Marian University, showing her class. Keep an eye on this girl, she's got the power, skill and support to really make it big!
Campagnolo Finally Throws Its Hat into the Electric Drivetrain Market
In the past few weeks, news and press releases have been popping up all over the internet about the new Campy electric shifting system that was just announced. Campy is not a huge player in the American market, however, with the success of Shimano's Di2 piloted by many Pro Tour road teams and none other than Sven Nys and Niels Albert on the 'cross circuit, it's clear that the future is electronic shifting. The questions that we now have are whether or not Campy was able to improve upon some of the potential complaints about the Shimano Di2 system? Or, possibly more importantly, when will SRAM release its own electronic shifting system?
Every year brings big new things in cyclocross tech; let's see where this electronic shifting brings us.
Ottawa Bans Cyclocross
It was recently reported here and here that the city of Ottawa has banned cyclocross from its city parks. With a full series scheduled already for the fall, the promoters are now scrambling to find new venues. This is bad news for North American 'cross. In the US and Canada we rely on our city parks as venues for most, if not all, of our cyclocross races, and if the city officials determine or wrongly believe that cyclocross is a destructive activity, where will we race? Will we have to resort to hiring out vacant farming fields with ankle-deep dirt and building rickety fly-overs, taking cyclocross away from the public and stifling its growth? I hope not! As racers and promoters, please voice your concerns with your local city officials and do not let your city ban cyclocross!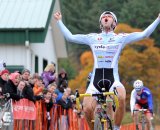 Adam Myerson Goes to the Printers

Adam Myerson has always been an outspoken US cyclocross personality, and he's been around for far too long to discount his opinions. In some big news, it looks like we will get a whole book of where Myerson and his opinions come from – this week he reported that he has a book deal in the works where we can learn about what made him the person he is today. There is no timing on the release date, but as we learn more we'll keep you informed. Expect it to be an exciting read as Myerson leads quite the life, while still finding time to win a UCI race, be a coach and promote the oldest UCI race in the US.
Are There Too Many UCI Races in the US?
This final section of this week's column was inspired by Adam Myerson and the blog post he wrote on the state of US 'cross growth. You can find his article here. As Myerson has stated, there's a discussion happening in the US about the growth of 'cross and what seems like the over-saturation of UCI races on our calendar here in the United States. But, is this really a bad thing? Is it bad that many racers don't have to get on an airplane and fly for six hours one way every week just to chase UCI points like they have to in mountain bike racing? Is the structure of our racing calendar really all that different from Europe? This's a discussion that needs to continue happening and we encourage it to stay open.
As usual comment below, we look forward to your opinions!