Note: This was one of three April Fools stories, posted on April 1, 2008. Although we would not be surprised by a ban on barriers, tubeless tire systems, Zertz, and Buzzkill are not banned.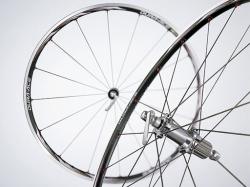 In a surprising move by the UCI, the international governing body of cyclocross has banned all tubeless tire systems, Specialized's Zertz Technology, and is considering banning man-made barriers in all UCI cyclocross races. While this may not impact most amateur racers, USA Cycling's new president, Mark Abramson, says USA Cycling is likely to follow suit.
The move to ban tubeless tire systems is a serious blow to Shimano, NoTubes.com, and Hutchinson's plans to make tubeless tire technology replace tubular tires as the best tire option for cyclocrossers. The new rule outlaws any tire that does not use a separate latex or butyl tube to retain air. By this definition, any tire and wheel system, whether tubeless tires mounted on Shimano's Dura Ace Tubeless-ready wheels or Stan's 29er rims, or do-it-yourself systems using conventional rims with electrical tape and conventional tires with sealant, is not legal for any UCI-sanctioned race. We presume that Tufo tires, the lightweight glue-on tires (as well as their unique clincher version), which are built without an inner tube, will also be included in this ban.
Also affected by the off-season rule changes is the popular shock absorbing Zertz technology by Specialized. Former Specialized product manager and pro 'cross rider Andy Jacques Maynes said Specialized plans to appeal the ban, saying the technology helped him win his Masters 30-34 national championship, and helps normal racers by "making normal clinchers feel like tubulars." Specialized officials were unavailable for comment, most likely preoccupied with the rumored take over by GM. Presumably also affected by the ban is Bontrager's little known Buzzkill shock absorbing technology in handlebar plugs and front forks, as well as any elastomer-based suspension seat post. The rule change describes the banned technology as any "deformable, pliable, non-structural or non-rigid material inserted into the bike's frame, fork, or component to absorb vibration." We're sure riders and officials we'll be asking for clarification on that one.
UCI spokesman Enrico Carpani said that the moves to ban both tubeless technology and shock-absorbing systems was intended to "preserve the tradition of the sport, and ensure that expensive technology does not make the sport inaccessible to the masses." In our opinion, quite an ironic statement given that tires from Dugast, Challenge, and FMB dominate the elite races and sell for $120 or more, and home-brewed tubeless systems or elastomer inserts are reasonably affordable. For the non-UCI racer, the next few weeks may be your chance to pick up some cheap tubeless components on eBay, provided USA Cycling's Abramson does not follow through with his intention to also adopt the new UCI rules.
These bans continue the UCI's crackdown in recent years on cyclocross technology. Over the last decade, it has banned flat bars, disc brakes, and wider tires from UCI races, in attempt to preserve the sport's tradition. The new rule has also left Cyclocross Magazine scrambling, as it planned to feature tubeless tire options in its upcoming Issue 3. Think these rules are bogus? Drop us a comment below.
In a less surprising statement but one certain to cause just as much uproar, Carpani also stated that the UCI is evaluating banning barriers altogether, as well as carrying over the minimum bike weight rule from it's road rules. The barrier ban is somewhat expected by many in Europe, after the successful trial at the barrier-less 2008 UCI World Championships in Treviso, Italy. Sven Nys, who famously hops many 40-cm barriers, sees the rule as an attempt to break his dominance. Nys lements the change, saying "The UCI thinks my victories are bad for the sport, and thinks banning barriers will stop my wins. Tell the 10,000 spectators that scream in ecstasy each time I hop the planks that barriers are bad for the sport!" He's confident he still can win, although his result at Treviso suggests without barriers he might have more of a challenge. CXM's height-challenged contributor Kerry Litka loves the proposed rule, saying, "it's about time someone realized that 40cm barriers discriminate against those of us who are young, short, handicapped, or uncoordinated." Newbies rejoice…there may not be a need to learn that tricky mount or dismount in the near future!
The UCI defends the rule, saying barriers inhibit the growth of the sport. Carpani cites international growth as the motivation in banning barriers. "Just look at the Zimbabwe cyclocross guys" he says. "They abandoned 'cross after the '06-07 season because of the silly barriers. We desperately need to grow in other continents. Folks in Asia aren't as tall as the Europeans and Americans. Plus, Trebon and Wicks have a significant advantage with barriers due to their height. We think there needs to be an even playing field."