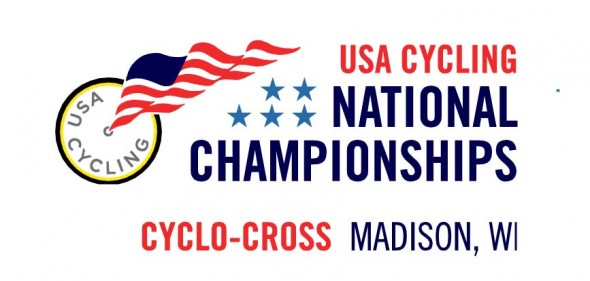 For full coverage, schedules and information on the 2012 Cyclocross National Championships at Badger Prairie County Park in Madison, Wisconsin, visit our 2012 Cyclocross National Championships homepage.
Madison started to freeze as New Year's activities came to a halt and the city started to head back to business. Down at the USAC Cyclocross Nationals venue, Badger Prairie Park in Verona, the course crew has been busy trying to make the course more rideable by laying down salt on some of the most treacherous sections of the course.  Riders and media continued to show up throughout the day to check the course conditions (cold,windy and icy), which are set to make Vince Lombardi's famed "Ice Bowl" look like a Sunday picnic.
While temperatures are set to warm up later in the week, it's hard to tell if it'll get warm enough to melt away the ice in time for Wednesday's marquee championship events, the Men's and Women's Singlespeed division.
The women's field is running extremely small with 15 registered riders. The only returning podium finisher from last year is Julie Lewis Sroka (Lake Effect Racing) out of Ohio. Julie will have to have a good race to keep up with Kari Studley (Team Redline) out of Seattle and Jennifer Gaertner (Raleigh America), who is dropping in from Coeur D'Alene, Idaho. Given the icy conditions, the theoretical advantage should go to the Idaho native Gaertner, but Studley won the time trial in last year's snowy qualifiers before DNF'ing the single speed race. Smart money is on Studley, who has unfinished business with the singlespeed championship if she can stay upright.
The Men's field is looking deep despite the icy conditions. J.T. Fountain (Raleigh Bicycles) is back for another kick at the can, and given his comfort in cold weather conditions, and runner up status in 2010 to Adam Craig, he's the current bookie favorite. His main competition will come from the Rock Lobster duo of Aaron Bradford and Scotty Chapin.  Bradford and Chapin have been riding most of their Elite races in NorCal on single speed in preparation for the event, but given their relative lack of time in cold conditions they will likely be chasing Fountain on the ice. Brady Kappius (Cliff Bar) should also be in the mix with the top guys after a solid UCI season and some good training time in the cold, dry hills of Colorado.
Singlespeed action kicks off at 2:15 at Badger Prairie Park in Verona Wisconsin.  There won't be any naked riding or tattoos at this singlespeed championship race!  Just please bring blankets and beer.