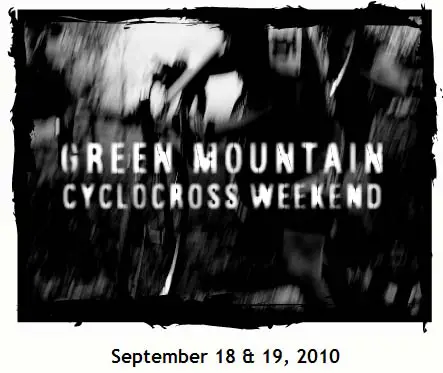 The 2010 cyclocross season is fast approaching and while fresh tubular tires are being stretched, the Verge New England Championship Cyclo-Cross Series is preparing for its newest edition. The series gets under way on the weekend of September 18thand 19th, when UCI-level cyclocross returns to northwest Vermont with the 12th annual Green Mountain Cyclocross Weekend. This will also be the introduction of the Women's Category 3/4 series, which joins the other eight competitions with a prestigious Verge NECCS Series jersey on the line.
Once again, the first weekend of the season will be hosted by the Catamount Outdoor Family Center in Williston, Vermont. This venue has hosted cyclocross races since 1999, including a weekly training series entering its 12th season that regularly hosts over fifty riders. Elite racers such as Jamey Driscoll and Josh Dillon have cut their teeth in these training races before competing on a national level. As in years past, the course will be in true Vermont style with a lot of climbing, wide and sinewy grass and some technical sections.
The host venue, the Catamount Outdoor Family Center is a focal point of northwest Vermont. Covering over 500 acres, it plays host to a mountain bike training series, trail running races and XC skiing. In addition to recreation, the Center is a model for education, agriculture, forestry, conservation and historic preservation. Still a family-owned operation, it is a key part of the Chittenden County community.
Also, it is with great pleasure that the series organizers announce that as a result of the growing popularity of cyclocross on the grassroots level there will be a women's Category 3/4 series this year. The field size of the women's 3/4 race has grown dramatically over the past few years and has produced several racers that have gone on to compete at the top level nationally. As with the other competitions, there will be points awarded at each race, a series leader's jersey worn by the strongest and most consistent performer with a champion crowned at the series end at the NBX GP of Cross on December 5th.
The 2010 Verge New England Championship Cyclo-Cross Series will be contested over five weekends. Rounds one and two will take place in Williston, VT at the Green Mountain Cyclocross Weekend on September 18 and 19.  Rounds three and four will be Downeast Cyclocross in New Gloucester, Maine on October 16 and 17. The 20th Edition of the Cycle Smart International will be rounds five and six on November 6 and 7 in Northampton, MA. Bay State Cyclocross and the NBX GP of Cross will hold the final four rounds of the series in Sterling, MA on November 28 and 29 and in Warwick, RI on December 4 and 5, respectively.
Stay tuned for more cyclocross news from the Verge New England Cyclo-Cross Series by following the series on Twitter @VergeNECCS or Facebook.
This year's series is generously supported by Verge Sport, makers of fine cycling clothing and products since 1993; by Bob's Red Mill, producers of whole grain foods for every meal of the day; by Cycle-Smart, purveyors of personalized cycling coaching and solutions for riders across the country; by BikeReg.com, the official online registration service of the NECCS; by Pedal Power Photography, the official photographer of the NECCS; by crossresults.com, the internet's premier race result and ranking resource; by Challenge, makers of professional level tubulars and open tubulars; and by Ryders Eyewear, sport-specific and performance eyewear. You can visit these sponsors and get more information on the series by going to the web at http://www.cycle-smart.com/neccs.