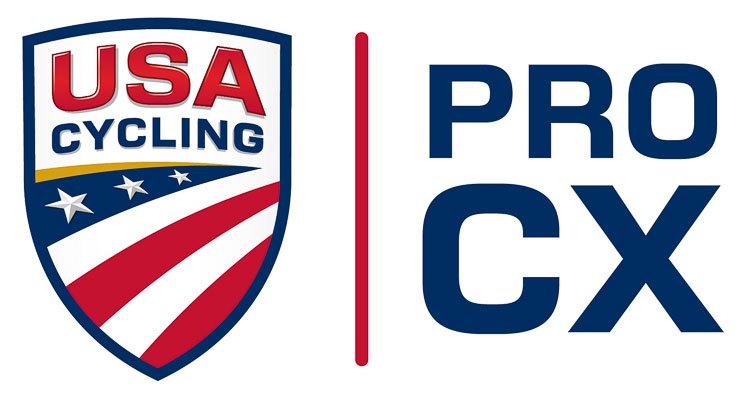 Week three's 2016/2017 Pro CX rankings is out, with a new leader on the men's side, and a number of Europeans making their mark on the U.S.-based series.
Ellen Noble, after finishing second behind Katerina Nash at the Jingle Cross Day 3 C1 race, cut Kaitlin Antonneau's almost in half, and bunnyhopping last week's second-ranked rider, Caroline Mani.
Also moving up the rankings are Courtenay McFadden, moving from 6th to 4th, and Helen Wyman, winning Day 1 of Jingle Cross, making the big leap up from 20th to 10th.
On the men's side, all the top racers skipped the awesomely muddy night race at Jingle Cross won by German Marcel Meisen. On Sunday, in the UCI C1 event in Iowa City, Jeremy Powers, although he was on the start list, was already on the way home after a disappointing 43rd World Cup, earning no USA Cycling ProCX points on the weekend. With a strong sixth place behind five Europeans, Week #2 leader Hyde extended his lead over Powers for the top spot in the USA Cycling Pro CX rankings.
Behind Powers, Tobin Ortenblad and Jamey Driscoll jumped Powers to sit in second and third. Anthony Clark made a big leap from 11th to 6th, and Jingle Cross C1 winner David van der Poel, moved up to 7th with just one win in one attempt.
See the full Week #3 rankings below.
Next up on the ProCX calendar are two days of racing at the KMC Cross Fest.
This year's USA Cycling Pro CX calendar features 44 scoring cyclocross races, with UCI C1 and C2 points going 20 deep, and non-UCI events going 10 deep. UCI C1 events naturally score the most points. A non-UCI win is less valuable than seventh in a UCI C1, while a UCI C2 win is less valuable than ninth in a UCI C1, but the number of scoring events are capped per rider. See the full USA Cycling UCI Pro CX points scoring table here, and read more about the USA Cycling Pro CX scoring rules here.
2016 USA Cycling Pro CX Rankings - Women - Week #3 - 9/26/2016
| Place | Racer | Pts |
| --- | --- | --- |
| 1 | Kaitlin Antonneau (RACINE, WI) | 298 |
| 2 | Ellen Noble* (KENNEBUNKPORT, ME) | 253 |
| 3 | Caroline Mani (COLORADO SPRINGS, CO) | 236 |
| 4 | Courtenay McFadden (BELLINGHAM, WA) | 158 |
| 5 | Crystal Anthony (BEVERLY, MA) | 152 |
| 6 | Rebecca Fahringer (CONCORD, NH) | 150 |
| 7 | Emma White* (DELANSON, NY) | 139 |
| 8 | Amanda Miller (FORT COLLINS, CO) | 134 |
| 9 | Katherine Compton (COLORADO SPRINGS, CO) | 128 |
| 10 | Helen Wyman | 126 |
| 11 | Katerina Nash (EMERYVILLE, CA) | 120 |
| 12 | Sunny Gilbert (BALLWIN, MO) | 100 |
| 13 | Elle Anderson (OAKLAND, CA) | 98 |
| 14 | Christel Ferrier-Bruneau | 92 |
| 14 | Ellen VanLoy (MADISON, WI) | 92 |
| 16 | Hannah Finchamp* (Kennewick, WA) | 82 |
| 17 | Amanda Nauman (Laguna Hills, CA) | 81 |
| 18 | Jena Greaser (BARKHAMSTED, CT) | 80 |
| 19 | Eva Lechner | 78 |
| 20 | Arley Kemmerer (PALMERTON, PA) | 77 |
| 21 | Maghalie Rochette | 69 |
| 22 | Julie Wright (BELMONT, MA) | 54 |
| 22 | Sofia Gomez Villafane* (DURANGO, CO) | 54 |
| 22 | Catharine Pendrel | 54 |
| 25 | Rebecca Gross (GOLDEN, CO) | 47 |
| 26 | Kathleen Lysakowski (SOUTHAMPTON, MA) | 43 |
| 26 | Ruby West | 43 |
| 26 | Danielle Arman (SAINT CHARLES, IL) | 43 |
| 29 | Stacey Barbossa (MOUNTAINSIDE, NJ) | 36 |
| 30 | Rachel Rubino (PHILADELPHIA, PA) | 34 |
| 30 | Nicole Mertz (COLUMBIA HEIGHTS, MN) | 34 |
| 32 | Natasha Elliott | 30 |
| 32 | Jenna Blandford (LOUISVILLE, KY) | 30 |
| 34 | Caitlyn Vestal (GOLDEN, CO) | 26 |
| 34 | Amira Mellor | 26 |
| 36 | Laura Van Gilder (CRESCO, PA)2 | 23 |
| 36 | Lucie Chainel (MADISON, WI)2 | 23 |
| 38 | Ashley Barson | 22 |
| 39 | Emily Shields (ADVANCE, NC)1 | 19 |
| 39 | Meghan Korol (ARDEN, NC)1 | 19 |
| 39 | Catherine Moore (DENTON, TX)1 | 19 |
| 42 | Mical Dyck | 18 |
| 43 | Kathryn Cumming (BLOOMFIELD, NJ) | 16 |
| 43 | Megan Barr (MINNEAPOLIS, MN) | 16 |
| 45 | Avanell Schmitz (NEWPORT NEWS, VA) | 14 |
| 46 | Cassandra Maximenko (NAUGATUCK, CT) | 11 |
| 46 | Katherine Northcott (WALPOLE, NH) | 11 |
| 48 | Sydney Guagliardo (BARRINGTON, IL) | 10 |
| 48 | Emily Kachorek (SACRAMENTO, CA) | 10 |
| 50 | Corey Coogan Cisek (MINNEAPOLIS, MN) | 9 |
| 50 | Allyson Tufano (COLUMBIA, MD) | 9 |
| 52 | Karen Brems (REDWOOD CITY, CA) | 8 |
| 52 | Katrina Dowidchuk (WILMINGTON, DE) | 8 |
| 52 | Rebecca Blatt (LAKEWOOD, CO) | 8 |
| 55 | Campbell Steers (SANTA CRUZ, CA) | 7 |
| 55 | Jennifer Malik (COLUMBUS, OH) | 7 |
| 55 | Turner Ramsay* (RUTLAND, VT) | 7 |
| 58 | emily sportsman (OAKLAND, CA) | 6 |
| 58 | Alijah Beatty* (WASHINGTON, IA) | 6 |
| 60 | Natalie Tapias (EASTHAMPTON, MA) | 5 |
| 60 | Christina Peck (SAN FRANCISCO, CA) | 5 |
| 60 | Heidi Wood (SEATTLE, WA) | 5 |
| 63 | Chelsea Weidinger (SAN FRANCISCO, CA) | 4 |
| 63 | Clio Dinan* (FALLS CHURCH, VA) | 4 |
| 63 | Rebecca Lewandowski (ELKTON, MD) | 4 |
| 66 | Jennifer Nowlin (PLYMOUTH, MN) | 3 |
| 66 | Sara Headley (SAN FRANCISCO, CA) | 3 |
| 68 | Abby Watson (Portland, OR) | 2 |
| 68 | Ashley Zoerner* (HIGHLANDSRANCH, CO) | 2 |
| 68 | Melsa Smith (SAN FRANCISCO, CA) | 2 |
| 68 | Shaina Kravitz (PHILADELPHIA, PA) | 2 |
| 72 | Olivia Dillon (FAIRFAX, CA) | 1 |
| 72 | Vanessa Curtis (IOWA CITY, IA) | 1 |
| 72 | Caitlin Bernstein (OAKLAND, CA) | 1 |
| 72 | BrittLee Bowman (NEW YORK, NY) | 1 |
| 72 | Kate Kirkpatrick (WASHINGTON, DC) | 1 |
2016 USA Cycling Pro CX Rankings - Men - Week #3 - 9/26/2016
| Place | Racer | Pts |
| --- | --- | --- |
| 1 | Stephen Hyde (EASTHAMPTON, MA) | 222 |
| 2 | Tobin Ortenblad* (SANTACRUZ, CA) | 169 |
| 3 | James Driscoll (PARK CITY, UT) | 150 |
| 4 | Jeremy Powers (EASTHAMPTON, MA) | 140 |
| 5 | Jim Aernouts (MADISON, WI) | 120 |
| 6 | Anthony Clark (FEEDING HILLS, MA) | 110 |
| 7 | David Van der Poel() | 105 |
| 7 | Wout vanAert*() | 105 |
| 9 | Jeremy Durrin (Westhampton, MA) | 99 |
| 10 | Quinten Hermans* | 98 |
| 11 | Andrew Dillman* (FAIRDALE, KY) | 96 |
| 12 | Rob Peeters | 94 |
| 12 | Yannick Eckmann (BOULDER, CO) | 94 |
| 14 | Corne VanKessel | 92 |
| 15 | Gianni Vermeersch() | 90 |
| 15 | Kerry Werner (BIRDSBORO, PA) | 90 |
| 17 | Steve Chainel | 89 |
| 18 | Diether SWEECK() | 78 |
| 19 | Curtis White* (DELANSON, NY) | 78 |
| 19 | Jonathan Page (Ogden, UT) | 75 |
| 21 | Travis Livermon (WINSTON SALEM, NC) | 69 |
| 21 | Spencer Petrov* (MASON, OH) | 71 |
| 23 | Laurens SWEECK | 69 |
| 24 | Daniel Summerhill (CENTENNIAL, CO) | 54 |
| 25 | Allen Krughoff (BOULDER, CO) | 64 |
| 26 | Toon Aerts (MADISON, WI) | 62 |
| 27 | Vincent BAESTAENS | 43 |
| 27 | Michael vandenHam (CAN) | 60 |
| 27 | Daan Soete* | 60 |
| 30 | Eric Thompson (SHOREVIEW, MN) | 57 |
| 31 | Maxx Chance* (BOULDER, CO) | 52 |
| 32 | Justin Lindine (NORTH OGDEN, UT) | 30 |
| 32 | Tom Meeusen (MADISON, WI) | 48 |
| 34 | Daan Hoeyberghs* | 42 |
| 35 | Robert Marion (MOUNT AIRY, NC) | 26 |
| 36 | Jeremy Martin (BOISCHATEL, QU) | 30 |
| 37 | Daniel Chabanov (Philadelphia, PA) | 29 |
| 38 | Alex Ryan (LEWISVILLE, NC) | 22 |
| 39 | Lance Haidet* (SAN LUIS OBISPO, CA) | 27 |
| 40 | Antonin Marecaille (MADISON, WI) | 25 |
| 41 | Brian Matter (SHEBOYGAN, WI) | 23 |
| 41 | Dan Timmerman (TRUMANSBURG, NY) | 18 |
| 41 | Evan Murphy (BROOKLYN, NY) | 23 |
| 44 | Cameron Beard* (BEND, OR) | 19 |
| 45 | Jack Kisseberth (EASTHAMPTON, MA) | 18 |
| 45 | Samuel O'Keefe* (BALTIMORE, MD) | 18 |
| 47 | Gage Hecht* (PARKER, CO) | 16 |
| 47 | Thijs VanAmerongen | 16 |
| 49 | Ian Field () | 15 |
| 49 | jens vandekinderen (KOEKELARE, VL) | 15 |
| 49 | Geoff Kabush() | 15 |
| 52 | Jake Sitler (WRIGHTSVILLE, PA) | 10 |
| 52 | Nicolas Catlin* (FAIRFIELD, CT) | 10 |
| 52 | Kevin Bradford-Parish (SPOKANE, WA) | 10 |
| 52 | Max Judelson (BERKELEY , CA) | 10 |
| 52 | Patrick Collins* (SHREWSBURY, MA) | 10 |
| 57 | Cole Oberman (PHILADELPHIA, PA) | 9 |
| 57 | Casey Hildebrandt* (WESTON, WI) | 9 |
| 57 | Aaron Schooler() | 9 |
| 57 | Mark DAvino (PHOENIXVILLE, PA) | 9 |
| 61 | Chris Drummond (OKLAHOMA CITY, OK) | 8 |
| 61 | Cody Kaiser (EL DORADO HILLS, CA) | 8 |
| 61 | Daniel Hoeppner (CASTRO VALLEY, CA) | 8 |
| 61 | Lewis Gaffney (ANGEL FIRE, NM) | 8 |
| 61 | jordan snyder (ROCHESTER, PA) | 8 |
| 66 | Justin Thomas (RENO, NV) | 7 |
| 66 | Brannan Fix* (FORT COLLINS, CO) | 7 |
| 66 | Matthew Timmerman (BETHEL, CT) | 7 |
| 69 | Brian Finnerty (Healdsburg, CA) | 6 |
| 70 | Aaron Oakes (MARION, MA) | 5 |
| 70 | Sean Estes (MORGAN HILL, CA) | 5 |
| 70 | Nicholas Lemke (MINNEAPOLIS, MN) | 5 |
| 73 | Ron Shevock (FOLSOM, CA) | 4 |
| 74 | Christopher Aitken* | 3 |
| 74 | Jacob Lasley (BROKEN ARROW, OK) | 3 |
| 74 | Trevor O'Farrell* (ALAMEDA, CA) | 3 |
| 77 | Aaron Snyder (LEMONT, PA) | 2 |
| 77 | Dylan Postier (STILLWATER, OK) | 2 |
| 77 | Michael Mihalik (SEWICKLEY, PA) | 2 |
| 77 | Scott Hooper (plymouth, CA) | 2 |
| 81 | Ryan Rinn (SAN FRANCISCO, CA) | 1 |
| 81 | Szymon Niemotko (COLUMBUS, NJ) | 1 |
| 81 | Bjorn Selander (HUDSON, WI) | 1 |