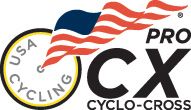 USA Cycling recently released the 2016-17 Professional Cyclo-Cross Calendar (Pro CX) along with an updated points structure for the season.
The Pro CX is an annual series of cyclo-cross races sanctioned by USA Cycling. Made up of 24 UCI-inscripted Category 1 and Category 2 races, the Pro CX features the premier cyclo-cross events in America and uses an overall ranking system to determine the best individual male and female 'cross racers over the course of the season.
"The growth of cyclo-cross in America is extremely encouraging for our sport," said USA Cycling CEO Derek Bouchard-Hall. "The revised 2016-17 Pro CX is designed to identify the top 'cross athletes and create a cohesive domestic calendar for fans and teams alike. We look forward to shining a brighter light on the calendar and bringing cyclo-cross to the forefront of the American cycling scene this fall."
The 2016-17 season kicks off on Sept. 10-11 at the Rochester Cyclo-Cross Weekend in Rochester, N.Y., and concludes with the Highlander 'Cross Cup in Waco, Texas, on Dec. 17-18. The Pro CX will be contested among the elite men and women and features 11 races for U23 men and four races for junior men.
Based on feedback from the racing community and the USA Cycling Cyclo-Cross Sports Committee, a revised points schedule and tabulation method will be implemented for the upcoming season. The new structure offers triple points for Category 1 events and limits points to a rider's top eight Category 1 and Category 2 results. Riders also have the option to earn points from up to three Cyclo-Cross National Calendar (CXNC) events. The CXNC recognizes top domestic events and provides them with the opportunity to achieve UCI recognition. Those races that seek UCI inscription and inclusion on the Pro CX must first be part of the CXNC for at least one year. Race Directors interested in participating in the CXNC have until August 8 to apply for consideration for that calendar.
The new system aims to address concerns expressed by riders that the extensive number of events included on the Pro CX calendar made attending all of the races in order to contend for the overall title difficult.
The 2016-17 calendar will also benefit from additional media coverage with the addition of a dedicated press officer who will deliver coverage to all C1 and C2 events with the goal of providing event directors support in the form of outreach to local, non-endemic and endemic media, and following the season-long narrative of the Pro CX.
"This change was implemented after soliciting feedback from Elite cyclo-cross racers and the Cyclo-Cross Committee," said Micah Rice, Vice President of National Events. "With their input, we have allocated the prize purse offered in previous years toward creating a Pro CX media push. This will help amplify this top-tier calendar and all of the events within it, hopefully providing a valuable service to race directors, their events and the athletes participating in the Pro CX."
USA Cycling Pro CX (ProCX) Cyclocross Race Calendar - 2016 / 2017
| DATE | EVENT | LOCATION | UCI RANKING |
| --- | --- | --- | --- |
| Sept. 10 | Rochester Cyclocross | Rochester, NY | 1 |
| Sept. 11 | Rochester Cyclocross | Rochester, NY | 2 |
| Sept. 17 | Nittany Lion Cross  | Breiningsville, PA | 2 |
| Sept. 17 | Trek CXC Cup  | Waterloo, WI | 2 |
| Sept. 18 | Nittany Lion Cross  | Breiningsville, PA | 2 |
| Sept. 18 | Trek CXC Cup | Waterloo, WI | 1 |
| Sept. 21 | Clif Bar CrossVegas UCI World Cup | Las Vegas, NV | WC (No Pro CX Points) |
| Sept. 23 | Jingle Cross | Iowa City, IA | 2 |
| Sept. 24 | Jingle Cross UCI World Cup | Iowa City, IA | WC (No Pro CX Points) |
| Sept. 25 | Jingle Cross | Iowa City, IA | 1 |
| Oct. 1 | KMC Cyclo-cross Festival* | Thompson, CT | 1 |
| Oct. 2 | KMC Cyclo-cross Festival* | Thompson, CT | 2 |
| Oct. 8 | Charm City Cross | Baltimore, MD | 2 |
| Oct. 9 | Charm City Cross | Baltimore, MD | 1 |
| Oct.15 | CRAFT Sportswear Gran Prix of Gloucester | Gloucester, MA | 2 |
| Oct.15 | US Open of Cyclocross* | Boulder, CO | 2 |
| Oct. 16 | CRAFT Sportswear Gran Prix of Gloucester | Gloucester, MA | 2 |
| Oct. 16 | US Open of Cyclocross^ | Boulder, CO | 2 |
| Oct. 22 | The North Coast Gran Prix of Cyclocross | Cleveland, OH | 2 |
| Oct. 22 | DCCX | Washington DC | 2 |
| Oct. 23 | The North Coast Gran Prix of Cyclocross | Cleveland, OH | 2 |
| Oct. 23 | DCCX | Washington DC | 2 |
| Oct. 29 | Pan Am Continental Cyclo-cross Championships*^ | Covington, KY | CC (No Pro CX Points) |
| Oct. 29 | HPCX | Jamesburg, NJ | 2 |
| Oct. 30 | Cincinnati - KingsCX* | Mason, OH | 1 |
| Oct. 30 | HPCX | Jamesburg, NJ | 2 |
| Nov. 5 | Derby City Cup* | Louisville, KY | 1 |
| Nov. 6 | Derby City Cup* | Louisville, KY | 2 |
| Nov. 12 | Cyntergy Hurtland, a Tulsa Tough Production | Tulsa, OK | 2 |
| Nov. 12 | Cycle-Smart Northampton International | Northampton, MA | 2 |
| Nov. 13 | Cycle-Smart Northampton International | Northampton, MA | 2 |
| Nov. 19 | Supercross Cup | Stony Point, NY | 2 |
| Nov. 19 | CXLA Weekend: Los Angeles*^ | Los Angeles, CA | 2 |
| Nov. 20 | Supercross Cup | Stony Point, NY | 2 |
| Nov. 20 | CXLA Weekend: Los Angeles*^ | Los Angeles, CA | 2 |
| Dec. 3 | Ruts N' Guts | Broken Arrow, OK | 1 |
| Dec. 3 | NBX Gran Prix of Cross | Warwick, RI | 2 |
| Dec. 3 | Major Taylor 'Cross Cup* | Indianapolis, IN | 2 |
| Dec. 4 | Ruts N' Guts | Broken Arrow, OK | 2 |
| Dec. 4 | NBX Gran Prix of Cross | Warwick, RI | 2 |
| Dec. 4 | Major Taylor 'Cross Cup* | Indianapolis, IN | 2 |
| Dec. 10 | North Carolina Grand Prix | Hendersonville, NC | 2 |
| Dec. 10 | Resolution 'Cross Cup | Dallas (Garland), TX | 2 |
| Dec. 11 | North Carolina Grand Prix | Hendersonville, NC | 2 |
| Dec. 11 | Resolution 'Cross Cup  | Dallas (Garland), TX | 2 |
| Dec. 17 | Highlander 'Cross Cup | Waco, TX | 2 |
| Dec. 18 | Highlander 'Cross Cup | Waco, TX | 2 |
| Notes: | This schedule is SUBJECT TO CHANGE.  | | |
| |    |    The Pan Am Continental Cyclo-cross Championships and Clif Bar Cross Vegas UCI World Cup do NOT award Pro CX points. | | |
| | *Designates events that have UCI races for junior men. | | |
| | ^Designates events that have UCI races for U23 men. | | |
2016/2017 USA Cycling Pro CX Scoring
| PRO CX Place | Men's Elite/Women's Elite C1 | Men's Elite/Women's EliteElite C2 | Men's Elite/Women's EliteElite CXNC |
| --- | --- | --- | --- |
| 1 | 105 | 35 | 15 |
| 2 | 90 | 30 | 10 |
| 3 | 78 | 26 | 8 |
| 4 | 69 | 23 | 7 |
| 5 | 60 | 20 | 6 |
| 6 | 54 | 18 | 5 |
| 7 | 48 | 16 | 4 |
| 8 | 42 | 14 | 3 |
| 9 | 36 | 12 | 2 |
| 10 | 33 | 11 | 1 |
| 11 | 30 | 10 | x |
| 12 | 27 | 9 | x |
| 13 | 24 | 8 | x |
| 14 | 21 | 7 | x |
| 15 | 18 | 6 | x |
| 16 | 15 | 5 | x |
| 17 | 12 | 4 | x |
| 18 | 9 | 3 | x |
| 19 | 6 | 2 | x |
| 20 | 3 | 1 | x |