"I hit the stairway with the front of my feet. That's what's hurting right now. I hit it hard," Wout van Aert to Cyclocross Magazine after his 2016 CrossVegas victory.
What he didn't know at the time is he actually broke his toe. The current World Champion woke up the morning after CrossVegas with a badly swollen, black and blue toe, and suddenly, his participation in the second World Cup of the trip at JingleCross was in question.
— Wout van Aert (@WoutvanAert) September 22, 2016
"On Thursday morning, my toe was swollen very hard, and the pain I had was the biggest issue, and when it was less swollen it got a lot better. We did X-Rays before I left for Chicago and saw that there was a little crack in it."
Pain or not, van Aert would literally toe the start line and take to the start of the first-ever Jingle Cross World Cup, not with hopes of victory or defending his World Cup leader's jersey, but with hopes of not having to withdraw due to pain.
"Today I suffered of course, the toe is blue all over," van Aert recalled.
And more than at any other cyclocross race, van Aert said he suffered in Iowa City. Only it wasn't from his fractured toe, it was due to the oppressive heat and humidity. Temperatures were "only" in the mid 80s (29 Celcius, a few degrees from an all-time high for the day in Iowa City), but once the sun came out and started to dry out the course, the evaporating water, mud and sweat mixture turned the Johnson County Fairgrounds into a sauna, packed with thousands of drenched cyclocross fans and some of the world's best cyclocross racers.
"I think it was the race I suffered the most of the heat in cyclocross, like ever I think, more than the last three times in CrossVegas," van Aert admitted. "My toe wasn't an issue to do a good performance today."
Perhaps the heat was exactly what van Aert needed to deal with the pain.
Ice, ibuprofen and near-record heat and suffering legs were all keys to reducing the toe pain. "There was pain of course, more on the beginning, because when we get on the field in the running sections, I felt it good," van Aert recalled. "When the legs were suffering more in the next part of the race I forgot the pain."
Slow Starts Rewarded in Iowa
Early on in the race, it appeared that van Aert wasn't at his best today, but it was a wood chip stuck in his derailleur on the second lap that put van Aert back on his heels. Heel or toe issues, the champion never worried.
"I knew that 20 seconds on this course is not the same as 20 seconds on a fast course, and so there was no panic at that moment," van Aert said. "Today I just focused on my own race, not what others were doing."
Just as he did in Vegas, Michael Vanthourenhout attempted to take advantage of the race favorite's misfortune. He pushed forward, joined by a run-up riding Toon Aerts to open up a gap over fast starter Telenet Fidea's Tom Meesuen, Corne van Kessel and Jim Aernouts, with Gianni Vermeersch (Steylaerts-Verona), and Julien Taramarcaz (ERA-Circus) chasing.
Also in the group was an anxious-to-try-his-luck Sweeck, and the patient Kevin Pauwels (Marlux-Napoleon Games). Pauwels had a difficult CrossVegas, saying he started too hard in the Vegas heat, and purposely held back early on in the race. While not exactly starting slowly, Stephen Hyde also monitored his efforts after a blazing start that cost him in Vegas.
While the leaders would come back, van Aert had no problem moving up, rejoining the front of the race but in no hurry to escape. Instead, it was Sweeck who in Vegas told Cyclocross Magazine, "Sometimes I just try at the front. I also want to make the race hard and try to win."
The youthful exuberance couldn't be contained, and with four laps to go, Sweeck put in his try at the front. He would gain twelve seconds and maintain it for two laps, but just like in Vegas, fans and competitors were waiting for what has already become expected these last two seasons: van Aert's inevitable final surge.
American Show of Force
Early on in the race, American racers took their turns showing their kits and muddy faces near the front. Jamey Driscoll (Raleigh Clement), Tobin Ortenblad (Santa Cruz) and Stephen Hyde (Cannondale p/b CyclocrossWorld) all fought their way to near top-ten standings early in the race.
Hyde was holding onto van Aert's wheel as he was surging through the field after his wood chip mechanical. It was just the lift Hyde needed to have his best-ever World Cup.
"I stayed within myself, and I did what I knew I could do, I didn't go beyond that, like [I did] in Vegas. Hyde told Cyclocross Magazine. "I metaphorically I kept it in my pants, it was much better and I'm happy."
The crowd in Iowa City deserved the MVP award of the day for their show of force. Europeans and domestic racers alike commented on the impressive noise level that far exceeded the noise coming from the larger number of (mostly bike industry) spectators at CrossVegas. International racers Pauwels and van Aert both complimented the crowd on their noise, energy and universal cheering, while Hyde credited the "amazing crowd" with giving him "some extra horse power" to complete his top ten finish.
One notable absence from the front of the race was four-time National Champion Jeremy Powers, who had an off day. Despite clearly suffering in Iowa and heading straight back to his hotel, Powers was quick to compliment the crowd and organization:
What an incredible day for CX. Thanks to all who came out @JingleCross the energy you brought was above anything I've ever experienced!!

— Jeremy Powers (@JeremyPowers) September 25, 2016
The Boss of 'Cross and the Race for Second
Just as American fans saw in Waterloo and in Vegas, van Aert was waiting for the right time to attack. And with two laps to go, he reconnected with Sweeck and promptly left him in his own field of dreams.
Heat, broken toe, mechanical or the pressure of being the only true favorite in the race—none of that could keep Van Aert from fulfilling his expected role as the patron of men's cyclocross.
As soon as he hit the front of the race, the race became a battle for second. Van Aert would go on to put in the two fastest laps of the day on the drying course, and show a Nys-like dominance that we might see only once in a generation, unless Mathieu van der Poel's ailing knees make a miraculous recovery.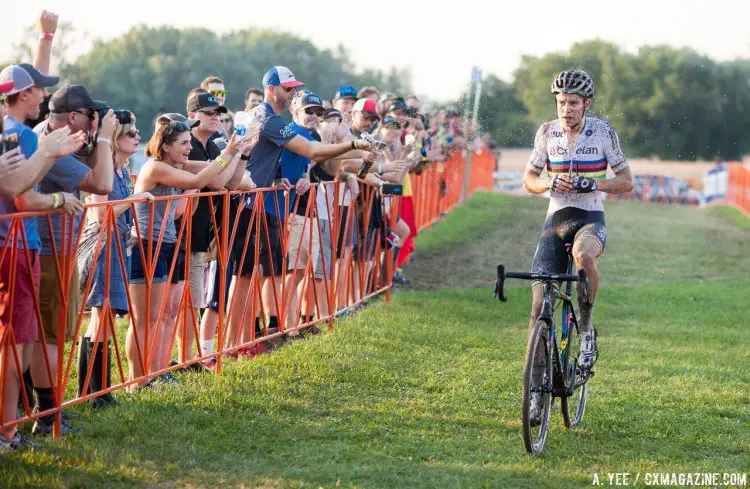 Van Aert wins his second World Cup of the season in Iowa City, but is greeted by an unwelcomed shower. 2016 Jingle Cross Day 1, Elite Men. © A. Yee / Cyclocross Magazine
Second place in a World Cup still carries valuable points, prize money and stature, and the patient Pauwels would find his slow start paid off. The veteran Belgian caught Sweeck on the final lap to finish second, 39 seconds behind van Aert.
Behind, Sweeck celebrated his second-consecutive World Cup third place, putting him squarely second in the overall rankings.
A Historic World Cup
While Jingle Cross set new marks for heat, humidity and perhaps, climbing, it also made history for another reason. The Iowa City World Cup stop could be considered the first World Cup dedicated to enabling positive change. From his first year as promoter, John Meehan has put on Jingle Cross as a fundraiser for the local children's hospital in Iowa City, and despite his newfound World Cup status (which extends through next season), he confirmed with Cyclocross Magazine that the proceeds still all funnel to the hospital, even if he wasn't completely sure whether the World Cup status would increase or decrease the size of his donation.
Cyclocross Magazine asked the racers at the press conference whether the charitable mission was anything they've experienced before. "I think maybe it's unique," said van Aert. "In Belgium, most of the organizations are held to earn money, because there a lot of businesses out there, with the VIP and stuff like that. It's a good thing [about Jingle Cross] also."
UCI representatives confirmed that the charitable aspect of the event is unique to UCI World Cup Cyclocross races, making the second stop of the 2016/2017 World Cup the first event to prioritize both a finish line and a double bottom line.
Full photo gallery below the results. See our ever-growing 2016 Jingle Cross coverage here.

[Don't miss your chance to win a new SRAM Apex 1 groupset in our latest giveaway. Enter here.]


2016 Jingle Cross UCI Cyclocross World Cup Men's Results
| Rank | Name | Nat. | Age* | Result | Pts |
| --- | --- | --- | --- | --- | --- |
| 1 | Wout VAN AERT | BEL | 22 | 1:02:47 | 200 |
| 2 | Kevin PAUWELS | BEL | 32 | 1:03:26 | 160 |
| 3 | Laurens SWEECK | BEL | 23 | 1:03:43 | 140 |
| 4 | Jim AERNOUTS | BEL | 27 | 1:04:17 | 120 |
| 5 | Gianni VERMEERSCH | BEL | 24 | 1:04:18 | 110 |
| 6 | Corne VAN KESSEL | NED | 25 | 1:04:32 | 100 |
| 7 | Quinten HERMANS | BEL | 21 | 1:04:35 | 90 |
| 8 | Dieter VANTHOURENHOUT | BEL | 31 | 1:04:44 | 80 |
| 9 | Toon AERTS | BEL | 23 | 1:04:46 | 70 |
| 10 | Stephen HYDE | USA | 29 | 1:04:46 | 60 |
| 11 | Ian FIELD | GBR | 30 | 1:05:07 | 58 |
| 12 | Steve CHAINEL | FRA | 33 | 1:05:23 | 56 |
| 13 | Vincent BAESTAENS | BEL | 27 | 1:05:32 | 54 |
| 14 | Tom MEEUSEN | BEL | 28 | 1:05:39 | 52 |
| 15 | Rob PEETERS | BEL | 31 | 1:05:43 | 50 |
| 16 | Thijs VAN AMERONGEN | NED | 30 | 1:05:49 | 48 |
| 17 | Daan HOEYBERGHS | BEL | 22 | 1:06:02 | 46 |
| 18 | Diether SWEECK | BEL | 23 | 1:06:28 | 44 |
| 19 | Tim MERLIER | BEL | 24 | 1:06:36 | 42 |
| 20 | Michael VANTHOURENHOUT | BEL | 23 | 1:06:49 | 40 |
| 21 | David VAN DER POEL | NED | 24 | 1:06:53 | 39 |
| 22 | Dan TIMMERMAN | USA | 36 | 1:06:57 | 38 |
| 23 | Kerry WERNER | USA | 25 | 1:07:06 | 37 |
| 24 | Jeremy MARTIN | CAN | 24 | 1:07:15 | 36 |
| 25 | Philipp WALSLEBEN | GER | 29 | 1:07:25 | 35 |
| 26 | Anthony CLARK | USA | 29 | 1:07:25 | 34 |
| 27 | Tobin ORTENBLAD | USA | 22 | 1:07:26 | 33 |
| 28 | Daan SOETE | BEL | 22 | 1:07:42 | 32 |
| 29 | Allen KRUGHOFF | USA | 32 | 1:07:55 | 31 |
| 30 | Marcel MEISEN | GER | 27 | 1:07:56 | 30 |
| 31 | Jonathan PAGE | USA | 40 | 1:07:57 | 29 |
| 32 | Matthieu BOULO | FRA | 27 | 1:08:12 | 28 |
| 33 | Michael VAN DEN HAM | CAN | 24 | 1:08:33 | 27 |
| 34 | James DRISCOLL | USA | 30 | 1:08:43 | 26 |
| 35 | Andrew DILLMAN | USA | 22 | 1:09:14 | 25 |
| 36 | Travis LIVERMON | USA | 28 | 1:09:32 | 24 |
| 37 | Justin LINDINE | USA | 32 | 1:09:52 | 23 |
| 38 | Derek ZANDSTRA | CAN | 32 | 1:10:03 | 22 |
| 39 | Curtis WHITE | USA | 21 | 1:10:18 | 21 |
| 40 | Craig RICHEY | CAN | 32 | 1:11:00 | 20 |
| 41 | Geoff KABUSH | CAN | 39 | | 19 |
| 42 | Jeremy DURRIN | USA | 28 | | 18 |
| 43 | Jeremy POWERS | USA | 33 | | 17 |
| 44 | Daniel SUMMERHILL | USA | 27 | | 16 |
| 45 | Antonin MARECAILLE | FRA | 24 | | 15 |
| 46 | Mark MCCONNELL | CAN | 28 | | 14 |
| 47 | Benjamin SONNTAG | GER | 36 | | 13 |
| 48 | Christian HELMIG | LUX | 35 | | 12 |
| 49 | Aaron SCHOOLER | CAN | 31 | | 11 |
| 50 | Troy WELLS | USA | 32 | | 10 |
| 51 | Yoann CORBIHAN | FRA | 28 | | 5 |
| 52 | Christopher AITKEN | AUS | 22 | | 5 |
| 53 | Trevor O'DONNELL | CAN | 20 | | 5 |
2016 Jingle Cross World Cup Elite Men's Photo Gallery: