Crossresults.com is arguably one of the most invaluable (or time-sucking) resources on the internet, providing racers and fans results from nearly all cyclocross races from across the globe. One of the features of the site, in addition to flaming couches and nemeses, is a scoring system that allows racers to compare themselves against each other. Even if you are not familiar with the site (maybe you should be!), you have likely experienced its predictive power since many local scenes use its rankings for call-us. 
The site, now owned by the same parent company as BikeReg.com, was started by and is still run by Colin Reuter, who one could argue is the Nate Silver of cyclocross. To help prepare fans for Sunday's live streamed races, we signed Reuter to crunch the numbers, study the trends and generate previews for each of the day's contests. Up first are the U23 and Junior Women. 
---
by Colin Reuter
Crossresults started 11 years ago, borne out of a desire to track my own race results and maybe having a bit too much free time and coffee on hand. Since then, we've logged 1.5 million race results across 7.500 events, from Australia to Ireland and created a ranking system and race predictor successful enough to "inspire" USA Cycling to make their own version.
But as powerful as a bunch of math is, there's always something lost in the shuffle when you try to distill a rider's ability down to a single number, as anyone who has ever drastically outperformed (or underperformed) their own race prediction will tell you. If you're going to impress people at your U.S. Cyclocross Nationals viewing party with the quality of your picks and depth of knowledge, you'll need to pore over the results to see how all the big names did against each other all season.
Or maybe you can just read an article written by someone else who did just that. Let's go!
[Ed. Note: Try your hand at predicting the Elite Women's and Men's races with Cyclocross Magazine's Nationals Fantasy contest.]
U23 Women
Last year saw a tight battle between Ellen Noble (Aspire Racing) and Emma White (Cannondale p/b CyclocrossWorld), with the duo well ahead of third place. Noble claimed the jersey and then went on to finish second at the World Championships, inspired, perhaps, by no one believing in her. Emma White is back in 2018, while Noble has aged up to race the Elites this year, so it would be easy to assume that the race is White's to lose.
But with the U23 women stealthily racing inside the Elite Women's field all year, it's hard to keep track of who the challengers are. On top of that, the 17-18-year-old women in the race are competing for their own podium and jersey as well. So there's a lot to figure out here. If only there were a database on the internet where all this information is available!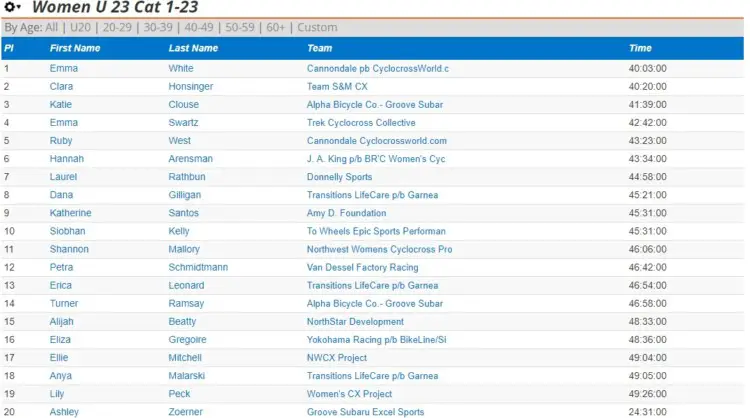 The only dedicated U23 Women's race outside Nationals is the Pan-American Championships that took place in Louisville in November. If I were a lazier prognosticator, I would just use the results of this race to save time and get back to digging out from the bomb cyclone. As expected, White took the win in Louisville and earned a spot on the new U.S. National Team, but Clara Honsinger (Team S&M CX) turned in a strong second-place ride. Young star Katie Clouse (Alpha Bicycle – Groove Subaru) rounded out the podium in third.
The Players
Emma White — Cannondale p/b CyclocrossWorld — Delanson, NY
Crossresults points: 246.35
Last Year: 2nd
Pros:
Yeah, so it turns out this is White's race to lose. She hasn't lost to an American U23 all season. She has done four World Cups this year and never finished worse than 21st.
Cons:
Only beat Honsinger by 17 seconds at Pan-Ams and hasn't faced her since. Maybe she's still jet-lagged from her Euro trip.
Clara Honsinger — Team S & M CX — Portland, OR
Crossresults points: 280.27
Last Year: 6th
Pros:
Could see White at the end of Pan-Ams (barely). Hasn't been beaten by a U23 woman except for White all season. Finished 14th in a DVV race in November.
Cons:
Has never beaten White in her life, but has only faced her six times. Honsinger got her closest finish behind White the last time they raced in Louisville. If you extrapolate their decreasing gaps over time, we could have a very good race next weekend.
Katie Clouse — Alpha Bicycle Co.- Groove Subaru — Park City, UT
Crossresults points: 282.77
Last Year: 1st in Junior 15-16 Women
Pros:
Katie finished on the podium every time all the U23 women met up (Cincinnati, Derby City Cup and Pan-Ams). She's 16 years old, so this current 'cross season has encompassed almost 3% of her time alive.  She's absolutely still at the "getting faster every race" stage of life.
Cons:
Couldn't touch Honsinger or White all year. Has to compete with women five years (30%!) older than her. As the overwhelming favorite for the 17-18 jersey, may not race with the sharpest elbows or riskiest lines.
Emma Swartz — Trek Cyclocross Collective — Madison, WI
Crossresults points: 303.17
Last year: 5th
Pros:
Beat Honsiger once in the last 12 months! Okay, maybe it was exactly 12 months ago, at Hartford Nationals, but still that's a win! Beat Arensman twice in Ohio in November. "May the Swartz Be With You" headlines write themselves.
Cons:
Lost to Arensman twice at the North Carolina GP. Hasn't beaten any of the top three (White, Honsinger, Clouse) all season. Definitely not training outside in Wisconsin this month.
Hannah Arensman — J.A. King P/B BR'c — Rutherford College, NC
Crossresults points: 303.2
Last year: 4th
Pros:
Also beat Honsinger at last year's Nationals, and beat Swartz at the North Carolina GP this month! Finished one spot ahead of Swartz in Hartford. [Ed. Note: Arensman and Swartz will be racing in the Collegiate Varsity race on Wednesday as well.]
Cons:
Lost to Swartz at Cincy and lost to the top three all season. Probably can train outside. Ironically, one of the closest matchups in the race will be Swartz vs Arensman, but the winner will only get fourth, unless one of the big three falters notably.
Predictions
There's no way to pick against White, given her track record in 2017 and career palmares, but look for Honsinger to give her a much tighter race than most people would expect. Honsinger is on a clear upward trajectory in the sport and gets closer every time they meet. Third place *should* be Clouse, but with Clouse probably racing a bit conservatively and Arensman and Swartz having nothing to lose, the race for the last step on the podium might be closer than it looks.
The Podium
Emma White
Clara Honsinger
Katie Clouse
Contenders
Emma Swartz, Hannah Arensman
Darkhorses
Laurel Rathbun, KK Santos
Junior 17-18 Women
The Junior 17-18 Women will be mixed into the field of the U23 race, so good luck following this battle closely. Well, except for Katie Clouse, who will be racing for the U23 podium and is the closest thing to a guaranteed jersey winner as you'll get at Nationals this year.
The Players
After Clouse, the next three U19 women are:
Petra Schmidtmann — Van Dessel Factory Team — Nederland, CO
Crossresults points: 375.79
Turner Ramsay — Alpha Bicycle Co. — Groove Subaru – Rutland, VT
Crossresults points: 410.74
Riley Gallagher — J.A. King p/b BR'C — Huntersville, NC
Crossresults points: 438.79
Unfortunately, the numbers don't lie here. Schmidtmann ranks 35 points ahead of 2015 National Champion Ramsay and has beaten her eight times in the eight times they've met this year. She should claim the second step of the podium, with Ramsay in third.
Gallagher is more of an x-factor, having only encountered the other two at Pan-Ams this season, where she finished well back of them. She'll need some big-time luck or a breakout performance to crack the podium.
Predictions
The Podium
Katie Clouse
Petra Schmidtmann
Turner Ramsay
Contender
Riley Gallagher
Stay tuned for U23/Junior Men's and Elite previews from Reuter on Tuesday and Wednesday. 
For more from Reno, see our continuing coverage of the 2018 Reno Cyclocross Nationals on our dedicated Nationals page.