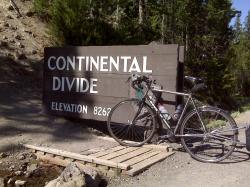 New England 'crosser Scott Rosenthal has taken 'cross to a new level. 40 days ago he started a cross-country journey on his 'cross bike, aiming to ride from Vancouver, British Columbia, to Boston, Massachusetts. While he's long had dreams of riding across the country, invitations to weddings in Montana and western Massachusetts made him realize it was possible to do so this summer and ride his bike to the weddings.
We've been following his progress through Scott's emails and pictures, and from his online journal. He says it's been a great exercise on bike handling and of course been great for his fitness and base miles. We have a few pictures and favorite excerpts from his trip below:
Day 6:
I left Tonasket and set out for Wauconda Summit after an extra early wake up. Apparently the town info center has such nice grass because they have highly effective sprinklers beginning at 6:30. So my shady spot under the tree was not as great as I had hoped. I took all of my gear off the grass and then took advantage of the sprinklers. I was THAT GUY who washes himself in the town park sprinklers. I showed them. Too bad there was all of one car in town on Sunday morning. Read the complete entry on his website.
Day 27: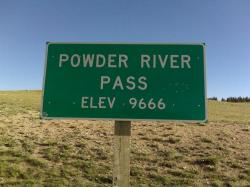 When I finally rolled out of town it was almost 2pm and I was nervous of what lay ahead. I had five full, ice cold bottles to get me up 5500 vertical feet. Initially the ride was scenic and ok, not exceeding 6% grades. When I pulled over at a scenic lookout 10 miles up the pass a guy kindly told me I had a long way to go. No sh-t Sherlock! The switchbacks started shortly after and to my dismay I had barely climbed 1200 ft. It was about this time that I started appealing to God to make the suffering end. Apparently he was resting this Sunday because the climbing continued. I tried appealing to all the religious hads I could think of but still the road went up and up. Finally I resorted to cursing the gods for such cruelty but that didn't help either. I put my headphones on hoping music (and getting "The Gambler" out of my head) would help me into a rythm. I started to tick off the miles more easily and feet 1200-3500 were a blur (a 1.5 hour long blur).
The scenery started to change around 7000 ft and the road was wider with fewer switchbacks. That just meant I could stare at each long hill as I ground the pedals. I chose to stare at my front wheel instead though. I started seeing signs for rest stops and lodges offering water but every one was closed. I also started suffering horribly from the vanilla malt in my stomach. There were all these weird caramel looking blobs on the shoulder of the road that only made it worse.
As I finally got above 8000 ft the mosquitos started. By then it was close to 6pm and I was going slow enough that they were enjoying the free ride along with some of my blood. Not wanting to put bug spray on my sweat covered body I pressed on towards the summit, contemplating whether it would be ok to stick the thumb out for a ride the rest of the way.
At around 7pm I made it to the 9,666 ft summit of Powder River Pass. Read the full entry.