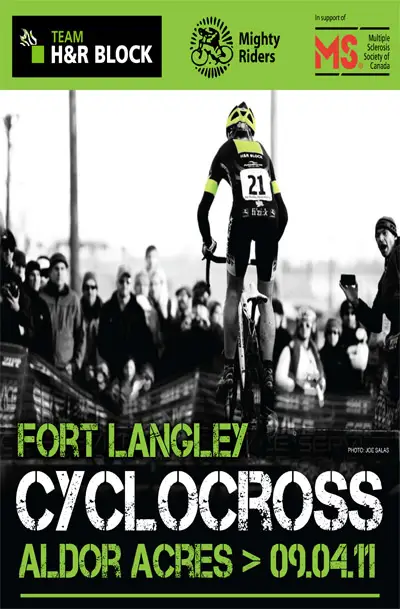 BC Cross Cup #1 – Langley Cross Classic
Team H&R BLOCK is once again proud to co-host with Mighty Riders the Langley Cyclocross Classic and opening round of the BC Cross Cup at Aldor Acres farm on Sunday, September 4th, 2011. As in years past, all net race proceeds will be donated to the MS Society. Come out to test your skills and fitness on this great course with cash and merchandise prizes for all categories. Draw prizes for all racers and volunteers will be awarded following the Elite Men's race.
For all of the race details including driving directions, start times, categories, etc. please check here.
Any further questions, contact race organizer: bclement[at]telus.net
School of Cross Cyclocross Clinic in Vancouver
Come out and enjoy a full day of cross skills practice and tutelage from 3 time National Cyclocross Team Member and Team H&R BLOCK Rider Aaron Schooler. You will run through the basics of mounting and dismounting, which is always a yearly practise must do. Practice all the good things you do in a day's cyclocross race.
3 Sept 2011 – Queen Elizabeth Park – Vancouver, BC
Meet just East of the Tennis Courts (look for the Team H&R BLOCK van)
10 am Start. You will learn and practice the following: Mounts, Dismounts, Shouldering, Running with the bike, Cornering, Starting, Off-Camber, Barriers, Bunny-hopping, Tech-Talk, and more… This clinic is the perfect thing to hone in and practice up on your skills for the first BC Cup race of the year.
Entry Fee: $ 40 or $35 if you also sign up for the H&R BLOCK Langley cyclocross classic. Online Registration can be found here: https://zone4.ca/register.asp?id=2144&lan=1&cartlevel=1 or you can find more details posted on Aaron's blog: www.aschooler6.wordpress.com
If you have any questions, e-mail Aaron at: schoolofcross[at]hotmail.com.
The weekend events are sponsored by: Norco, FSA, SPC (Student Price Card), Pedal, Tora Design, H&R BLOCK and Sri Importing. For the 2011 cyclocross season Aaron Schooler will be helping Norco launch their brand new full carbon cyclocross bikes the Norco Threshold.