Cyclocross Magazine reader and 'cross newbie Chris Cowan discovered 'cross after last season, and decided he'd build himself a bike late this spring to get comfortable on it prior to his first 'cross race. It's up and running finally, and he's shared his experience with us so that all of you in the same boat can learn from his trials and tribulations.
My First CX Bike Build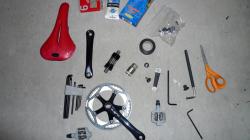 About a month ago my wife gave me the green light to buy a new steel frame for my road bike. The original pitch to my wife was I would buy a new frame and cannibalize the majority of the parts from my current setup. Little did she know that giving an inch would result in me taking several hundred miles. My simple road bike upgrade turned in to a FULL CX bike build.
My first priority was to find a frame that would be versatile enough that if I tried racing CX and ended up hating it I could still use the bike for things like group road rides, pulling the kids around in the burley and some off road buffoonery. I knew I wanted a steel frame and I didn't have enough money to get something custom. I had few choices: Surly Crosscheck. Salsa La Cruz or a Soma Double Cross. I went with the Surly Crosscheck since it seemed to be the most versatile and most reviews I read had a lot of words like "Love" and "Best" and "Favorite" in them.
My next issue was, "What size should I order?" The 60 cm seemed to be closest to my road bike but from all the internet research I did on bike sizing I really needed something in between. Then I hit the message boards and looked to see if anyone else had gone done this. Imagine my surprise… most people with the same measurements choose the 62 cm. So I decided to take photos of myself on my current setup to make sure my road bike actually fit me. After getting everything dialed in I realized that I needed a bigger frame so I place my order for the 62 cm.
Now comes the fun part… err.. ordering parts. I started to spec out what I thought I could use off my road bike but still build an ideal "do-it-all-cyclocross-apocalypse-bike". I though I could just use my triple crankset off my road bike along with the shifters, derailleurs, seatpost, saddle and stem. I wasn't sure about the wheelset since I've had problems keeping it trued and have broken several spokes. Sounded like as good of time as any to upgrade.
I really didn't like the idea of using the triple and had I bought a new road bike today I would probably get a compact double. Then I started looking at different 'cross bikes on Flickr and noticed that a lot of people are using 1×9 setups.
I went to Sheldon Brown's online gear calculator and started comparing my current gearing from the triple to what I thought would be an ideal gearing for a 1×9. I kept experimenting with different configurations till I settled on something that would give me the greatest flexibility during the 'cross off-season, 42 x 11-34. This setup would effectively have the same range as the triple but the jumps between gears would be bigger. I did a few sanity checks with some friends and everyone said "That should work… let me know how it goes."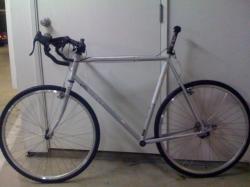 This decision was the turning point in the build going from a frame upgrade to a complete build. The 105 rear derailleur from my road bike would not support the 11-34. I really wouldn't need a front derailleur or shifter for that matter. Then I read the 2nd issue of Cyclocross Magazine about mixing Shimano derailleurs with Campy shifters. Hum… interesting, I could make a real Frankenstein bike. I hopped online and started putting together my next order of parts: XT rear derailleur, Cane Creek brake levers, 11-34 cassette and one right Campy Veloce shifter.
So at this point I had a new frame, wheels, brake levers, cassette, derailleur and shift lever. I'm so close to having a new bike I might as well add a crankset, handlebars, seatpost and stem… clicky… clicky… clicky… done.
About a week later the parts started showing up at home. My wife kept asking me "How much stuff did you order?" And I sheepishly answer "Oh you know a few things I forgot… here and there." And she said, "Well it looks like you ordered enough stuff for a whole bike!" DRATS! She caught me! The next thing she said took me completely off guard, "Well, you deserve a new bike!" I almost dropped to my knees and started crying!
Since I ordered the frame and headset first I was able to take it to a local shop to get the bottom bracket faced and the headset installed. Then I treated the frame with some J.P Weigle Frame Saver and let it sit overnight as I was waiting for more parts. As they arrived I started bolting things on to my new baby… wheels… stem… handlebars… then there was a delay in the rest of the parts. Ugh the agony of waiting for parts!
For several days I would visit my unfinished baby and try to imagine riding her. I would sneak peeks at her before work just to get my new bike fix. I surfed photos on Flickr of other peoples Crosscheck builds, imagining what it must feel like to ride it. I had dreams at night of riding it, the pain of waiting was killing me slowly. UGHHH!!!
Then the last of the parts arrived. I had everything I needed to complete my baby. Everything bolted on as smoothly as I expected. The Shimano-Campy mix worked perfectly. This was just too good to be true. The only boo-boo I made was not getting the cable housing lengths right. It took me several attempts to get the back brake housing short enough that it would route with out any tight bends but not too long that it was wasteful. My bike was complete! I took her out for the first ride and I had a smile from ear to ear.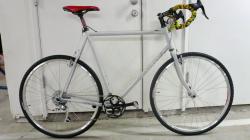 There where a few bugs that I found. The first was the chain had a little too much slack but thanks to the Crosscheck's dropouts I was able to tighten it up. In the process of tightening up the chain slack I didn't do it evenly and a fellow cyclist pointed out that my rear wheel was not straight. I routed the rear derailleur cable too tight so I had to let some slack out and back off the barrel some to make tuning the shifting easier.
On my first off road excursion the front brake tightened up and started dragging on the rim. I check everything out an noticed that the left brake lever had twisted because I didn't tighten up the fixing bolt enough… Oops! I also notice that while I was riding on trails that I felt more comfortable on the hoods or in the drops, I never used the Crosstop levers once. So I removed the levers and replaced the brake cables with some Teflon® coated cables (since I cut the original ones too short). I also fixed the cable routing on the front brake so the action was smoother.
Here are the final build specs:
Frame and Fork: Surly Crosscheck 62 cm – Misty Mountain Grey
Crankset: Sugino Messenger 175 mm 130 BCD
Bottom Bracket: Truvativ Square Taper LE 108 mm
Pedals: Crank Brothers Candy
Chainrings: Salsa 42T with Salsa Crossing Guard 130 BCD
Rear Derailleur: Shmano XT RD-M761 SGS Long Cage
Cables: Dura Ace
Cassette: Sram PG-950 11-34T
Chain: Sram PG-970 9 Speed
Shifters & Levers: Campagnolo Veloce Infinite Escape (Right) and Cane Creek SCR-5 Aero Brake
Brakes: Shimano BR-550 Cantilever Front and Rear
Handlebars: Salsa Bell Lap
Stem: Ritchey WCS 110 mm
Tape: Forte Marble Red/Black
Tires: Ritchey Speedmax Comp 700 x 35c
Hubs: Shimano LX M580 Front and Rear
Spokes: DT Swiss Champion 14g
Rims: Salsa Delgado Cross – 32H Front and 36H Rear
Seatpost: Titec El Norte
Saddle: Selle Italia Prolink
Amazingly everything went pretty smoothly, the only real hiccups where related to cable routing and forgetting to tighten up the brake levers. Not bad considering this was my first time building a bike up part by part.