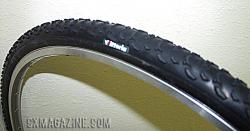 Cyclocross Magazine paid off a paparazzo (with just a free subscription) to capture a spy quick photo of the very first Vittoria Evo XM Tubulars, a new, aggressive-treaded model to join Vittoria's existing XG and XN tires. Although we do not know what XM officially stands for, the "M" may as well stand for "Mud" as the new model features taller, larger knobs, and looks to match up well with the popular Dugast Rhino tire.
The XM model will be available with the company's Corespun K 290 TPI casing, which is a polycotton mix combined with Kevlar, and will feature a black side wall and a puncture-resistant latex tube. It is expected to be available shortly after Interbike.
For more info on Vittoria's XG and XN tubular 'cross tires (XM info not available yet): www.vittoria.com
We're dedicated to being the first to bring you news of all new 'cross products. To ensure you get the latest news, subscribe to our RSS feed or our now-daily email alerts (via the form on the top right of our page).
Want to geek-out on more 'cross tech? See our other cyclocross tech articles here: https://cxmagazine.com/category/cyclocross-tech.
Got a new cyclocross-worthy product in the works? Let us know.