Clement currently offers some of the most popular cyclocross clinchers and tubulars, and its gravel tire options are also some of the most expansive. It's clear the company isn't content to rest on its laurels, and has answered the call for a more aggressive mud tire and tubeless options of its current popular cyclocross and gravel treads.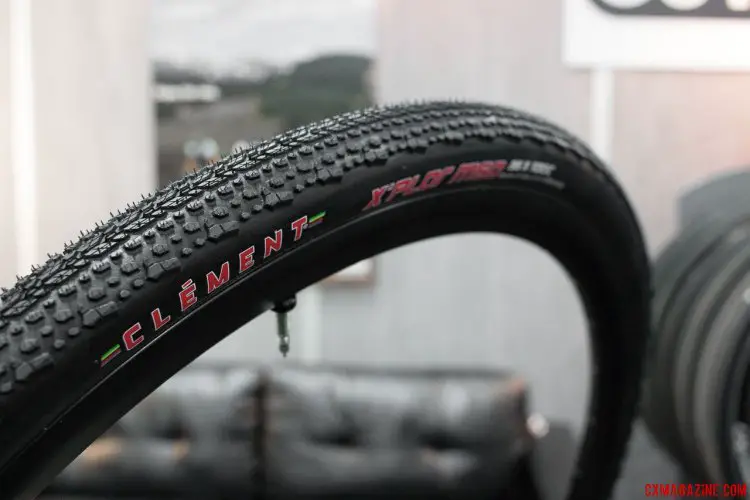 Clement offers a 32c and 40c X'Plor MSO clincher, but now has a 36c tubeless X'Plor MSO for tubeless fans, ourselves included. Tested at Rebecca's Private Idaho, coming this fall. Interbike 2015. © Cyclocross Magazine
At Interbike 2015, we got a first look at some of the new offerings in the pipeline. Some we got to see and touch, while others are still just on paper and won't be ready until 2016.
Gravel cyclists will be excited by the new tubeless X'Plor MSO 36c tire, which was recently tested at Rebecca's Private Idaho gravel ride. The MSO 36c tubeless features a nylon puncture protection layer, and like all other upcoming Clement tubeless tires, will retail for $75.
Perhaps the most exciting news for cyclocross racers is the new BOS mud tire. While the name may stir up a city rivalry as to whether Portland (PDX) or Boston (BOS) has more epic mud, the new mud tire features Clement's tallest knobs yet, with an aggressive chevron center, and supported side knobs that are designed to avoid squirm on the pavement. Clement's Johs Huseby described the new tire, saying, "It's taller than what we have right now, [with a] more aggressive side knob, and a really nice buttress on side knob, so it's not going to fall over [on pavement corners]." Available in early 2016, in tubeless, tubular and a 60tpi standard clincher format.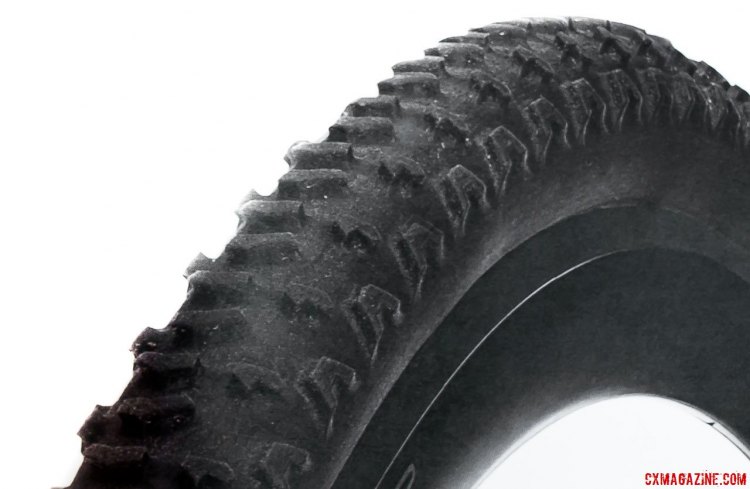 Portland and Boston can debate which city boasts more epic mud, but Clement has declared Boston the winner by naming its most aggressive mud tire after the East Coast city. The BOS features taller knobs, an aggressive chevron center tread, and buttressed side knobs, Clement Tires, Interbike 2015. © Cyclocross Magazine
Did we say tubeless? Yes, tubeless fans can rejoice as tubeless versions of the Clement MXP, PDX and new BOS tread are also in the pipeline, available in early 2016. All of Clement's tubeless tires will feature a new tubeless bead and sealant-compatible casing, but are not following the Road Tubeless standard. We predict that will mean, as with most cyclocross tubeless tires on the market, better compatibility with mountain, NoTubes and other tubeless rims, but perhaps trickier setup with Road Tubeless rims as found on Shimano and Easton wheels (among others).
The company isn't sharing any TPI numbers for the tubeless tires, and consistent with suppleness testing in Issue 28, has found that rubber and rubber thickness is at least as big a factor as thread count in casing in tire suppleness. Huseby explains, "That's not a conversation we're having…it's a tubeless casing, it's not about thread count, it's about the rubber content, that's what makes the sidewall supple, soft and impermeable."
Fat tire road cyclists, or narrow tire gravel enthusiasts, will also be interested in the new Strada tire versions. At Sea Otter 2015, we got a first look at the 32c Strada LGG tire, and Clement is looking to expand this line of tires with a new Strada USH tubeless version. The tire features a center chevron tread, will come in a 32c casing, and will be tubeless ready. Coming in early 2016.
See all the new Clement cyclocross and gravel tires in the slideshow below:
2016 Clement Cyclocross and Gravel Tires: Tubeless, BOS, MSO, and Strada LGG and USH: