The big S has been listening. The company has had three cyclocross clincher and tubular options on the market for a few years, but when it came time to update the tires, Specialized incorporated feedback and market trends into major changes to its 2018 cyclocross tire line.
Specialized has been making cyclocross clinchers as long as anyone, dating back to the early 80s Tricross that has inspired many a tire, including the Challenge Limus. That model went through several iterations before being discontinued, while in recent years, the Houffalize and Captain rolled in, and then, at least in the case of the higher-volume award-winning 35mm Captain 2Bliss, were retired prematurely in the eyes of some non-UCI racers.
Now the company has put its large resources into another update of its current cyclocross tire line. The Tracer, formerly a small knob, mixed-conditions tread, has been completely redesigned, the Terra has been put on a growth hormone regimen and emerges with taller knobs, while the Trigger sew-up has been retired.
High volume tire lovers still sad from the 35mm Captain disappearing will be happy to know Specialized has heard the cries, and now has 38mm versions of the two redesigned treads to join the existing 38mm Trigger, and adding to the growing quiver of higher volume cyclocross tires that includes Ritchey's 38mm Megabite (a relaunch of the Mount Cross) and Vittoria's 40mm versions of its Terreno cyclocross treads.
The Original Tracer Leaves No Trace
The old Tracer cyclocross tire was arguably the company's most popular cyclocross tire option, partially because of its versatile mixed-conditions small knob tread:
[caption id="attachment_24350" align="aligncenter" width="590"]
Specialized Tracer Cyclocross Tubular Tire, 700x33c © Cyclocross Magazine[/caption]
Now Specialized has sunset that design and returns with a completely new option that mixes the speed of the semi-slick Trigger and versatility of the old Tracer. Here's a close-up of the new Tracer:
[caption id="attachment_106908" align="aligncenter" width="750"]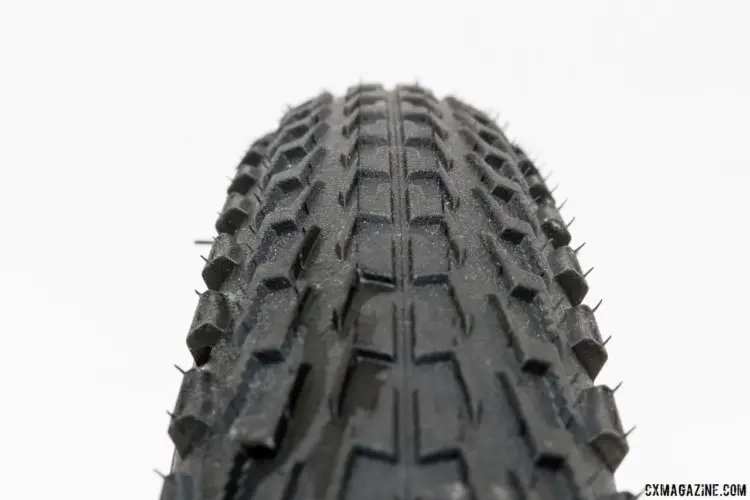 The new Specialized Tracer features a round profile, shallow and broad lightening bolt-shaped knobs. © C. Lee / Cyclocross Magazine[/caption]
The new Specialized Tracer is aimed at dry and intermediate conditions, and is said by the company to bring "the best from two worlds and redefines your personal cyclocross experience." How so? Specialized says the "stretched, properly-raised knob configuration across the center and transition area provides many edges to keep you in complete control while turning, braking and [executing] your dismounts/mounts."
The tread, when we first pulled it out of the box, reminded us of a hybrid tire tread, but the design isn't aimed at flat bar commuter and fitness bikes. Instead, it aims to be a hybrid of a semi-slick and a small knob tire with a mix of low rolling resistance and grip on hardpack.
[caption id="attachment_106905" align="aligncenter" width="750"]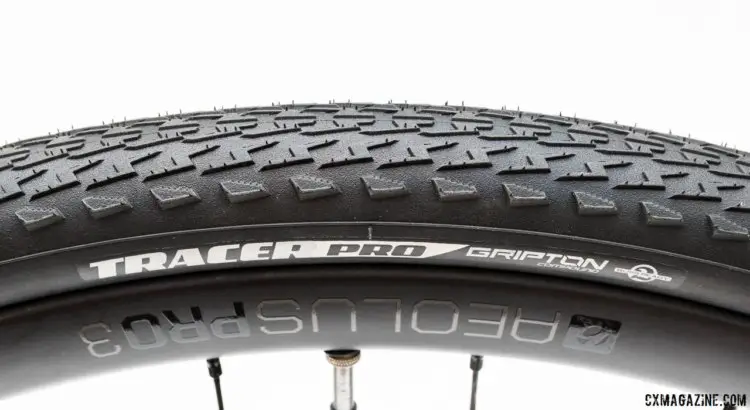 The new Specialized Tracer is a complete redesign, with numerous shallow, broad knobs but a lot of edges for grip on hardpack surfaces. © Cyclocross Magazine[/caption]
Specialized-sponsored Cody Kaiser told Cyclocross Magazine at Jingle Cross that the numerous edges of the tread provide great traction, and he opted to ride the tubular version of the new tread on Friday and Saturday in Iowa City:
The new tread is designed for grip in dry, fast conditions, but in damp conditions, all those edges that are designed to bite in hardpack can retain organic material, as seen in an early test ride:
[caption id="attachment_106929" align="aligncenter" width="750"]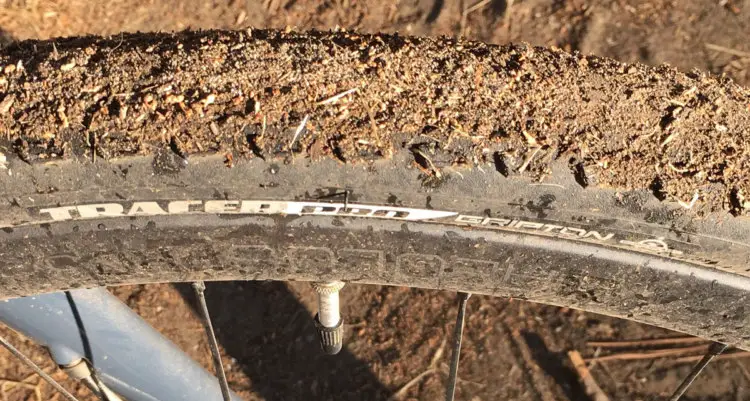 The new redesigned Specialized Tracer is fast and grippy when dry, but grips material when damp. © Cyclocross Magazine[/caption]
The Tracer will come in the 33mm and 38mm 2Bliss options, and a tan wall 33mm tubular, as seen on Kaiser's bike, to be released a bit later with an updated, reportedly more-supple casing than the blackwall casing used in the past tubular models.
[caption id="attachment_106904" align="aligncenter" width="750"]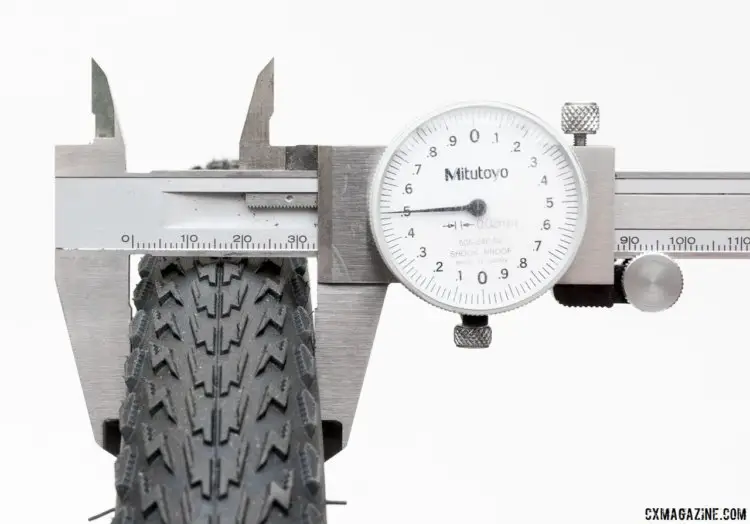 The Terra 33mm tire measures 33.5mm on a rim on an in‌ternal width of 19mm, inflated to 35psi. © C. Lee / Cyclocross Magazine[/caption]
The new treads feature the company's Gripton rubber compound, which is a mix of synthetic rubber and silica dioxide. Silica has a long history of helping cyclocross racers win rainbow jerseys, and perhaps in this incarnation, could do the same to a Specialized racer.
The 38mm option will have the company's Endurant casing, just as the 38mm Trigger did, a design that features a third layer of material on the sidewall for better puncture resistance on rocky terrain.
[caption id="attachment_106907" align="aligncenter" width="750"]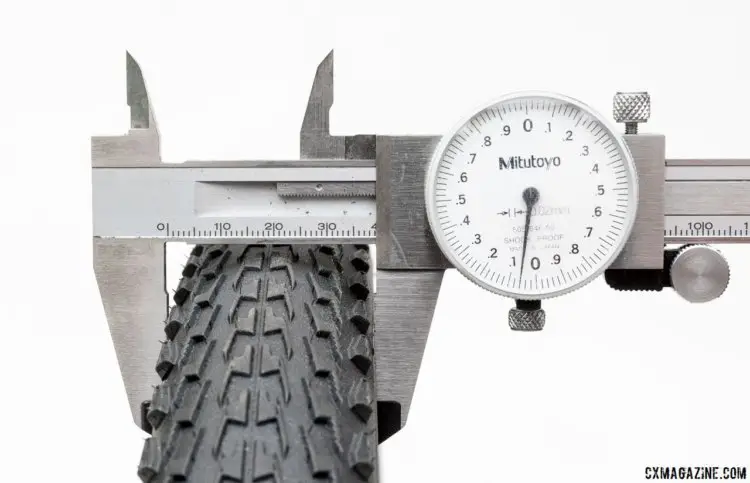 The 38mm Specialized Tracer is 39mm wide on a 19mm internal width rim when inflated to 35psi. © C. Lee / Cyclocross Magazine[/caption]
Both clinchers will retail for $55, while pricing on the tubulars has not yet been released.
Our test samples of the 38mm Tracer were close in weight and averaged 457 grams, while the 33mm options tipped our scales at 395 grams. Specialized's Sean Estes said our samples are "pre-production" and expects production samples to be lighter by up to 40 grams.
Terra Adds Bite
The original Terra cyclocross tire has been the mud clincher and tubular option from Specialized, but in our testing, represented more of a do-it-all tire that wasn't particularly the best option in sloppy conditions, but a fine option to install and race for a full season. Some of Specialized's sponsored athletes seemed to agree, and in the sloppiest conditions were seen racing on non-Specialized treads instead of the original Terra, shown below:
[caption id="attachment_68910" align="aligncenter" width="730"]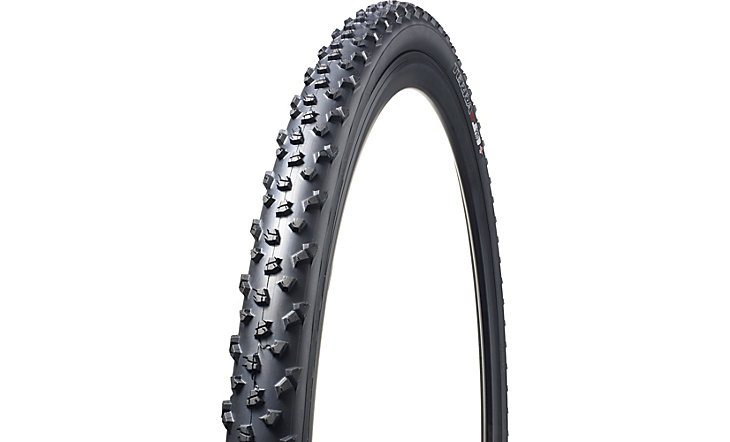 The original Specialized Terra, a tubeless tire designed for muddy conditions, took the CXM's 2015 Readers' Choice Award for Favorite Tubeless Tire.[/caption]
This season, we don't expect Specialized athletes to be reaching outside the Specialized tire family when Mother Nature cries them a river, as the new Terra has been redesigned with taller, more aggressive knobs.
[caption id="attachment_106915" align="aligncenter" width="750"]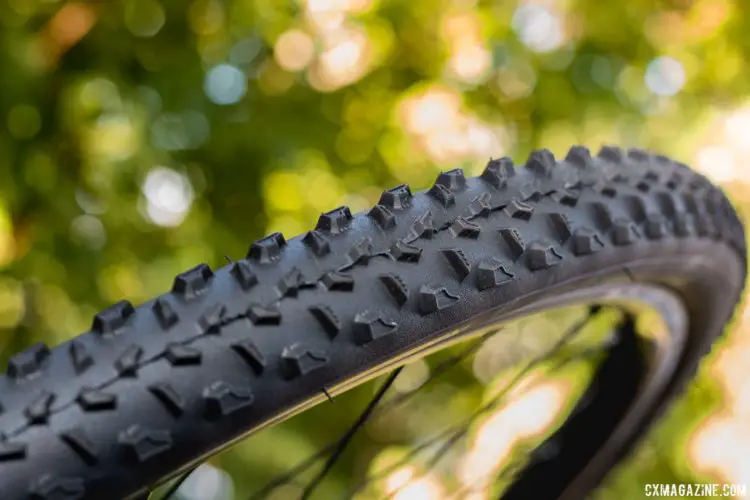 The Specialized Terra is all grown up, with taller, more aggressive knobs. The older version was, in our opinion, a decent all-around tire, but the new one looks to be decidedly more mud-oriented. © A. Yee / Cyclocross Magazine[/caption]
The new Terra's knobs vary in height, with 2.5mm tall knobs in the center of the tread, and tall 3.5mm knobs on the shoulders.
The new tread also has some strong hints of the legendary green Michelin Mud (our second reported Michelin Mud sighting this week after getting our grubby hands on the new green FMB Grippo S tubular).
[caption id="attachment_106916" align="aligncenter" width="750"]
Another Michelin Mud inspired tire? You be the judge, but Specialized certainly has oriented the new Terra to sloppy conditions and touts its rubber compound as a grippy ingredient. © Cyclocross Magazine[/caption]
With the only U.S. cyclocross world champion winning on a Michelin Mud, two-time World Champ Wout van Aert opting for its tread twice at Worlds, and one of the most-coveted tubular companies admitting to paying homage to the green Mud in terms of tread and color, any such resemblance could be considered validation of the Terra's ability in mud.
We're awaiting autumn storms to validate the Terra's grip.
[caption id="attachment_106913" align="aligncenter" width="750"]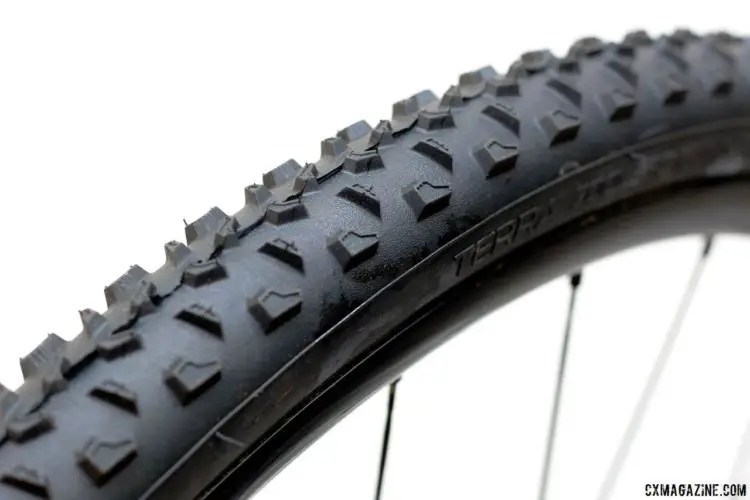 The new Specialized Terra has taller knobs but an open tread design for mud shedding. © Cyclocross Magazine[/caption]
Just as with the Tracer, the Terra will come in two 2Bliss casing widths, with a 33mm standard casing 2Bliss version (89mm bead-to-bead), and a bigger 38mm size with an Endurant 2Bliss casing.
[caption id="attachment_106909" align="aligncenter" width="750"]
On a 22.5mm internal width rim, the Terra fails a UCI and USA Cycling (Nationals) tire width maximums, and for most retail-paying customers, that's a great thing. 36 mm at 30 psi. © Cyclocross Magazine[/caption]
We can't help but wonder if the Endurant casing might be overkill for those of us who would like to ride the larger volume in muddy cyclocross races and still want maximum suppleness instead of protection against rocks. However, the extra protection should come in handy should you race in similar conditions to the wet but rocky 2017 Worlds in Bieles or a muddy Dirty Kanza.
The Terra will also come in tubular form, with the same updated tan casing that we saw on Kaiser's Tracer tires.
[caption id="attachment_106926" align="aligncenter" width="750"]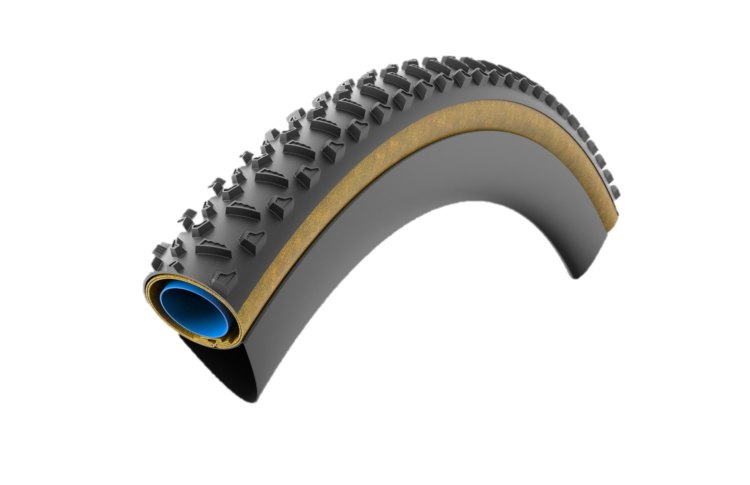 The new Specialized Terra has been redesigned to offer more bite in sloppy, muddy conditions.[/caption]
Our 33mm Terra Pro 2Bliss samples averaged 430g, and like the new Tracer, will retail for $55.
Tubular Trigger Discontinued
The company is also narrowing its tubular options, eliminating the semi-slick, dry-condition Trigger from the tubular line. The tire, which we first spotted at Lost and Found gravel race years ago, will continue as a clincher aimed more at the gravel crowd and is offered in widths ranging from 33 to 47mm.
Specialized cites a simpler race day choice as one of the benefits to having just two tubular treads, at least for big S loyalists or sponsored athletes:
"For the hardcore racer types, only having to consider two tread designs instead of three makes race day tire or wheel changes a lot simpler."
If you loved the old Trigger tubulars, stock up now.
See the photo gallery of the 2018 Specialized cyclocross tire line below.
2018 Specialized Tracer and Terra Cyclocross Tire Specs:
MSRP: $55 33mm and 38mm clinchers, TBD tubulars
Weight (pre-production): Tracer: 38mm: 457g actual; 33m: 395g; Terra 33mm: 430g actual
Casing: 2Bliss (33mm), 2Bliss & Endurant (38mm)
Width: 89mm bead-to-bead (33mm), 102mm bead-to-bead (38mm) – Why bead-to-bead?  (see measurements on specific rims in photos)
More info: specialized.com
2018 Specialized Tubeless and Tubular Cyclocross Tires Photo Gallery: