At the 2015 CrossVegas World Cup, Courtenay McFadden rode to a top 15 finish against some of the best riders in the world. Fans in the Pacific Northwest, and now hopefully across all of the United States, were not surprised by her result, as she is becoming a name to be feared on the cyclocross course, as proven by her top five finish this weekend at Gloucester. We've had our eye on her rise for some time, and featured her in our latest Issue 30. [Ed note: last chance to get Issue 30 with a subscription; digital version coming soon].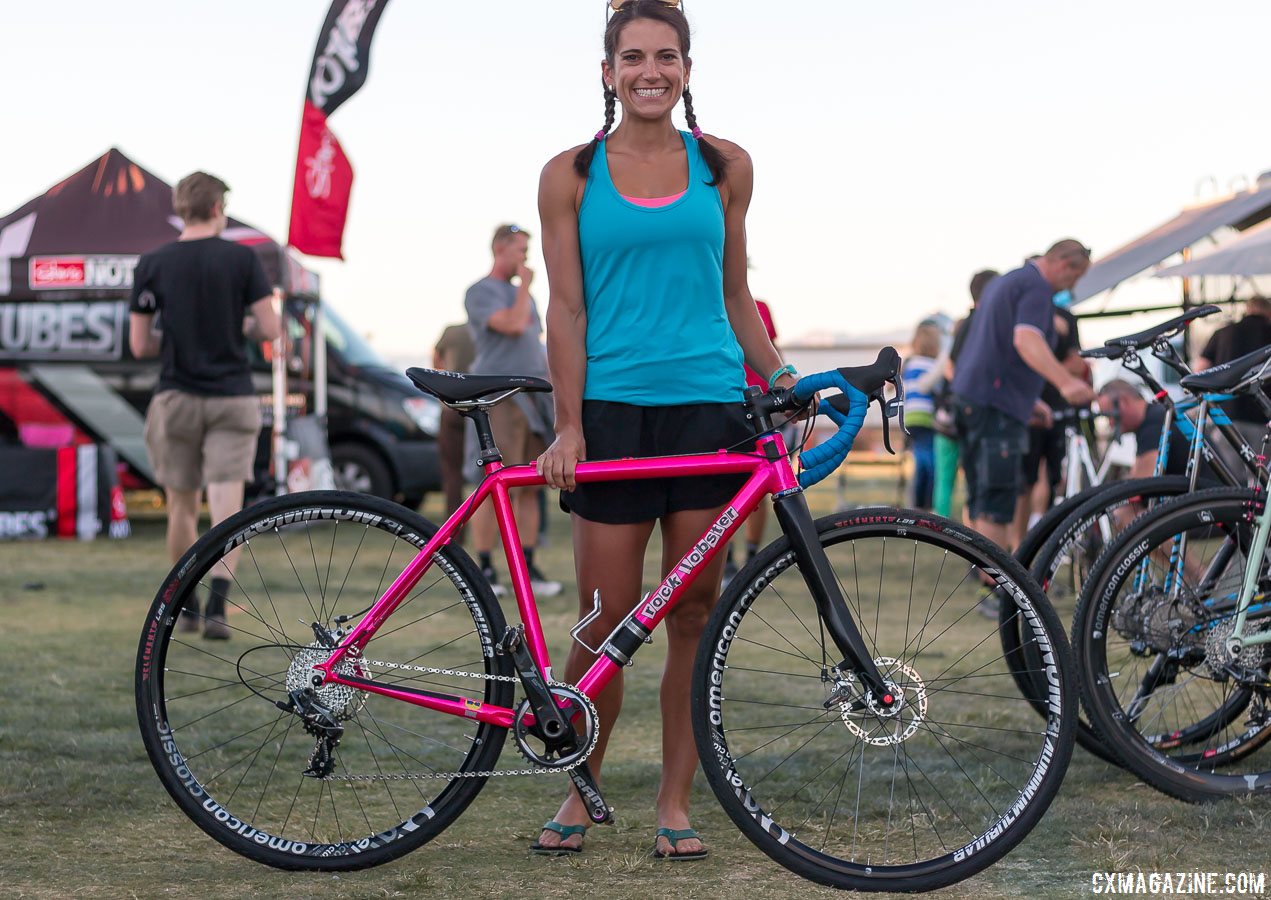 Courtenay McFadden is all smiles with her new bright pink Rock Lobster Cycles cyclocross bike. CrossVegas 2015. © Cyclocross Magazine
For today's Pro Bike Profile, we take a look at her sparkling pink custom Rock Lobster Cyclocross Team AL from the course at CrossVegas, where the varying heat and night wind left many riders wondering whether or not to add a bottle cage to their ride. The choice was complicated for McFadden as her bike is a full-on cyclocross race bike without cage bosses, but with a little ingenuity, she was able to play it safe with a cage and protect her paint.
Built by Paul Sadoff with his favorite Easton 7005 Ultralite tubing, a Rock Lobster Cyclocross Team AL frame can be purchased by mere mortals for $1550, an impressive value for a custom frame from a framebuilder with such experience and pedigree.
Sadoff finished off the custom team frame with a just-for-McFadden sparkling pink paint job and the team dressed the frame with some nice finishing touches, including bright blue Lizard Skins DSP bar tape and a Chris King headset to give it a bit of a Miami Vice look.
McFadden employs a SRAM Force 1 drivetrain (and a 38t chainring) with American Classic Aluminum Tubular Disc wheels and Clement LAS tubular tires, an appropriate choice given she was racing in Vegas, the airport the tires were named after.
Her bike was finished off with a full array of Fizik components for the cockpit, seatpost and saddle, and a TRP thru axle disc front fork along with TRP Spyre SLC carbon dual-piston mechanical disc brakes.
Use the slider below for full photos of her custom Rock Lobster and build specs. We're slowly digging out from the mountain of content we gathered in Vegas, and have plenty of more Pro Bike Profiles to come. Don't miss Wout van Aert's Colnago Prestige and Sanne Cant's Stevens Super Prestige cyclocross bikes.
More info: rocklobstercycles.com
Courtenay McFadden's Custom Rock Lobster Disc Brake Cyclocross Bike Photo Gallery: