The Craft Gran Prix of Gloucester Day 2 is a wrap, with 2015 National Champions reigning supreme.
While many of cycling fans' eyes were on former silver Junior Men's Cyclocross World Championship silver medalist Peter Sagan at the 2015 Road World Championships, most of America's best cyclocrossers converged in Gloucester, Mass. to battle to win one of the most prestigious races of the season.
Full race report by Cindy Brennan
Racers battled by the sea on a very dusty second day of racing at the Craft Sportswear Gran Prix of Gloucester, where a fast course carved through challenging terrain. The race today at Gloucester was the second day of the Verge New England Cyclocross Series, so fierce competitions unfolded in fifteen race categories. Racers from the smallest cub junior to the fastest pro racers vied for Series points on one of the toughest courses at Gloucester to date, the sandy corners filled with loose sections and tire-shredding gravel. Success on today's course demanded powerful racing combined with deft technique.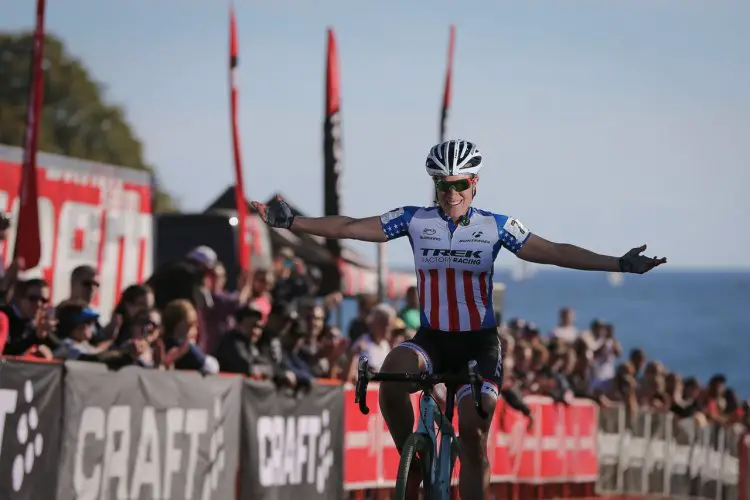 Compton wins day two of the Gran Prix of Gloucester. Photo by Meg McMahon
The women shot off the line at a blistering pace, kicking up a plume of dust as they hit the sandy course. Cassandra Maximenko (Van Dessel/ISM/PowerBar/ChallengeTi) took the holeshot, Helen Wyman (Kona Factory Racing) on her wheel. A collision in the SRAM Chicane area between Maximenko and Arely Kemmerer let Jena Greaser (JAM Fund/NCC/Vittoria), Courtenay McFadden, Ellen Noble (JAM Fund/NCC/Vittoria), and Caroline Mani (Raleigh/Clement) made a pass and form a gap.
Wyman and Katie Compton (Trek Factory Racing) charged, connecting with the leaders only to overtake them. Mani went along as Anthony bridged to what remained of the chase, joining Greaser and McFadden in their work. Compton went on the attack, easily making a powerful leap away from Mani and Wyman.
Wyman suffered a flat, opening the door for Crystal Anthony (Boulder Cycle Sport/YogaGlo), who was steadily closing in on the leaders, to climb into third spot, and McFadden to nab fourth. Wyman tried to undo her misfortune as Compton's lead continued to grow, but there wasn't enough time left in the race. Compton won by a solid margin, Mani crossing second, and Anthony third. Wyman beat McFadden in a sprint that displayed her impressive power.
Ellen Noble's race didn't go quite as well as yesterday's, but she did solidify her lead in the U23 Series competition. Mani edged out Compton for the overall Series lead by a mere five points, although Compton does hold onto the new 35+ Elite Women's lead.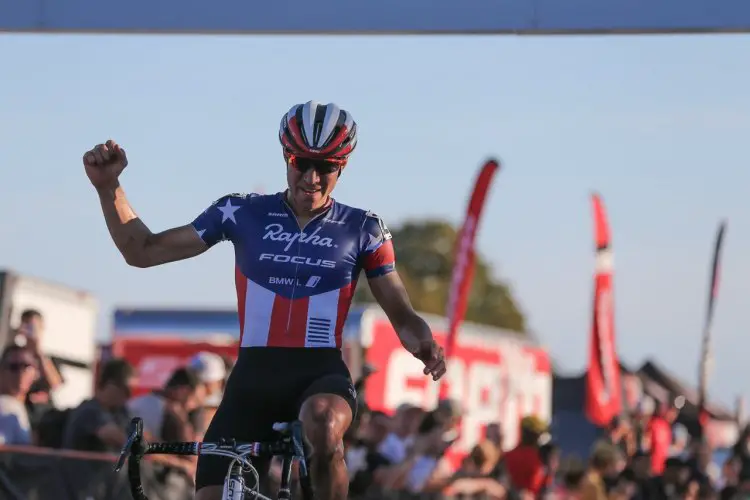 Powers celebrates his victory. Photo by Meg McMahon
The men hit the course next, Jeremy Powers (Aspire Racing), Curtis White and Stephen Hyde (both of Cannondale p/b Cyclocrossworld.com) breaking away from the stampeding field in the early laps. Ryan Trebon, the tall teammate of Hyde and White, led the chase in the hopes of joining his team up the track. The Cannondale trio had tried yesterday to isolate Powers and trade attacks to wear the National Champion down; however, their plan was foiled by a series of unfortunate flats. Today, they hoped to redeem themselves with a win.
Trebon made contact with the leaders, Danny Summerhill (Maxxis-Shimano Pro Cyclocross Team) in tow, and the team commenced their attacks. First White, then Trebon launched bold attacks, but Powers brought them all back in turn.
As Powers hit the gas, Trebon and then Hyde found themselves with punctures. Powers made his move, and it stuck. White held onto second and Hyde third in a duplicate podium as what we saw yesterday. Powers retains the Series overall lead, while White maintains the U23 jersey.
The Verge New England Cyclo-cross Series moves next to the Cycle-Smart International in Northampton, Massachusetts on November 7th and 8th. The battles for the Series lead culminate in Warwick, Rhode Island at the NBX Gran Prix of Cyclocross on December 5th and the Series finale December 6th. Follow the Series on Twitter for updates and more at @VergeNECXS or visit us online at cycle-smart.com/necxs.
Elite Women's Results, 2015 Gran Prix of Gloucester, Day 2
| Place | Bib |   | Time | Gap | First Name | Last Name | Team | City | U23/Mstr |
| --- | --- | --- | --- | --- | --- | --- | --- | --- | --- |
| 1 | 7 | 0:43:43 | 0:00 | Katherine | Compton | Trek Factory Racing | Colorado Springs CO | | 35+ |
| 2 | 18 | 0:44:10 | 0:27 | Caroline | Mani | Raleigh / Clement | Littleton | CA | |
| 3 | 20 | 0:44:33 | 0:50 | Crystal | Anthony | Boulder Cycle Sport/YogaGlo | Beverly | MA | 35+ |
| 4 | 42 | 0:45:01 | 1:18 | Helen | Wyman | Kona Factory Racing | Oudenaarde | GBR | 35+ |
| 5 | 9 | 0:45:03 | 1:20 | Courtenay | McFadden | | Bellingham | WA | |
| 6 | 33 | 0:45:14 | 1:31 | Ellen | Noble | JAM/NCC/Vittoria | Kennebunkport | ME | U23 |
| 7 | 8 | 0:45:22 | 1:39 | Arley | Kemmerer | Level Eleven Racing p/b PB2 | Palmerton | PA | |
| 8 | 32 | 0:45:25 | 1:42 | Rebecca | Fahringer | Amy D Racing | Concord | NH | |
| 9 | 34 | 0:45:34 | 1:51 | Jena | Greaser | | Barkhamsted | CT | |
| 10 | 29 | 0:45:51 | 2:08 | Kathryn | Cumming | Cyclocross Magazine Racing | Bloomfield | NJ | |
| 11 | 21 | 0:46:03 | 2:20 | Natasha | Elliott | Red Truck Garneau p/b Easton Cycling | Gatineau | QC | 35+ |
| 12 | 24 | 0:46:10 | 2:27 | Amanda | Miller | Boulder Cycle Sport/YogaGlo | Colorado Springs | CO | |
| 13 | 3 | 0:46:12 | 2:29 | Beth Ann | Orton | Kona | Portland | OR | 35+ |
| 14 | 13 | 0:46:16 | 2:33 | Gabriella | Durrin | Neon Velo Cycling Team | Westhampton | MA | |
| 15 | 26 | 0:46:30 | 2:47 | Ally | Stacher | Stan's NoTubes Elite CX | Horse Shoe | NC | |
| 16 | 40 | 0:46:30 | 2:47 | Kathleen | Lysakowski | Joe's Garage CX p/b BikeReg | Ware | MA | |
| 17 | 6 | 0:46:31 | 2:48 | Nicole | Duke | SRAM | Boulder | CO | 35+ |
| 18 | 25 | 0:46:47 | 3:04 | Emily | Kachorek | Squid | Sacramento | CA | 35+ |
| 19 | 10 | 0:46:49 | 3:06 | Erica | Zaveta | Maxxis-Shimano Pro Cyclocross Team | Brevard | NC | |
| 20 | 14 | 0:47:24 | 3:41 | Brittlee | Bowman | HOUSE IND/WITHINGS/SIMPLEHUMAN | New York | NY | |
| 21 | 16 | 0:47:34 | 3:51 | Amira | Mellor | Oldfield/Paul Milnes Cycles | W Yorkshire | GBR | U23 |
| 22 | 19 | 0:47:42 | 3:59 | Jessica | Cutler | Jamis Pro Cyclocross | Seattle | WA | 35+ |
| 23 | 46 | 0:47:59 | 4:16 | Julie | Wright | Team Averica | Belmont | MA | |
| 24 | 5 | 0:48:02 | 4:19 | Hannah | Payton | Team Kinesis UK | Kingswinford | GBR | U23 |
| 25 | 43 | 0:48:13 | 4:30 | Meghan | Korol | Team Handmade | Asheville | NC | |
| 26 | 53 | 0:48:46 | 5:03 | Melody | Gray | Colonial Bicycle | Portsmouth | NH | 35+ |
| 27 | 47 | 0:49:02 | 5:19 | Joanne | Grogan | NEXT-BMB | Hinesburg | VT | 35+ |
| 28 | 30 | 0:49:13 | 5:30 | Jenny | Ives | Verge Test Pilot/Jamis | Saratoga Springs | NY | |
| 29 | 38 | 0:49:18 | 5:35 | Ellen | Sherrill | Rock Lobster Cyclocross | South Lake Tahoe | CA | 35+ |
| 30 | 48 | 0:49:23 | 5:40 | Erin | Faccone | Team Averica | Medford | MA | |
| 31 | 59 | 0:49:40 | 5:57 | Ingrid | Lovitt | Hellgate Cyclery | Missoula | MT | 35+ |
| 32 | 49 | 0:49:44 | 6:01 | Jennifer | Malik | Granville Brewing - Stanridge CX Team | Columbus | OH | |
| 33 | 37 | 0:49:45 | 6:02 | Catherine | Sterling | Bikeman.com | West Boylston | MA | 35+ |
| 34 | 41 | 0:49:45 | 6:02 | Heidi | Wood | 333fab CX Factory Team | Seattle | WA | |
| 35 | 58 | 0:49:48 | 6:05 | Jauron | Vetter | State 9 Racing p/b Vittoria | Milford | NH | 35+ |
| 36 | 50 | 0:50:13 | 6:30 | Leslie | Timm | ladies first racing | Chelmsford | MA | |
| 37 | 73 | 0:50:19 | 6:36 | Siobhan | Kelly | To Wheels/Epic Sports Performance | London | ON | U23 |
| 38 | 55 | 0:50:19 | 6:36 | Melissa | Seib | Barker Mountain Bikes | Bryantpond | ME | U23 |
| 39 | 62 | 0:50:21 | 6:38 | Vickie | Monahan | Team ERRACE p/b DSO Manufacturing | Wethersfield | CT | 35+ |
| 40 | 56 | 0:50:41 | 6:58 | Natasja | Brooijmans | GREEN LINE VELO Driven by ZipCar | Boston | MA | 35+ |
| 41 | 63 | 0:50:46 | 7:03 | Melissa | Lafleur | Royal Mills p/b Graphic Innovations | West Warwick | RI | |
| 42 | 17 | 0:50:47 | 7:04 | Elizabeth | White | HOUSE IND/WITHINGS/SIMPLEHUMAN | Auburn | NH | U23 |
| 43 | 61 | 0:50:49 | 7:06 | Anna | Dingman | TRT Bicycles | New Paltz | NY | 35+ |
| 44 | 45 | 0:50:52 | 7:09 | Jessica | Duppler | Colonial Bicycle Company | Portsmouth | NH | |
| 45 | 54 | 0:51:15 | 7:32 | Emily | Reynolds | ladies first racing | Maedford | MA | 35+ |
| 46 | 64 | 1L | | Kelly | Chang | Voler/HRS/Clif Bar/Rock Lobster | Oakland | CA | 35+ |
| 47 | 36 | 1L | | Paula | Burks | Peachtree Bikes | Marietta | GA | 35+ |
| 48 | 65 | 1L | | Kate | Kirkpatrick | SEAVS/Haymarket | Washington | DC | 35+ |
| 49 | 1 | 1L | | Christin | Reuter | crossresults.com | Leeds | MA | |
| 50 | 27 | 2L | | Stacey | Barbossa | MidAtlantic Colavita Women's Team | Mountainside | NJ | 35+ |
| 51 | 60 | 2L | | Michele M | Smith | Hup United | Burlington | MA | 35+ |
| 52 | 70 | 2L | | Jordan | Dube | Craft Factory Racing | Beverly | MA | |
| 53 | 67 | 2L | | Hannah | Rossi | B2C2 p/b Boloco | Allston | MA | |
| 54 | 68 | 3L | | Emily | Smith | Kelpius Cycling | Philadelphia | PA | |
| 55 | 71 | 3L | | Stacy | Beneke | Team Dahanger | Kingston | NY | 35+ |
| DNF | 23 | | | Cassandra | Maximenko | Van Dessel/ISM/PowerBar/ChallengeTires | Naugatuck | CT | |
| DNF | 31 | | | Nicole | Thiemann | Rare Disease Cycling | Philadelphia | PA | 35+ |