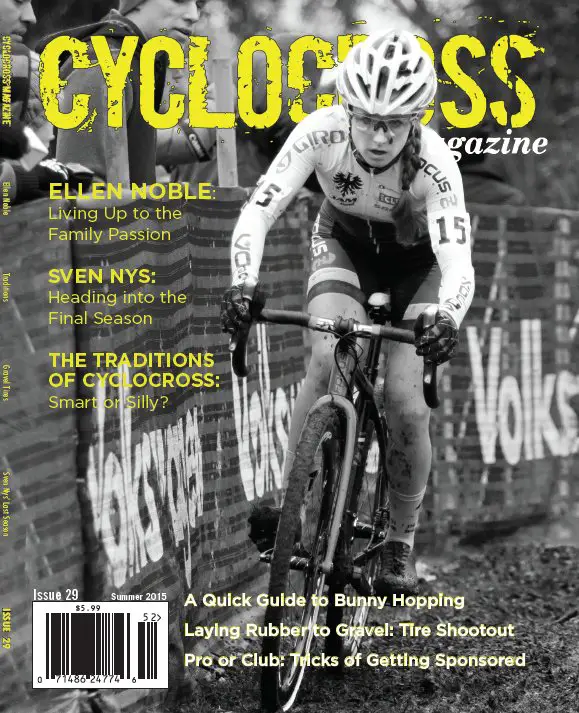 Contrary to popular belief, there is no offseason in cyclocross, and our action-packed Issue 29 sets out to prove it with enough content to get cowbells ringing in your ears.
It offers plenty of summer DIY projects to keep you busy and ready to get the most out of your racing, including a new approach to building practice barriers, a lesson on bunny hopping by Mock Orange Bicycle's Alex Ryan, and even all the secret tips on getting a high-level team or local club sponsored, authored by Easton Cycling's marketing manager, Craig Richey, who has ridden on both sides of the fence.
Looking for more ways to strengthen your upcoming season? The issue reveals what many of the big European riders are doing for the rest of the summer to prepare for cyclocross.
Are pro cyclocross traditions smart or silly? We see and read about the pros shaving legs, warming up, getting massages, embracing caffeine, wearing caps, and marinating in embrocation, but we grill professional racers on which ones will help riders of all levels, and which ones are full of fluff.
The two rider features are not to be missed. Christine Vardaros interviews Sven Nys as he works through the final offseason of his celebrated career. On the other end of the spectrum, the issue features a heartwarming look of rising star Ellen Noble, whose obstacle-filled past only strengthens her resolve to pursue a family dream.
The Gravel Cyclist offers some invaluable tips on setting up a bike for an adventure ride, and sets the tone for an issue filled with great tech content. Our tire shootout is one of the largest ever compiled of gravel tires, featuring rubber from Ritchey, Continental, Panaracer, Bruce Gordon, Specialized, Soma, Challenge, Bontrager, Kenda, Clement and WTB. As for all road wheels, we offer a side-by-side buyer's guide of the latest do-it-all wheels from Easton, FSA, Martindale, Alchemist, Bontrager, Mavic, Reynolds and Zipp.
Want even more extensive reviews? You got it. The issue delves into three bikes with ties to the Canadian cyclocross scene: the Brodie Romax, the Kindhuman KUDU and the Louis Garneau Steeple Xc. We also put the latest Bianchi Zolder and Santa Cruz Stigmata to the test and round out a bike review-packed issue. For the "cherry on top," the issue also offers upgrades with the Suunto Ambit3 Sport GPS Watch, the new Wickwerks 4-Bolt chainrings and the Praxis Cycles Conversion Bottom Bracket.
By the time you've set the content-packet magazine down, gravel will have turned to mud and you'll be ready for more! Pick up your back copy today, mailed first class, or get a digital version for quicker gratification. Read it here.