Two years ago, we got a first look at Calfee Design's soft-tail rear end on the company's prototype road bike at 2013 Interbike. Since then, we got our hands on the original soft-tail Manta, reviewing it in Issue 25 alongside the Trek Boone (you can find a digital copy of that issue on uberflip, Google and Apple Newsstand).
The new Manta has been successful for the small company, and the company sold a few dozen models, each equipped with the iconic stainless steel-wrapped carbon fiber trusses below the bottom bracket. Since Calfee Design's first rendition of the soft-tail cyclocross bike, however, it has since done a lot more testing and research on the stiffness, compliance, and travel of the Manta, and has now switched to custom carbon-wrapped junctions between the bottom bracket shell and the chainstay. By moving to tube-to-tube construction here, the company has been able to better distribute and tune the flex (and therefore the stresses) of the chainstays.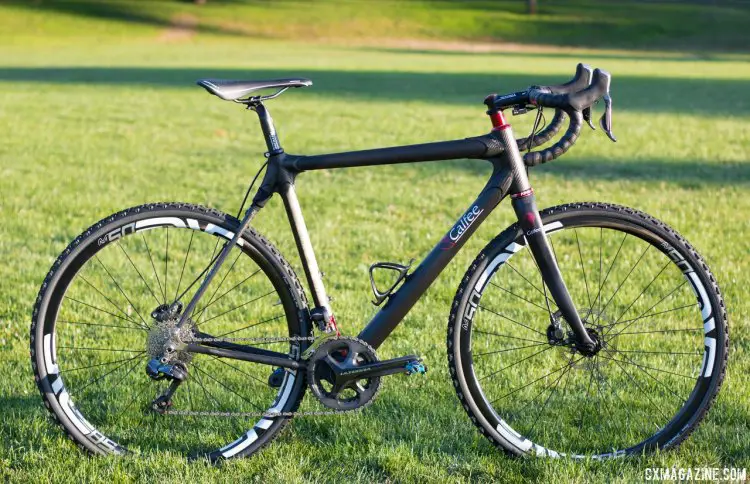 Cyclocross Magazine gets an exclusive first look and first ride on the brand new Calfee Manta CX soft tail. © Cyclocross Magazine
The upside for cyclocrossers, is there's less to catch mud behind the bottom bracket, and especially bunny hoppers, less risk of landing awkwardly on the trusses if you really botch a barrier hop.
The latest Manta CX still continues Calfee's embrace of Look's BB65/Zed bottom bracket system that features giant 65mm bearings, and utilizes an adapter for 24mm or 30mm cranksets. But Michael Moore, Calfee Design's Sales and Marketing Manager, reports that the company is able to support more conventional bottom bracket shells if preferred by customers. We asked if that includes the BB86 standard, which offers an 18mm wider shell (and can allow for better mud and tire clearance), and Moore said they'll be looking at that one as well.
While the new Manta CX offers far more tire clearance than the original road-oriented Manta we previewed and rode last year for Issue 25, the company is still eyeing ways to accommodate the trend of gravel and cyclocross racers moving towards wide 40c and larger tires.
Are We All Going Soft?
Sure, soft tails are not a Calfee Design invention. Companies such as Moots, Serotta, DeKerf, Trek and Cannondale have offered systems as well, and since then plenty of other companies, such as Pinnarello with their DOGMA K8-S road bike, have jumped on the band wagon as well. Calfee's might be the lightest however, with a full carbon implementation with the exception of one metal spring.
We're seeing a trend of adding suspension to cyclocross, gravel and adventure bikes with the Cannondale Slate, the Trek Boone and the Stafast stem, and it makes sense if you're typically riding on dry, bumpy courses, or spend more time on your bike exploring than you do with it on your shoulder. Weight weenies may scoff at the idea, but Calfee Design's implementation comes with nary a weight penalty, with the frame tipping the scales at just 2.5 pounds, lighter than most metal frames.
Sven Nys and Katie Compton have proven that a bit of suspension has its place on World Cup podiums, and both have won on Trek's Isospeed decoupler system seen on the Trek Boone we reviewed in Issue 25. However, the Boone's flex is highly dependent on the rider being seated, and the fore/aft saddle position is a big variable on the leverage and stiffness of the system. The Manta CX is an active system, which flexes whether the rider is seated or standing, doesn't vary greatly by saddle position, and helps with traction in climbing and cornering.
Manta CX First Ride Impressions
Our initial first rides reveal a quick-steering cyclocross race bike that begs to be sprinted through bumpy terrain. Rear wheel traction is great on sections that would normally have our rear wheel skipping and the rear tire skidding on a "hard-tail" cyclocross bike. With the spring on our current test bike, the rear "travel" feels a bit stiffer than the original Manta we tested, with less pedal bob (there are five different springs that can be used to tune the rear travel).
See loads of upsides and not many downs? Well, unfortunately, a sizable price tag comes with all of these features, with the frame alone costing $5095 and the full build we're testing approaches the five-digit mark at $9995. Some may scoff and others will dream, but a lucky few may get their name into the company's wait list.
Stay tuned as we put this model through its paces, and look for the full review in Issue 30's look at Dream Bikes that some of you will consider, and many of us will only dream about.
Use the slider below for more detailed photos of the Calfee Design Manta CX as well as a frame spec list. More info: calfeedesign.com