For 2014's Crusher in the Tushar, a 70-mile gravel race that extends through some of Utah's highest road elevation, Levi Leipheimer edged Jamey Driscoll to take the top step on the podium. This year's race brought even more cyclocross names to the front, including Allen Krughoff, Tim Johnson and Jonathan Page. Use the slider below the race introduction for both race reports as well as the top ten results in both the Men's and Women's Fields.
Photo gallery of winners and the race coming soon.
by Steven L. Sheffield
In the small southwestern Utah town of Beaver, a town originally settled by Mormon pioneers in 1856 just west of the Tushar mountains, also known as the birthplace of both the notorious outlaw Butch Cassidy and inventor of the television Philo T. Farnsworth, a beautifully crisp and cool morning greeted the field the roughly 600 riders choosing to brave the course designed by former road professional Burke Swindlehurst in the Fifth Annual Beaver County Travel Council Crusher in the Tushar, presented by DNA Cycling.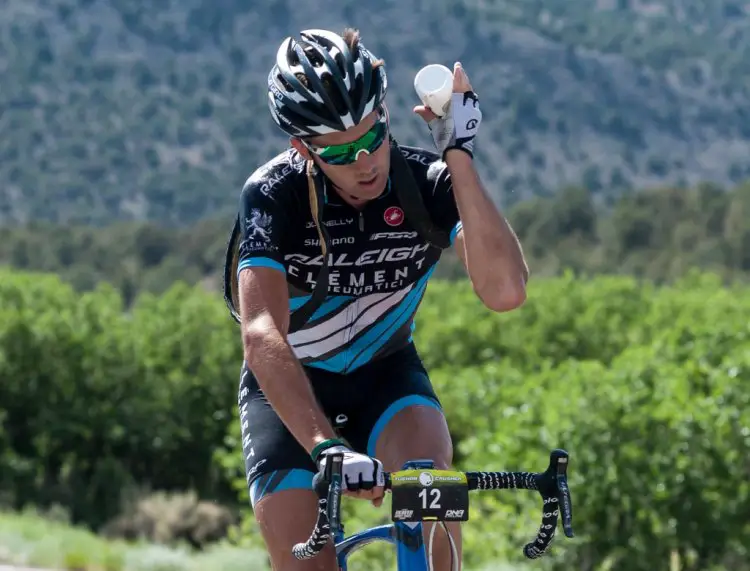 Jamey Driscoll returned to the Crusher in the Tushar and took another second-place finish. Tim Johnson, Allen Krughoff and Jonathan Page were the other cyclocross racers that raced. Photo: Christopher See.
In attendance were riders from 23 US states and 3 countries, on a wide variety of bikes, ranging from cyclocross bikes to both rigid and full-suspension mountain bikes, geared and singlespeed, with flat bars, drop bars, riser bars or mustache-bars, and even a couple of tandems, ready to tackle an event that never dipped below 5900' in elevation.
The 69-mile course through the remote wilderness areas of Utah's little-known Tushar Mountains and Fishlake National Forest features a near-perfect 50/50 split of paved and dirt roads spanning two counties and approximately 10,000 vertical feet of climbing, before finishing at Eagle Point Ski Resort, with a summit just under 10,400'.
Squire Excels Over Big Cyclocross Names at Men's Crusher in the Tushar
Amongst the Pro/Open Men starters was 2014 runner-up Jamey Driscoll (Raleigh-Clément), who had shown a steady progression in his three prior participations, finishing 7th in 2012, 4th in 2013, before finishing 2nd to Levi Leipheimer in 2014.
Toeing the line alongside Driscoll were fellow New Englanders and pro cyclocross riders Jonathan Page (Fuji-Spy Optics) and Tim Johnson (Volkswagen-Cannondale), along with Sho-Air/Cannondale pro mountain biker Alex Grant (4th 2012, 6th 2013). Like Driscoll, Grant and Page now make their home in Utah.
Also in the field were Team Sky professional Danny Pate, former professional road rider Neil Shirley (Road Bike Action), professional cyclocross rider Allen Krughoff (Noosa), and Salt Lake City native and professional road rider Robbie Squire (Hincapie Racing), along with 2011 podium finisher Benjamin Blaugrund (Juwi Solar), making his third appearance.
After an easy roll-out, Blaugrund and LeRoy Popowski (Groove Subaru) decided to get the ball rolling by launching the early break, quickly opening up a gap of 5 minutes on the rest of the field. Soon after, Jake Wells (Form Attainment Studio) and Menso de Jong (Team Clif Bar) attempted to bridge the gap, but were never quite able to shut it down.
Once the field hit the first dirt climb, the field started to come apart as one-by-one riders dropped off the back of the main chase, which was soon down to just four riders as Tim Johnson, Allen Krughoff, Neil Shirley and Jonathan Page were all initially left behind on by the pace set by Robbie Squire, Jamey Driscoll, Danny Pate and Alex Grant.
As the riders neared the top of the first climb, Jonathan Page managed to reattach himself to the Squire & Driscoll group, and the group of five soon reeled in Wells and de Jong. With Utah rider Andrew Dorais (Contender Bicycles) also bridging the gap as the group approached Betenson Flat before the drop down the backside of the course, there was now an eight-strong group chasing the two leaders down the 5-mile unpaved descent of Utah Highway 153 towards the town of Junction.
Not surprisingly, the descent of Utah 153 claimed a few casualties as both Alex Grant and Jonathan Page flatted rear tires on the descent. With the Crusher's rules against outside mechanical assistance, both riders were left on the side of the road to repair their flats, damaging their hopes of a top-3 finish. Menso de Jong had a race-ending crash, tearing the rear derailleur from his bike; but suffered no major injuries.
Surprisingly, considering the rough road conditions faced on the descent, Danny Pate was the fastest down the mountain despite only being able to fit 25mm road racing tires on his team-issue Pinarello Dogma.
"The conditions were pretty good, the course was selective as always. Going down the descent was equally as selective, if not more so. Danny Pate was a machine out there, on road tires no less, impressing all of us," said Driscoll after the race.
As the remaining riders in the lead hit US Highway 89 on the stretch from Junction to Circleville, LeRoy Popowski, who was riding a mountain bike, was left behind by Blaugrund, who was on a cyclocross bike. As they entered Circleville, Blaugrund's lead over Popowski was about 2:15, with the chase, now consisting of Squire, Driscoll, Pate, Dorais, and Wells a further 1:15 behind.
The chase group caught Popowski as they turned onto Doc Springs Rd., also referred to as the infamous "Sarlacc Pit" due to its often soft, sandy surface and full exposure to the sun. On this day, however, the road caused gave the riders little trouble as recent rains made the surface relatively hard-packed and smooth, and there was just enough cloud cover to keep temperatures cool as the riders looped around to rejoin Hwy 153 for the ascent of the oft-feared and aptly named "Col d'Crush".
At this point Robbie Squire began applying a little more pressure and once again the group started to get whittled down as Dorais, Wells, and Pate were all gapped, with only Jamey Driscoll initially able to maintain contact.
Working together, Driscoll and Squire finally managed to bring back Blaugrund as they made the left turn onto Hwy 153, but as the road turned upward, Squire started dancing his way up the climb, leaving first Blaugrund and then Driscoll behind, maintaining a steady but rapid pace to claim the KOM prize at 13 miles to go.
The pain didn't stop there, however, as Squire and the rest of the riders still faced another 1,000 feet of climbing back to Betenson Flat before turning north towards Big Flat. For the final sting in the tail, Squire faced another 10% average climb over the last mile before crossing the finish line at Eagle Point Ski Resort in 4:09:59, setting the second fastest time since the race's inception in 2010, just 3:42 slower than Levi Leipheimer's record time of 4:06:17 set in 2013.
"There was a bit of a tailwind up the Col d'Crush and so I was waiting for that to give it a little effort," said Squire of the winning move.
When asked how he trained for the event, Squire said "It's been tough because my oldest training partner Burke has been too busy putting on this race. I come out here, and it's worth it. It's obvious the work he hasn't been doing on the bike has been put in here because it's a fantastic event."
Driscoll managed to hold on for 2nd place, in 4:22:33, just over 12 ½ minutes behind Squire, while LeRoy Popowski managed to claw back time on the final climbs to finish 3rd at 4:24:41.
"Robbie and I were together heading up the Col d'Crush, and he just took a look back and punched it. I tried to keep him in sight, but there was nothing I could do. I just fell apart and he had the legs and kept going all the way to the finish," said Driscoll.
"Everyone was blown away by Danny Pate on the descent. He saved a little something on the top little rollers, and just came flying by everybody on a road bike, with teeny-tiny little tires. Driscoll came by me, and exclaimed 'Holy crap! What a boss!'" added Squire.
Danny Pate also really enjoyed his first Crusher experience. "This was a fun race, and I was glad to be here. It's a unique race, which is why I wanted to do it. It appealed to me because it had some road, some dirt, and a bit of everything and you just run what you brung and ride any bike you want," he said after the race. Pate's next appearance on the international stage will be at the Clásica San Sebastián, and then a likely spot on Team Sky's roster for the Vuelta a España.
Rounding out the top-10 were Alex Grant (4th), Jake Wells (5th), with Neil Shirley (6th) just edging out Danny Pate (7th) in a two-up charge for the line, followed by Benjamin Blaugrund (8th), Andrew Dorais (9th) and Tim Johnson (10th).
"A rear flat took me out of the hunt on the main downhill," said Grant after the race. "I put a tube in and rallied back to 4th. The silver lining was that after that I got to ride my own pace and enjoy the awesome event that Burke Swindlehurst has created a little more. Amazing views and a wicked day on the bike."