For 2014's Crusher in the Tushar, a 70-mile gravel race that extends through some of Utah's highest road elevation, Levi Leipheimer edged Jamey Driscoll to take the top step on the podium. This year's race brought even more cyclocross names to the front, including Allen Krughoff, Tim Johnson and Jonathan Page. Use the slider below the race introduction for both race reports as well as the top ten results in both the Men's and Women's Fields.
Photo gallery of winners and the race coming soon.
by Steven L. Sheffield
In the small southwestern Utah town of Beaver, a town originally settled by Mormon pioneers in 1856 just west of the Tushar mountains, also known as the birthplace of both the notorious outlaw Butch Cassidy and inventor of the television Philo T. Farnsworth, a beautifully crisp and cool morning greeted the field the roughly 600 riders choosing to brave the course designed by former road professional Burke Swindlehurst in the Fifth Annual Beaver County Travel Council Crusher in the Tushar, presented by DNA Cycling.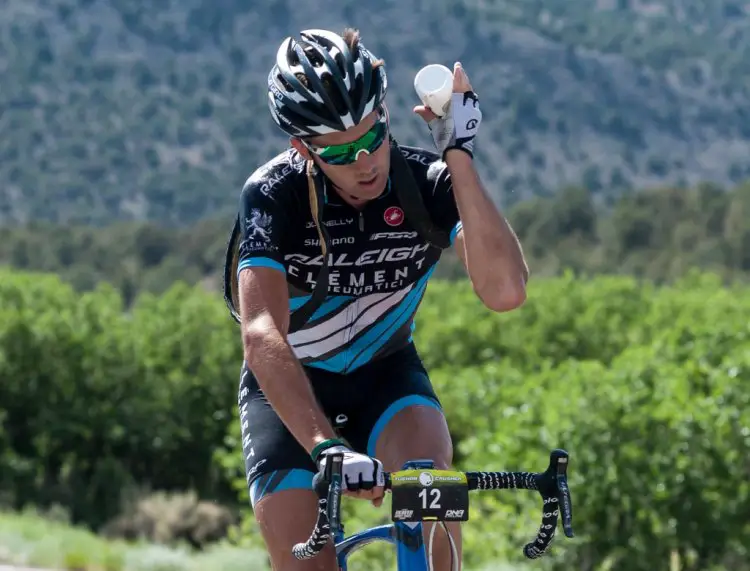 Jamey Driscoll returned to the Crusher in the Tushar and took another second-place finish. Tim Johnson, Allen Krughoff and Jonathan Page were the other cyclocross racers that raced. Photo: Christopher See.
In attendance were riders from 23 US states and 3 countries, on a wide variety of bikes, ranging from cyclocross bikes to both rigid and full-suspension mountain bikes, geared and singlespeed, with flat bars, drop bars, riser bars or mustache-bars, and even a couple of tandems, ready to tackle an event that never dipped below 5900' in elevation.
The 69-mile course through the remote wilderness areas of Utah's little-known Tushar Mountains and Fishlake National Forest features a near-perfect 50/50 split of paved and dirt roads spanning two counties and approximately 10,000 vertical feet of climbing, before finishing at Eagle Point Ski Resort, with a summit just under 10,400'.
US Road Legend Farina Wins Womens's Pro/Open at 2015 Crusher in the Tushar
Starting a minute after the Pro/Open Men, the Pro/Open Women was stacked with talent as well, featuring former US National Road Race Champion Robin Farina (realwheelsbike.com), multi-time Canadian National Champion Lyne Bessette, professional Enduro rider Kelli Emmett (Juliana-SRAM), and Utah riders Mindy McCutcheon (Canyon Bicycles-Shimano) and Anne Perry (DNA Cycling p/b K4 Racing).
As the group approached the first climb, Mindy Caruso (Nero Veloce) launched the first attack, bringing Robin Farina and Mindy McCutcheon with her. The three riders drilled it up the climb to Betenson Flat, but Caruso was unable to hold Farina's and McCutcheon's wheel, and was gapped before topping the first climb.
On the descent of 153, Farina plunged down the mountain, leaving McCutcheon and everyone else behind.
"When it came to descending, I quickly ran out of gears," said McCutcheon. "Crap, I didn't think about my gearing going downhill, I was only worried about the uphill! I was pedaling as fast as I could, but Robin quickly drifted out of sight."
Caruso was able to catch and pass the undergeared McCutcheon on the descent.
"I didn't really know the time gaps between first-place (Farina), myself, and third place (McCutcheon) but I just went into time-trial mode and pushed it from there," said Caruso after the finish. "As I passed about five miles to go they told me there was about a two minute gap to the leader, just I just hit it as hard as I could on that last little descent and the final climb up to the finish."
Farina brought it home in 5:01:48, destroying Gretchen Reeves' 2013 record pace of 5:16:46 by just shy of 15 minutes. Caruso's late charge saw her narrow the gap to 1:36 as she finished in second with a time 5:03:24. McCutcheon cruised across the line in 3rd place at 5:10:14, also breaking Gretchen Reeves 2013 record by a wide margin.