by Clifford Lee
We obtained a set of Paul Components Klamper mechanical disc brakes as part of the first production run after it's official introduction at 2014 Interbike. The Klamper was in the works for three years to achieve progressive pad actuation and offer excellent lever feedback for modulation. Adjustability and durability were worked on through several prototypes over the past year leading to this first production run.
The Paul Components Klamper is a single piston mechanical design akin to the SRAM BB7, Shimano CX77, and Hayes CX Pro. It has tool less pad adjustment, making it most similar to the BB7. Paul shunned a dual piston design, choosing the simplicity and proven effectiveness of the single piston design for the mechanical caliper. Instead, smoothness of actuation, lever feel and durability were the priorities in this designed and made-in-America caliper from Paul Components.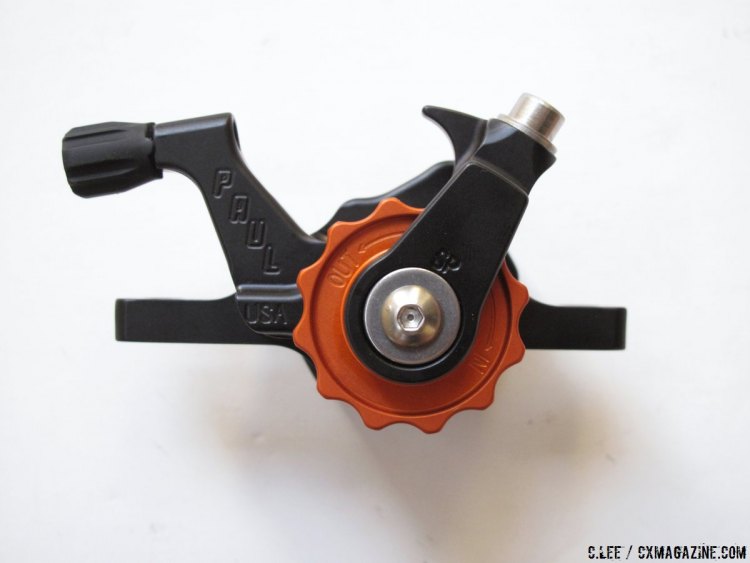 Paul Components Klamper mechanical disc brakes. © C. Lee / Cyclocross Magazine
Paul Components used larger ball bearings on the ramps and a needle bearing thrust washer was used on the pad actuator to smooth the actuation and perfect pad travel. The caliper body was designed to put material where it was needed for stiffness, yet not excessively to maintain a relative light caliper. Pad adjustment is critical with a single piston design to keep the stationary inboard pad close to the rotor so that as the moving outer pad contacts the rotor, minimal rotor flex is required to squeeze it to a stop. Paul addressed this need with large notched dials that are easy to grasp and turn.
The caliper is machined from 6061 aluminum alloy, with heat treated steel for the ball races and weighs an actual 209 grams with the Kool Stop metallic pads installed in our short pull sample.
The Klamper has a 32mm actuation arm length and takes 13mm of movement (cable pull) to move the pads in 1mm. The Klamper is available for both short pull (road) and long pull (mountain/flat-bar) levers, easily interchangeable by swapping the actuating arm.
One of the biggest advantages of a mechanical disc brake over a hydraulic version is simplicity. Set-up, maintenance, and reliability are considerably easier than with a hydraulic system. No master cylinder, messy brake bleeds, or worry of seal failure when the system operates simply with a cable. If you're on a 200-mile remote gravel race or adventure, the cable actuated mechanical system is easily user serviceable with your pocket tool. You have to pay attention to pad adjustment before the long descent, but other than that, it's worry free.
The Paul Klamper sets up easily, is easy to adjust with the large pad adjustment dials, and feels great at the lever, a feeling that's improved as the pads and brake have bedded in. It has a blocky industrial look that is attractive in its own way. The Paul Klamper is neither the lightest, cheapest, nor most sophisticated disc brake option, but it certainly is lust-worthy as a made-in-America by Paul Components option for disc users, and will fit just perfectly with that handmade steel gravel adventure bike.
Stay tuned for a more details as the brake is put through the paces.
Paul Klamper Disc Brake Caliper Specs:
MSRP: $179 per caliper. Includes Kool Stop metallic compound pads.
Claimed weight: 211 grams including pads
Actual weight: 209 grams including pads
No rotor, cables or housing
More info: paulcomp.com