BALTIMORE, MD—Stephen Hyde (Cannondale p/b CyclocrossWorld) and Katie Compton (KFC Racing p/b Trek-Panache) continued their winning ways, controlling their bikes and their competitors on a muddy, slippery Charm City course.
Compton Surges to Third Straight Win

Hurricane Matthew remained well to the south, but the outer rain bands made a guest appearance for the Elite Women's Category 2 race at Charm City Cross in Baltimore on Saturday. But that didn't slow down American Cyclocross National Champion Katie Compton (KFC Racing pb Trek/Panache) of Wilmington, Dela., who stormed to the win in 49 minutes and 31 seconds.
Taking the holeshot for the early lead was defending champion Emma White (Cannondale pb Cyclocrossworld) of Delanson, N.Y. She traded blows with Britain's Helen Wyman (Kona) for the final four laps, and had to settle for third. Wyman finished 22 seconds behind Compton to finish second, and White was 33 seconds back for the third step on the podium at Druid Hill Park in metropolitan Baltimore. White won both days last year.
White said the course conditions were completely different than what she encountered last year at Charm City Cross. "It was a little bit rainy out there today. Last year it was hot and dry. This year, being C1 tomorrow, naturally brought more competition, which is great. So it was the same course, but different conditions, different competition and I am really happy with third," said the 21-year-old.
"So I sat with them for a little bit and Compton rode away. She is unbelievable, really really strong. I was with Helen for a little bit and lost her on one of the deep mud sections, where that is such a strength for her. I hung on for third."
Now in its 12th year, the Charm City Cross entertained 48 Elite Women at the start line for Saturday's C2 race. Wyman, who conducted a youth cyclocross clinic at Druid Hill Park on Friday, has been adopted in the Baltimore area as a favorite ride, having won this event eight times, going back to 2011.
"Emma went from the gun. She is a really fast starter. But she normally calms down after a lap," Wyman said about the race. "It's muddy out there and starting to get slick near the end of the race. It's good, I like out there."
The podium placement was pretty much set after the second lap, when Compton moved to the front. "Katie Compton came past me, I tried to stay with Katie. She took a really good line in the sand, which I didn't. She managed to get a gap there, and once Katie gets a gap it is pretty much impossible to get her back. So Emma and I were riding together. When she came past, I thought, great, I'll sit on her for a bit and see what happens. And then I just rode hard on one of the hills, I think, and gapped her."
It was the third win in three races for Compton, who took both the C1 and C2 races last weekend at KMC Cross Fest in Thompson, Conn. "Today's race was just really fun. The course was really great. There was kind of a slow climb up for half the course, and the second half of the course sort of a slow descent down. I just really enjoyed it.
"Going through the sand was slow, and then we had a big, huge run up. I liked to try to accelerate as best I can after the slower section, just to put a little time on people. Hopefully I saved something for tomorrow and will have a good race tomorrow too," added Compton, a 12-time USA Cycling Elite Cyclocross national champion.
"The course was really great. There was kind of a slow climb up for half the course, and the second half of the course sort of a slow descent down. I just really enjoyed it." -Compton
Caroline Mani (Raleigh Clement) of France, who was second to Compton at last weekend's KMC Cross Fest's C2 race, finished fourth today, 42 seconds back. She currently sits second in the USA Cycling Professional Cyclocross Calendar (Pro CX), which features the premier cyclocross events in the U.S.
The Charm City Cross event is the fifth of eight Pro CX events to hold C1 races for women and men, which will be contested Sunday afternoon. The individual points leader for women, American Ellen Noble (JAM Fund/NCC), did not compete today and is expected to race on Sunday.
Hyde Best in Baltimore Mud

No wind, but plenty of rain courtesy of Hurricane Matthew continued to soak the sand and soil at Charm City Cross for the Elite Men's UCI C2 battle at Charm City Cross Saturday afternoon. The weather conditions didn't deter Pro CX men's point leader Stephen Hyde (Cannondale p/b CyclocrossWorld) of Easthampton, Mass., as he secured his second Pro CX race win of the season. Hyde took the eight-lap race win in 1 hour, 1 minute, 25 seconds.
Kerry Werner (Kona Endurance Team) of nearby Birdsboro, Penn., finished 16 seconds back for second. Curtis White (Cannondale p/b CyclocrossWorld) of Delanson, N.Y., who won both days of racing at last year's Charm City Cross, was down 22 seconds third. He outsprinted Tobin Ortenblad (Santa Cruz Factory Racing) of Santa Cruz, Calif. and German-born Yannick Eckmann (Boulder Cycle Sport/Yogaglo) of Boulder, Colo., who finished with the same time for fourth and fifth, respectively.
Ortenblad and Werner picked up the pace at the front with five laps to go, and that is when Hyde and Werner made a move and opened a gap.
"He's a good bike driver, this is a great course for him, with a little bit of elevation, and a nice driving section. He was good company to have, and set a good pace," Hyde said about his competitor. " Then I hit it on the back section with two to go, and he wasn't able to come with me. So, I kept good tempo, kept it clean, and tried not to fall down."
Werner, who sits third in the Pro CX men's individual standings coming into Baltimore, said he was sliding around a bit on the course early, then steadied himself and tried not to allow the Cannondale p/b CyclocrossWorld teammates take control.
"I noticed some gaps behind [Ortenblad and me], and I wanted to keep the pressure on. Then Hyde and I got a bit of a gap and Tobin faded. Hyde was paying attention, and I think, saw Curtis starting to bridge to us. I didn't want that to happen, because they would have duped me with some sort of team tactics. I hit it hard in the middle and spread that gap out some. And then I just didn't have it at the end when Hyde put it to me. I was happy with second. I felt good with that."
White made several stops in the pits to adjust tire pressure, and had to work hard to get back to the lead group. "Hyde and Kerry were riding really well. They started off fast and got the gap quick. They just went riding away. I was picking guys off, trying to get back to the front of the race," said White about his day in the saddle. "Towards the end it was Tobin, Yannick and myself. I wasn't going to try to bring them back to Hyde. I just kept sitting on the back group and letting them do the bulk of the work. And then I waited to make my move on the last lap, and it paid off."
For the UCI Elite Men's C1 race on Sunday at Charm City Cross, four-time U.S. Cyclocross men's National Champion Jeremy Powers (Aspire Racing) will return from rib injuries and add firepower to the field. Hyde welcomes the competition for the C1 race.
"He's clever. Even if my fitness is on par, it's hard to beat a guy who is so good at racing. He's been doing it for so long," Hyde said about Powers, who both reside in western Mass.
"I'm feeling really good. I definitely kept a little bit in the tank today, so used today as an opener for tomorrow. Hopefully, I'll be able to hit it hard and take a win tomorrow." -Hyde
For detailed information, visit the official website. Follow the Pro Cyclocross Calendar on Twitter at @USACProCX.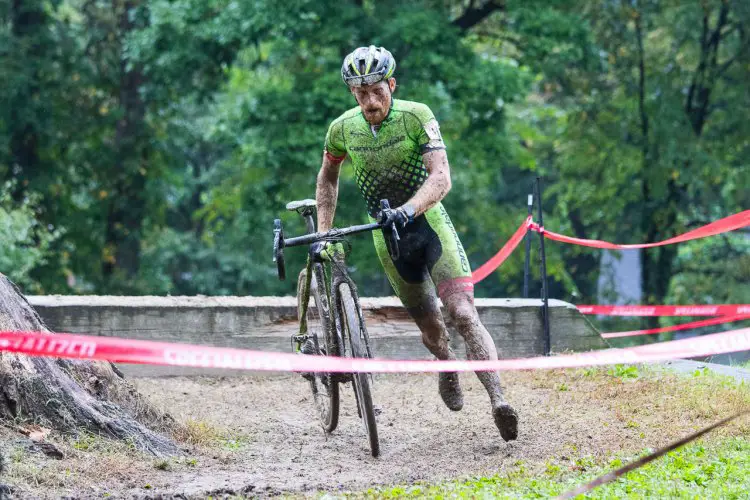 2016 Charm City Day 1 Results - Elite Men
| Pl | Bib | Last | First | Team | Time | Gap |
| --- | --- | --- | --- | --- | --- | --- |
| 1 | 1 | Hyde | Stephen | Cannondale P/B Cyclocrossworld. | 1:01:25 | 1:01:25 |
| 2 | 6 | Werner Jr. | Kerry | Kona Endurance Team | 1:01:41 | 16 |
| 3 | 3 | White | Curtis | Cannondale p/b Cyclocrossworld. | 1:01:47 | 22 |
| 4 | 5 | Ortenblad | Tobin | Santa Cruz Factory Racing | 1:01:48 | s.t. |
| 5 | 12 | Eckmann | Yannick | Boulder Cycle Sport/ Yogaglo | 1:01:48 | s.t. |
| 6 | 9 | Summerhill | Danny | Maxxis-Shimano | 1:02:24 | 59 |
| 7 | 8 | Clark | Anthony | Squid Bikes | 1:02:32 | 1:07 |
| 8 | 13 | haidet | lance | Raliegh Clement | 1:02:40 | 1:15 |
| 9 | 14 | Kaiser | Cody | LangeTwins / Specialized | 1:02:55 | 1:30 |
| 10 | 10 | Timmerman | Daniel | Stan's NoTubes Elite CX | 1:03:10 | 1:45 |
| 11 | 11 | Durrin | Jeremy | Neon Velo Cycling Team | 1:03:30 | 2:05 |
| 12 | 19 | Marecaille | Antonin | Avc Aix en Provence | 1:03:37 | 2:12 |
| 13 | 21 | Cowie | Tristan | Triple Oaks Racing | 1:04:19 | 2:54 |
| 14 | 7 | Krughoff | Allen | Boulder Cycle Sport/YogaGlo | 1:04:30 | 3:05 |
| 15 | 24 | Oberman | Cole | ProTestedGear.com | 1:04:39 | 3:14 |
| 16 | 20 | Aitken | Christopher | Focus Attaquer CX Team | 1:04:41 | 3:16 |
| 17 | 25 | Chabanov | Dan | HOUSE IND/WITHINGS/SIMPLEHUMAN | 1:04:59 | 3:34 |
| 18 | 22 | Juiliano | Andrew | VOLER/CLIF/HRS/ROCK LOBSTER | 1:05:15 | 3:50 |
| 19 | 51 | Sitler | Jake | Van Dessel Factory Team | 1:05:30 | 4:05 |
| 20 | 26 | Ryan | Alex | MockOrange Pro CX Team p/b VP C | 1:05:56 | 4:31 |
| 21 | 16 | Thompson | Eric | HED p/b Molten Speed Wax | 1:05:56 | s.t. |
| 22 | 17 | Bradford-Parish | Kevin | SET/coaching Giro ScratchLabs | 1:06:08 | 4:43 |
| 23 | 57 | Snyder | Jordan | C3-Twenty20 Cycling | 1:06:21 | 4:56 |
| 24 | 18 | Chapman | Tom | Focus Attaquer CX | 1:06:38 | 5:13 |
| 25 | 15 | Marion | Robert | American Classic Pro CX Team | 1:06:52 | 5:27 |
| 26 | 50 | Flis | Mark | Squadra Flying Tigers pb Jamis | 1:07:10 | 5:45 |
| 27 | 44 | mihalik | michael | Jmac Cycling/Novacare | 1:07:16 | 5:51 |
| 28 | 45 | McGill, Jr. | Scott | Lee & Associates/Scott/Race Pac | 1:07:47 | 6:22 |
| 29 | 23 | O'Keefe | Samuel | HOUSE IND/WITHINGS/SIMPLEHUMAN | 1:07:57 | 6:32 |
| 30 | 35 | D'Avino | Mark | Cadence Cycling | 1:08:12 | 6:47 |
| 31 | 43 | Wulfkuhle | Andrew | 717cycling p/b RSI Panels | 1:08:34 | 7:09 |
| 32 | 39 | Burkhardt | Jeremy | C3-Twenty20 Cycling Co. | 1:09:17 | 7:52 |
| @1Lap | 59 | Festa | Mike | Philadelphia Ciclismo | | |
| @1Lap | 47 | vrambout | olivier | waffle power | | |
| @1Lap | 49 | Snyder | Aaron | Stan's NoTubes/7 Mountains Lodg | | |
| @1Lap | 54 | Resek | Hunter | Giant Co-Factory Off Road Team | | |
| @1Lap | 52 | Cupp | Cody | SET Coaching/Arlberg Sports | | |
| @1Lap | 60 | Annon | Nate | Pro Mountain Outfitters | | |
| @1Lap | 36 | Teets | Joshua | ProMountain Outfitters | | |
| @1Lap | 67 | Villella | Jordan | Van-Dessel/Cyclus Sports | | |
| @2Lap | 41 | Bailey | Andrew | KBC U23/ Team KBC Devo/Aubrey's | | |
| @2Lap | 70 | Burger | Sean | CS VELO | | |
| @2Lap | 68 | Moavenzadeh | Spencer | | | |
| @2Lap | 42 | Willis | Tim | KING KOG | | |
| @2Lap | 66 | Myers | Scott | Team BBC p/b Baltimore Bicycle | | |
| @2Lap | 69 | Perreault | Matt | Colonial | | |
| @2Lap | 38 | Buehrer | Preston | B2C2 p/b Boloco | | |
| @2Lap | 64 | Cloutier | Tyler | Renewed Professional Cyclocross | | |
| @2Lap | 55 | McGowan | Andrew | C3-Twenty20 Cycling | | |
| @2Lap | 56 | Goorskey | Abe | American Classic Pro CX Team | | |
| @3Lap | 61 | Stahnke | Ryan | Bike Line | | |
| @3Lap | 63 | Borner | Thomas | Truefit Racing | | |
| @3Lap | 37 | Morales | Van | Cyclus Sports | | |
| @3Lap | 46 | Glass | Elwood | ALL-CITY x BLACK HAND COFFEE CO | | |
| @4Lap | 48 | Lund | Myles | Philadelphia Ciclismo | | |
| @4Lap | 65 | Brady | Mattison | District Velocity Racing p/b Bi | | |
| DNF | 4 | livermon | travis | Maxxis-Shimano Pro Cyclocross | | |
| DNF | 40 | Gross | Stewart | Bike Line | | |
| DNF | 53 | Reimann | Andrew | Jalapeno Cycling | | |
| DNS | 62 | Dutczak | Michael | The Pony Shop | | |
| DNS | 58 | Schott | Greg | Endorphin Fitness | | |
2016 Charm City Day 1 Results - Elite Women
| Pl | Bib | Last | First | Team | Time | Gap |
| --- | --- | --- | --- | --- | --- | --- |
| 1 | 1 | Compton | Katherine | KFC racing p/b Trek/Panache | 49:31 | 49:31 |
| 2 | 3 | Wyman | Helen | Kona | 49:53 | 22 |
| 3 | 6 | White | Emma | Cannondale p/b Cyclocrossworld. | 50:04 | 33 |
| 4 | 2 | Mani | Caroline | Raleigh/Clement | 50:13 | 42 |
| 5 | 5 | Anthony | Crystal | maxxis-shimano pro cyclocross | 51:15 | 1:44 |
| 6 | 4 | Miller | Amanda | Boulder Cycle Sport/YogaGlo | 51:40 | 2:09 |
| 7 | 10 | Greaser | Jena | | 52:14 | 2:43 |
| 8 | 8 | Cumming | Kathryn | Jalapeno Cycling | 52:36 | 3:05 |
| 9 | 18 | Wright | Julie | Team Averica | 53:17 | 3:46 |
| 10 | 16 | Barbossa | Stacey | MidAtlantic Colavita Women's Te | 53:32 | 4:01 |
| 11 | 11 | Mellor | Amira | Next/Wyman | 54:09 | 4:38 |
| 12 | 17 | Gross | Rebecca | KHS Bicycles | 54:23 | 4:52 |
| 13 | 24 | Schmitz | Avanell | Mermaid Winery p/b VA Asset Gro | 54:41 | 5:10 |
| 14 | 13 | Van Gilder | Laura | Mellow Mushroom Pizza Bakers p/ | 54:45 | 5:14 |
| 15 | 22 | Malik | Jen | Women's CX Project | 54:45 | s.t. |
| 16 | 31 | Shields | Emily | Ken's Bike Shop | 54:48 | 5:17 |
| 17 | 14 | Arensman | Allison | J.A. King p/b BRC | 54:54 | 5:23 |
| 18 | 9 | Kemmerer | Arley | Fearless Femme Racing | 54:54 | s.t. |
| 19 | 54 | Patton | Gray | Freddie Fu Cycling Team | 54:56 | 5:25 |
| 20 | 12 | Bowman | Brittlee | HOUSE IND/WITHINGS/SIMPLEHUMAN | 55:29 | 5:58 |
| 21 | 21 | Rubino | Rachel | Fearless Femme Racing | 55:33 | 6:02 |
| 22 | 19 | Blandford | Jenna | Women's Project Pedal p/b VO2 | 56:11 | 6:40 |
| 23 | 47 | Tapias | Natalie | JAM / NCC | 56:37 | 7:06 |
| 24 | 51 | Dorinzi | Nicole | Pro Mountain Outfitters | 56:40 | 7:09 |
| 25 | 32 | Lewandowski | Rebecca | Rare Disease Cycling / Keswick | 56:53 | 7:22 |
| 26 | 40 | Tufano | Allyson | Sportif Coaching Group/Patapsco | 57:24 | 7:53 |
| 27 | 39 | Sterne | Gabriella | | 57:56 | 8:25 |
| 28 | 43 | Kirkpatrick | Kate | Mellow Mushroom | 57:58 | 8:27 |
| 29 | 49 | Dowidchuk | Katrina | MidAtlantic Colavita Women's Te | 58:27 | 8:56 |
| 30 | 42 | Presnell | Melissa | SEAVS/Haymarket | 58:37 | 9:06 |
| 31 | 23 | Wulfkuhle | Kathleen | 717 Cycling p/b RSI Panels | 59:04 | 9:33 |
| 32 | 41 | Campbell-Forte | Alexandra | Vanderkitten/Bike Stop Racing | 59:10 | 9:39 |
| 33 | 33 | Sheldon | Libbey | Crosshairs Cycling p/b Bike Doc | 59:14 | 9:43 |
| 34 | 37 | Rodosta | Traci | Pro Mountain Outfitters | 59:37 | 10:06 |
| @1Lap | 46 | White | Elizabeth | HOUSE IND/WITHINGS/SIMPLEHUMAN | | |
| @1Lap | 36 | Brode | Samantha | VeloFemme p/b Litzler | | |
| @1Lap | 44 | Talley Mead | Karen | SEAVS/Haymarket | | |
| @1Lap | 35 | May | Rhys | JAM / NCC | | |
| @2Lap | 48 | Christofalos | Alex | JETCycling | | |
| @2Lap | 52 | Henriques | Alice | Zanconato Racing | | |
| @2Lap | 30 | Reinkordt | Elisabeth | Laser Cats Feline All-Stars | | |
| @2Lap | 34 | Nabholz | April | 717 Cycling p/b RSI Panels | | |
| @2Lap | 53 | Hausle | Lydia | Team Averica | | |
| @2Lap | 55 | Festa | Lauren | Rare Disease Cycling / Keswick | | |
| @2Lap | 56 | Latour-Nichols | Jenna | Bicycle Revolutions Racing/Rutg | | |
| @3Lap | 50 | McClure | Jacqueline | Rare Disease Cycling / Keswick | | |
| DNF | 7 | McFadden | Courtenay | | | |
| DNF | 38 | Adams | Kennedy | Women's CX Project | | |