Mathieu van der Poel (Alpecin Fenix) made his long-awaited return to cyclocross at yesterday's X2O Scheldecross and, as we all expected, he took the victory.
Today's Superprestige Gavere told a different story. Tom Pidcock (Trinity Racing), a rider who we all knew had a lot of potential, went head-to-head with Van der Poel once again.
This time, he won.
While Van der Poel delivered an amazing performance, even he had to admit that Pidcock's strength in the running sections was formidable.
He eventually created a sizeable gap between himself and Van der Poel, which won him the race.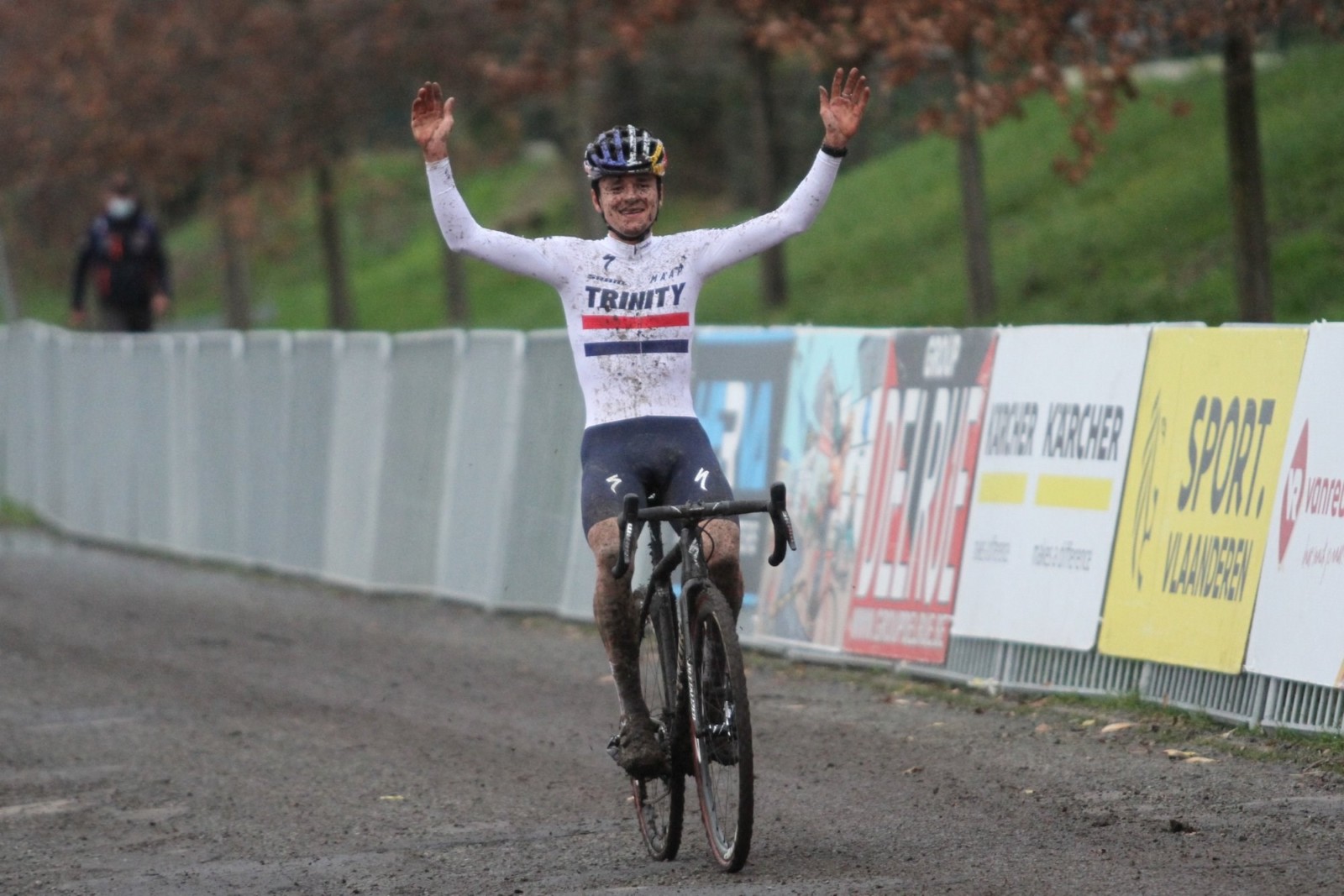 Pidock came in first, Van der Poel second and Toon Aerts (Telenet Baloise-Lions) third.
From America, we saw Curtis White in 31st. Canada's Michael van den Ham made his first appearance at Gavere and placed 37th.
Full results below.
2020 Superprestige Gavere Results - Elite Men
| Rank | BIB | Rider | Nation | Team | Age | Result |
| --- | --- | --- | --- | --- | --- | --- |
| 1 | 9 | PIDCOCK Thomas | GBR | TRINITY RACING | 21 | 0:58:11 |
| 2 | 1 | VAN DER POEL Mathieu | NED | ALPECIN - FENIX | 25 | 0:58:36 |
| 3 | 4 | AERTS Toon | BEL | TELENET BALOISE LIONS | 27 | 0:58:55 |
| 4 | 2 | ISERBYT Eli | BEL | PAUWELS SAUZEN - BINGOAL | 23 | 0:59:05 |
| 5 | 6 | VAN DER HAAR Lars | NED | TELENET BALOISE LIONS | 29 | 0:59:12 |
| 6 | 5 | VANTHOURENHOUT Michael | BEL | PAUWELS SAUZEN - BINGOAL | 27 | 0:59:24 |
| 7 | 8 | HERMANS Quinten | BEL | TORMANS CYCLO CROSS TEAM | 25 | 0:59:42 |
| 8 | 7 | VAN KESSEL Corne | NED | TORMANS CYCLO CROSS TEAM | 29 | 1:00:58 |
| 9 | 34 | MEIN Thomas | GBR | TORMANS CYCLO CROSS TEAM | 21 | 1:01:35 |
| 10 | 21 | SOETE Daan | BEL | GROUP HENS - MAES CONTAINERS | 26 | 1:01:44 |
| 11 | 3 | SWEECK Laurens | BEL | PAUWELS SAUZEN - BINGOAL | 27 | 1:01:51 |
| 12 | 32 | CLEPPE Nicolas | BEL | TELENET BALOISE LIONS | 25 | 1:01:53 |
| 13 | 41 | TURNER Ben | GBR | TRINITY RACING | 21 | 1:01:55 |
| 14 | 36 | RONHAAR Pim | NED | PAUWELS SAUZEN - BINGOAL | 19 | 1:02:24 |
| 15 | 12 | KAMP Ryan | NED | PAUWELS SAUZEN - BINGOAL | 20 | 1:02:29 |
| 16 | 20 | MEISEN Marcel | GER | ALPECIN - FENIX | 31 | 1:02:29 |
| 17 | 25 | VAN DER POEL David | NED | ALPECIN - FENIX | 28 | 1:02:32 |
| 18 | 45 | BEKAERT Yentl | BEL | TELENET BALOISE LIONS | 21 | 1:02:34 |
| 19 | 40 | KIELICH Timo | BEL | CREDISHOP-FRISTADS | 21 | 1:02:39 |
| 20 | 23 | MEEUSEN Tom | BEL | GROUP HENS - MAES CONTAINERS | 32 | 1:02:45 |
| 21 | 19 | NIEUWENHUIS Joris | NED | | 24 | 1:02:51 |
| 22 | 14 | VERMEERSCH Gianni | BEL | CREDISHOP-FRISTADS | 28 | 1:03:15 |
| 23 | 38 | VANDEBOSCH Toon | BEL | PAUWELS SAUZEN - BINGOAL | 21 | 1:03:24 |
| 24 | 17 | AERTS Thijs | BEL | TELENET BALOISE LIONS | 24 | 1:03:40 |
| 25 | 30 | LOOCKX Lander | BEL | GROUP HENS - MAES CONTAINERS | 23 | 1:03:44 |
| 26 | 33 | ROUILLER Loris | SUI | ALPECIN - FENIX | 20 | 1:03:48 |
| 27 | 65 | VERSTRYNGE Emiel | BEL | TORMANS CYCLO CROSS TEAM | 18 | 1:03:49 |
| 28 | 39 | HENDRIKX Mees | NED | CREDISHOP-FRISTADS | 20 | 1:04:11 |
| 29 | 60 | WYSEURE Joran | BEL | | 19 | 1:04:19 |
| 30 | 13 | KUHN Kevin | SUI | TORMANS CYCLO CROSS TEAM | 22 | 1:04:30 |
| 31 | 15 | WHITE Curtis | USA | | 25 | 1:04:42 |
| 32 | 35 | DUBAU Joshua | FRA | | 24 | 1:04:52 |
| 33 | 37 | GRAS Yan | FRA | AAA SÖRIUS | 24 | 1:05:01 |
| 34 | 44 | ROMBOUTS Seppe | BEL | | 22 | 1:05:43 |
| 35 | 48 | PHILIBERT Aurélien | FRA | ARDENNES CROSS TEAM | 25 | 1:06:01 |
| 36 | 67 | ALDERWEIRELD Robin | BEL | | 24 | 1:06:14 |
| 37 | 27 | VAN DEN HAM Michael | CAN | | 28 | -1 LAP |
| 38 | 50 | FERDINANDE Anton | BEL | PAUWELS SAUZEN - BINGOAL | 20 | -2 LAPS |
| 39 | 53 | TROPARDY Arthur | FRA | | 29 | -2 LAPS |
| 40 | 42 | DUBAU Lucas | FRA | | 24 | -2 LAPS |
| 41 | 58 | VERVOORT Wout | BEL | | 19 | -2 LAPS |
| 42 | 64 | VAN LOOVEREN Joachim | BEL | PROXIMUS - ALPHAMOTORHOMES - DOLTCINI CT | 19 | -2 LAPS |
| 43 | 55 | JOT Hugo | FRA | ARDENNES CROSS TEAM | 19 | -2 LAPS |
| 44 | 70 | GABRIEL Timothé | FRA | | 18 | -2 LAPS |
| 45 | 66 | VAN DIJKE Koen | NED | | 24 | -3 LAPS |
| 46 | 57 | ARTZ Bart | NED | | 20 | -3 LAPS |
| 47 | 73 | SALOMEZ Ydris | BEL | PROXIMUS - ALPHAMOTORHOMES - DOLTCINI CT | 19 | -3 LAPS |
| 48 | 74 | COOLEN Yves | BEL | | 25 | -4 LAPS |
| 49 | 61 | BRONDANI Lucas | FRA | A.S BIKE CROSSTEAM | 25 | -4 LAPS |
| | 11 | MERLIER Tim | BEL | ALPECIN - FENIX | 28 | DNF |
| | 18 | SWEECK Diether | BEL | CREDISHOP-FRISTADS | 27 | DNF |
| | 26 | AERNOUTS Jim | BEL | TELENET BALOISE LIONS | 31 | DNF |
| | 46 | SIEBENS Gianni | BEL | | 22 | DNF |
| | 68 | OGER Vincent | BEL | | 26 | DNF |
| | 69 | GROENEN Klaas | NED | | 26 | DNF |
| | 72 | PEMEN Dolf | BEL | PROXIMUS - ALPHAMOTORHOMES - DOLTCINI CT | 20 | DNF |