After losing her position to Denise Betsema (Pauwels Sauzen-Bingoal) at yesterday's X2O event, Lucinda Brand (Telenet Baloise Lions) went all out to take her spot back in Gavere.
The race favored Betsema early on and it looked like we'd see a repeat of Scheldecross. However, Brand was able to launch an attack, placing her far ahead of her rivals.
A slight stumble by Brand placed her behind Betsema for a bit but she was able to regain her footing and it was not long before she was in the lead again.
Ceylin Alvarado (Alpecin Fenix) also put on a good performance, trailing behind Betsema and Brand.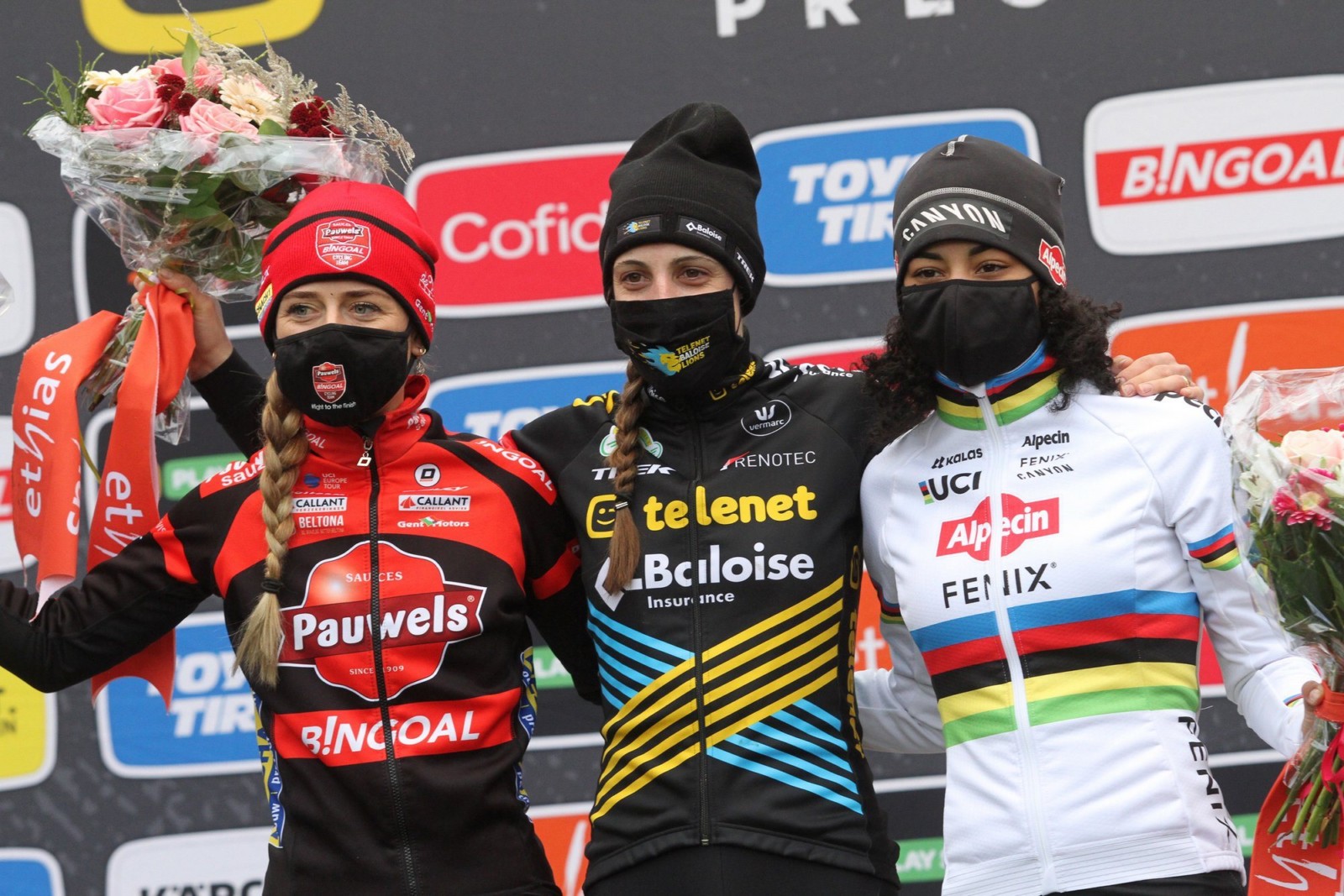 Brand placed first, Betsema placed second and Alvarado came in third.
Americans will be excited to hear that our very own Clara Honsinger made it all the way to fourth place, just short of the podium. It seems she's finally warmed up to the European racing and is now starting to get the numbers we're used to seeing.
Four other Americans made an appearance. Rebecca Fahringer placed 22nd. Maddie Munro was spotted sporting her new-ish Trek Factory Racing jersey and placed 26th. Katie Compton was right behind, placing 27th. Kaitie Compton followed close behind, placing 29th.
From Canada, we saw Ruby West (Proximus-Alphamotorhomes – Doltcini Ct) place 24th and Sidney Mcgill place 37th. Siobhan Kelly placed 42nd.
Full results below.
2020 Superprestige Gavere Results - Elite Women
| Rank | BIB | Rider | Nation | Team | Age | Result |
| --- | --- | --- | --- | --- | --- | --- |
| 1 | 4 | BRAND Lucinda | NED | TELENET BALOISE LIONS | 31 | 0:42:56 |
| 2 | 14 | BETSEMA Denise | NED | PAUWELS SAUZEN - BINGOAL | 27 | 0:43:09 |
| 3 | 1 | ALVARADO Ceylin del Carmen | NED | ALPECIN - FENIX | 22 | 0:43:30 |
| 4 | 13 | HONSINGER Clara | USA | | 23 | 0:43:40 |
| 5 | 6 | KASTELIJN Yara | NED | CREDISHOP-FRISTADS | 23 | 0:44:08 |
| 6 | 2 | CANT Sanne | BEL | IKO - CRELAN | 30 | 0:44:17 |
| 7 | 9 | BAKKER Manon | NED | CREDISHOP-FRISTADS | 21 | 0:44:23 |
| 8 | 19 | MAJERUS Christine | LUX | | 33 | 0:44:31 |
| 9 | 54 | VAN ALPHEN Aniek | NED | CREDISHOP-FRISTADS | 21 | 0:44:45 |
| 10 | 12 | LECHNER Eva | ITA | STARCASINO CX TEAM | 35 | 0:44:49 |
| 11 | 20 | PIETERSE Puck | NED | ALPECIN - FENIX | 18 | 0:44:55 |
| 12 | 56 | KAY Anna | GBR | STARCASINO CX TEAM | 21 | 0:45:14 |
| 13 | 3 | WORST Annemarie | NED | 777 | 25 | 0:45:22 |
| 14 | 43 | RICHARDS Evie | GBR | TREK FACTORY RACING CX | 23 | 0:45:24 |
| 15 | 26 | FRANCK Alicia | BEL | PROXIMUS - ALPHAMOTORHOMES - DOLTCINI CT | 26 | 0:45:36 |
| 16 | 48 | CLAUZEL Hélène | FRA | A.S BIKE CROSSTEAM | 22 | 0:45:38 |
| 17 | 17 | ARZUFFI Alice Maria | ITA | 777 | 26 | 0:45:47 |
| 18 | 18 | VAS Kata Blanka | HUN | | 19 | 0:45:56 |
| 19 | 15 | VERDONSCHOT Laura | BEL | PAUWELS SAUZEN - BINGOAL | 24 | 0:46:02 |
| 20 | 22 | CLAUZEL Perrine | FRA | A.S BIKE CROSSTEAM | 26 | 0:46:09 |
| 21 | 10 | VAN DER HEIJDEN Inge | NED | 777 | 21 | 0:46:12 |
| 22 | 8 | FAHRINGER Rebecca | USA | | 31 | 0:46:16 |
| 23 | 28 | FOUQUENET Amandine | FRA | | 19 | 0:46:18 |
| 24 | 23 | WEST Ruby | CAN | PROXIMUS - ALPHAMOTORHOMES - DOLTCINI CT | 21 | 0:46:19 |
| 25 | 11 | VAN LOY Ellen | BEL | TELENET BALOISE LIONS | 40 | 0:46:20 |
| 26 | 29 | MUNRO Madigan | USA | TREK FACTORY RACING CX | 18 | 0:46:37 |
| 27 | 7 | COMPTON Katherine | USA | | 42 | 0:46:37 |
| 28 | 16 | NORBERT RIBEROLLE Marion | FRA | STARCASINO CX TEAM | 21 | 0:46:46 |
| 29 | 24 | KEOUGH Kaitlin | USA | | 28 | 0:46:49 |
| 30 | 33 | MELLOR Amira | GBR | | 23 | 0:47:55 |
| 31 | 32 | VERHESTRAETEN Karen | BEL | IKO - CRELAN | 29 | 0:48:05 |
| 32 | 25 | BARHOUMI Zina | SUI | | 24 | 0:49:08 |
| 33 | 46 | PARKINSON Abby-Mae | GBR | TRINITY RACING | 23 | 0:49:17 |
| 34 | 38 | DE WILDE Julie | BEL | IKO - CRELAN | 18 | 0:49:42 |
| 35 | 27 | VERHOEVEN Suzanne | BEL | | 24 | 0:50:14 |
| 36 | 45 | DOBBELAERE Jana | BEL | | 24 | 0:50:28 |
| 37 | 34 | MCGILL Sidney | CAN | | 21 | 0:50:28 |
| 38 | 44 | DEVIGNE Camille | FRA | ARDENNES CROSS TEAM | 18 | 0:50:34 |
| 39 | 39 | STRAPPAZZON Marine | FRA | TEAM PODIOCOM CC | 26 | 0:50:56 |
| 40 | 51 | BENOIT GUYOD Camille | FRA | | 18 | 0:51:43 |
| 41 | 49 | WRIGHT Sophie | GBR | | 21 | -1 LAP |
| 42 | 42 | KELLY Siobhan | CAN | | 24 | -1 LAP |
| 43 | 21 | PETIT Marlène | FRA | TEAM PODIOCOM CC | 29 | -1 LAP |
| 44 | 41 | COOGAN CISEK Corey | USA | | 43 | -1 LAP |
| 45 | 47 | BARTHELS Maïté | LUX | | 19 | -1 LAP |
| 46 | 55 | VERMEIR Aurélie | BEL | | 28 | -2 LAPS |
| 47 | 52 | BASTIAENSSEN Fauve | BEL | | 23 | -2 LAPS |
| 48 | 37 | GEOGHEGAN Michelle | IRL | | 38 | -2 LAPS |
| 49 | 53 | GREENHALGH Laura | GBR | | 35 | -2 LAPS |
| | 5 | ROCHETTE Maghalie | CAN | | 27 | DNF |