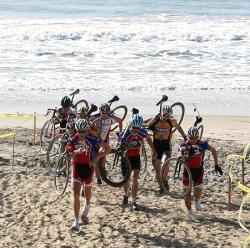 Storming the Beach at SoCalCross Prestige Series #3
Need a little more Euro-style cyclocross in your life? Well, then make sure to come out to the Storm the Beach Cyclocross in Oceanside, CA this weekend. The race, presented by Celo Pacific, is considered by many to be the "Queen Stage" of the SoCalCross Prestige Series. It is patterned after the famous Duinencross race in Koksijde Belgium and takes place on Camp Pendleton's "Red Beach" where the U.S. Marine Corps practice their amphibious landings. On Sunday you'll find racers lugging their bikes up steep seaside bluffs, plowing across ever-morphing sand dunes, and dodging the surf in search of a perfect line as they ride parallel to the Pacific Ocean. Wide tires, low pressure, running fitness, and enough power to leave a rooster tail of sand in your wake are the keys to doing well here. Mixing this tough course with the best cyclocross talent in SoCal will ensure an exciting day of racing.
Six different races will provide the opportunity for sixteen different categories of riders to test their skills against the course and against each other. Categories include: Elite Men 1/2/3, Elite Women 1/2/3, Men 3/4, Men 4, Women 3/4, Masters Women 35+, Elite Masters Men 35+ (1/2/3), Masters Men 35+ (3/4), Masters Men 45+, Masters Men 55+, Junior Boys 10-14, Junior Girls 10-14, Junior Boys 15-18, Junior Girls 15-18, SingleSpeed 1/2/3 and SingleSpeed 4. Competitors will be vying for over $2000 in cash and merchandise as well as much coveted points towards the season-long individual and team SCPS standings.
In addition to the categorized racing, a free Kids Race will take place at 12:00 pm with prizes going to all participants. There will also be a "Boardshorts and Bikinis" race at 1:30 pm (no USA Cycling license required) with prizes awarded to the riders with the wackiest beach attire.
For more information, please see www.celopacific.org.