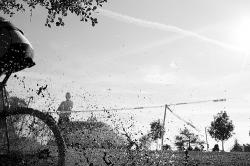 By Imelda March, Photo by Jeff Kao
Atypical cyclocross weather once again was around for the Chicago Cyclocross Cup #3 that had enthusiasts travel to Hawthorn Woods, a suburb just outside of the City of Chicago. Sun, and warm temperatures in the high 70s Fahrenheit greeted the racers in this installment.
The race course was not designed for the faint of heart. The hilly course had racers going up and down a toboggan hill multiple times within each race segment coupled with a muddy, off camber and fast asphalt sections. Thus, a key ingredient was to have some climbing legs and an arsenal of gearing – a unusual twist since flatter courses is more of the norm in Illinois.
Elite Men
Kevin Klug (Killjoy) brought his top-notch fitness and won. He was followed by Wayne Simon (Verdigris Custom Homes) and 3rd place finisher Scott McLaughlin (Sram).
Elite Women
Debbie Dust (Verdigris Custom Homes) took the women's division in her first outing this season. She was followed by teammate June Upshaw (Verdigris Custom Homes) and Holly Klug (Killjoy) in third place.
Upcoming Events
Racing continues with the Chicago Cyclocross Cup Race #4 scheduled for Carpentersville, Illinois on Sunday, October 19. The event dubbed the OktoberCross Festival will feature all day racing, music, food fun rides for the kids and a beer garden. Further information about the series can be found by visiting www.chicrosscup.com
Full Results Below :
(See separate tabs at the bottom for additional categories)