Cyclocross in Sourthern California is growing in leaps and bounds, and their expanded series opens the season on September 21. See the press release below: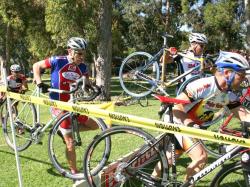 Registration is now open for The Art of Cyclocross, the first race of the 2008 SoCalCross Prestige Series, taking place on September 21, 2008. Presented by Celo Pacific, the race takes place on grounds of the Muckenthaler Cultural Center just a mile west of downtown Fullerton, CA. The serpentine course flows through eight acres of parkland surrounding the historic 1924 Italianate Muckenthaler mansion, up and down grassy hillsides, and through shady groves of trees. The undulating, curving, and frequently off-camber nature of the course favors a rider who can push the grip of their tires to the limit and can hit the accelerator out of every turn. However, the course is non-technical enough that it is a great opportunity for beginners to try out the sport for the first time.
Six different races will provide the opportunity for sixteen different categories of riders to test their skills against the course and against each other. Categories include: Elite Men 1/2/3, Elite Women 1/2/3, Men 3/4, Men 4, Women 3/4, Masters Women 35+, Elite Masters Men 35+ (1/2/3), Masters Men 35+ (3/4), Masters Men 45+, Masters Men 55+, Junior Boys 10-14, Junior Girls 10-14, Junior Boys 15-18, Junior Girls 15-18, SingleSpeed 1/2/3 and SingleSpeed 4. Competitors will be vying for over $2000 in cash and merchandise as well as much coveted points towards the season-long individual and team SCPS standings. The Elite Men have $1000 in cash on the line and, thanks to sponsor Hoover and Nebrig, the Elite Women's prize list has been recently increased to $750.
In addition to the categorized racing, a free Kids Race will take place at 1:00 pm with prizes going to all participants. There will also be a "fun race" at 2:30 pm (no USA Cycling license required) for those who want to give cyclocross a try without the pressure of competition.
For those of you who are planning on attending Interbike or the UCI sanctioned CrossVegas race on Sept. 24, please note that Fullerton is only a four hour drive from Las Vegas and less than one hour from all of the Los Angeles area airports. The fast, grassy nature of the course makes the Art of Cyclocross a perfect tune-up for CrossVegas.
About the Muckenthaler Cultural Center: The Muckenthaler home was built by Walter and Adella Muckenthaler in 1924 on eight acres located atop a hill just west of downtown Fullerton. Designed by architect Frank Benchley, the Italian Renaissance-style structure is reminiscent of buildings constructed for San Diego's 1915 Exposition in Balboa Park. The 18-room mansion was donated to the city in 1965 by Harold Muckenthaler who wished to see his childhood home used as a cultural center for the public to enjoy. Today the Muckenthaler Cultural Center hosts 5-10 art exhibitions each year in galleries housed on two floors of the mansion. The Center offers art classes for children and adults. The amphitheater is home to the Muckenthaler Repertory Theater Company, which performs plays and offers conservatory classes for students.
Registration is available online at SportsBaseOnline. For more information, please visit the Celo Pacific website at http://www.celopacific.org/.