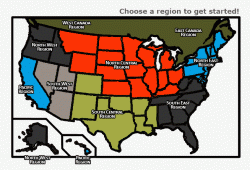 Our ever-expanding national cyclocross calendar has now grown to nearly 700 events, including training races, clinics, and races. And while it's by far the most comprehensive national cyclocross calendar, it outgrew its previous implementation, taking too long to load an older machines.
So we gave it an overhaul, some ceramic bearings, gave it another chainring and an 11-speed cassette, and lathered it in embrocation. Now it's pretty zippy – at least a B-race sandbagger on a modern machine.
Now, via our map, you can first choose your region, then apply all the filters you'd like. Don't like our regions' borders or still want to see the entire nation's events? No worries, you can later select "All Regions" to expand the results.
We've also added filtering by month and state. So go ahead, and plan that road trip.
Many thanks to Jacob Sisson and Joseph Williams for their ongoing help in creating this resource.
Know of an event that's missing? Email calendar /at/ cxmagazine.com.