Cyclocross Magazine has pulled off yet another first, with the first inspection of a pre-production model of the Challenge Fango tubular cyclocross tire. Like the popular Grifo, the Fango is a hand-made tire with 260 tpi poly-cotton casing. But unlike the Grifo, which is created using Clement's old molds, the Fango is an all-new tread design developed to handle the worst muddy conditions, offering both great grip and mud shedding ability.
Back in April, we saw early sketches of this design from Donn Kellogg from Challenge, but were instructed to keep the news and photos under wraps. The sketches revealed the most innovative feature of the tire – the scooped center knobs. The scoop gives the knob two different contact edges to engage the ground for better traction and braking. The theory is that the one knob actually acts like two separate smaller knobs, yet avoids the deeper, squared-off channel between two knobs where mud would typically collect. In contrast, the rounded shallow "scooped" section easily sheds mud.
Compared to the Grifo, the Fango also has taller, more aggressive side knobs designed to cut through the slop and provide confident cornering in soft, messy conditions. It's pretty clear the Fango tire is aimed squarely at the Dugast Rhino, the popular mud tubular used by many top pros.
With such a knob profile, perhaps this is a tire that should be reserved for only muddy race days in order to avoid "smoothing" over the center knobs on hard pack. This model will also be available in an open tubular (clincher) model. Stay tuned for more details and other tire news.
Challenge Fango Cyclocross Tubular (Pre-production model)
Casing: 260 tpi poly cotton
Width: 32 (measured 32.5 mm at 30 psi)
Weight: 420 grams
Available in stores: TBD
Country of origin: Thailand
More info: www.challengetech.it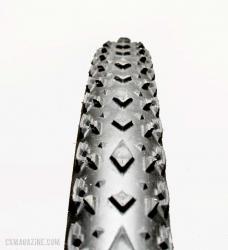 Cyclocross Magazine is dedicated to being the place to learn about the latest 'cross product. We were the first to unveil the Stans NoTubes.com Raven cyclocross tire, the white Challenge Grifo XS cyclocross tubular tire, the new Vittoria EVO XM tubular cyclocross tire, and the Bianchi Carbon Cross Concept. Be sure to check in regularly during Interbike in a couple weeks for the latest 'cross gear and news. And if you haven't subscribed yet, get your subscription in now so you won't miss the content-packed upcoming Issue 4, complete with a tubular tire buyer's guide!