Larry G tried something new this year…a spring 'cross series in Colorado. The races proved to be the ideal fix for the 'cross diehards, as well as a great chance for newbies to try out the sport without getting swarmed by huge packs and amped up racers releasing months of cyclocross-less angst. Is he on to something? Check it out yourself in 2009, or consider organizing your own informal or official local spring series. Here's Larry's series write-up.
___________________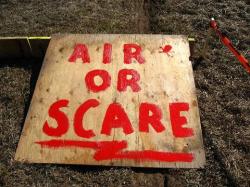 It's funny how similar promoting and actually carrying out a cyclocross series closely resembles the actual racing of a cross race…
At first it seems like a wonderful idea, something you are sure to finish and have a great sense of accomplishment when you reach the "one to go" bell. But somewhere along the way, the challenges and obstacles you are faced with become incredibly difficult to overcome. In my case, shoveling out "single track" from two feet of snow for two weeks prior to your first race promotion is a bit overwhelming, then you get it done and it snow another foot and stay cold. Somehow, you manage to get a course ready for riders to race on and you know what, they come, even in the spring, and they race cross like it's Nationals in Kansas City, they leave it all out there, run the tall barrier sections, ride the three inch deep mud, negotiate the incredibly difficult snow run, survive the "truth or dare" bridge and come through lap one covered in mud with their drive trains begging for mercy.
The racers' fitness is no where near what it will be when fall arrives, but they tackle the course as if it is fall, cross makes them feel alive and it's great to be getting a jump start on their road or mountain bike seasons. Every racer talks about the race with a smile on their face when it is over, forty five minutes of pure Cult Cross suffering. With music blasting over the PA system and the beer flowing freely post race, it's the greatest of all scenes…it's cross at its best. Who cares if the turnouts were not huge, the fact that anyone came at all to race spring CX is a testament to the CX racer's drive for more. Racers came from Steamboat, Boulder, Denver, Bailey, the Aspen Valley as well as locally, and when it was all over we all sat together and celebrated cyclocross. There were first time racers and racers who were sixty seven years old who were just thankful for another cross race to participate in.
The Grand Finale was a masterpiece of a course according to many who raced, and creating a course that flowed as it did, sculpted into a field along a river, which had some of everything for everyone was one of the best cycling related experiences I have ever had. You look at the grounds, come up with a rough vision, and then start taping and marking. A quick pre-ride allows you to "feel" what racers will experience and a couple of simple tweaks are all the course needs. Why not add a couple of "unique" and fun characteristics, after all this is Cult Cross. The three bridges and the "air or scare" barrier become highlights of the race. And when it is all over, racers are more gracious than a first time promoter could hope for…some saying it was the best and most fun CX course they have ever raced on…everyone had a blast.
The post series party at Yeti's Grind in Eagle, who also provided all of us with piping hot killer coffee at the races was a great gathering of people who brought cyclocross to life this spring in Eagle, Colorado. Thanks to the great sponsors, Cyclocross Magazine, Maxxis, Kona, The Mountain Pedaler in Eagle, Yeti's Grind, Arctic Craftsmen, Pedal Power, Squirt Lube, Rooly Optics, SPOT brand bikes, Oskar Blues Brewery, and Keller Williams Mountain Properties, everyone who attended the party left with killer swag and a smile on their face.
Cult Cross 2008 can be described as nothing more than a successful series in its first season, and will be back again s the cult grows.
And when it's all over for this year, you realize it's just like finishing a CX race, despite the hardships along the way, when it is over, you can not wait to do it again next time, next time it will be even better.
Photos from Brian Patrick:
Created with Admarket's flickrSLiDR.
Final Podium For all Categories
Men's Open
1. Jake Wells (Mafia Racing) 2. Brian Hutchison (Vitamin Cottage) 3. Chad Oskar Blues Melis (Spot)
Women's Open
1. Megan Myrick
Men's Cat 3
1. Courtney Gregory (Mafia Racing) 2. Damien Fraser (Mafia Racing) 3. Hank Poole
Men's Cat 4
1. Matthew Promovost (Moots) 2. Eric Rubottom (Mountain Pedaler) 3. Seth Smekal
Men's 35+
1. Mike Gibbs (Beaver Creek) 2. Brian Bruggman (FCCT) 3. David Burns (Mountain Pedaler)
Men's 45+
1. Charlie Brown (Mountain Pedaler) 2. Peter Davis ( Mountain Pedaler) 3. Larry Grossman (Yeti's Grind)
Men's 65+
1. Loren Hettinger
Single Speed
1. Charlie Brown (Mountain Pedaler) 2. Brian Hutchison (Vitamin Cottage) 3. Jono Ridler (Yeti's Grind)
Cat 4/Beginner Women
1. Linda Wells (Mafia Racing) 2. Trish Esperon 3. Tara Picklo (Yeti's Grind)
Juniors 10-18
1. Dean Haas (5280) 2. Mario Chiarani (Jamis) 3. Joe Haulman (5280)