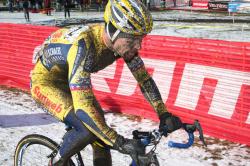 Planet Bike Announces Jonathan Page Sponsorship, UCI Race
Madison, Wisc.- Planet Bike, a leading manufacturer of innovative, high quality, and practical bicycle accessories, is excited to announce its 2008-2009 Cyclocross Team roster. In only its second year of sponsoring a Cross team, Planet Bike is thrilled by the signing of Jonathan Page, the top UCI rated American Cyclocrosser and Silver medalist at the 2007 World Cyclocross Championships.
Planet Bike is honored and excited that Page has chosen to represent Planet Bike for the upcoming Cyclocross season. Company founder Bob Downs stated that, "His sacrifice, determination, and heart are representative of our company in the way we do business, and we feel it is a very good fit both personally and professionally." Planet Bike considers it only fitting that an American company be the title sponsor for the American who has come closest to capturing the one remaining major men's World title that has eluded Elite/Pro U.S. riders.
Page will race primarily in Europe in his pursuit of a World Championship, but he will represent Planet Bike stateside at US Nationals, Cross Vegas, and the Tailwinds Race in Michigan. Further, Planet Bike is also announcing that Page will both compete and put on Cyclocross clinics at a new UCI event in Madison, Wis. on September 27-28 that will bear his name: the Madcross presents, Jonathan Page's Planet Bike Cup.
In addition to Page, Planet Bike also announced the two other Elite riders who will team up to give Planet Bike one of the strongest U.S. Cross teams. Tristan Schouten will again be in team colors after finishing a resurgent 8th at U.S. Nationals last year after being ill for most of the early 2008 season. "Tristan has represented the U.S. at Worlds and is on the verge of being one of the top Elite riders in the U.S.," said Downs. "He rides with a lot of heart and does not leave anything out on the course."
The team has also inked up-and-comer and dyed in the wool single speeder Marko LaLonde of Madison, who won the 2007 U.S. National Cyclocross Single Speed title, and placed well at several UCI points races while riding on his one speed. "Marko has an impressive resume and tremendous potential as his results have all come on a single speed, against riders on geared bikes," added Downs. Lalonde will be aboard a geared bike for UCI events this fall.
When asked how the team sponsorship fits into the companies philosophy of bike advocacy, Downs stated, "Planet Bike is well known amongst the bike shops and people who commute and use their bikes for practical purposes, both through our 25% of profits donated to bike advocacy ($650,000 donated through 2008) and our great cyclist designed products that help make it easy to ride your bike anytime. Where we do not have much exposure is in the enthusiast and race market, even though our products work great for those cyclists too. Cyclocross enthusiasts are generally diehards who, like us, love to ride bikes and we feel Cross is going to be, if it is not becoming already, the next big thing in the world of bike racing. It is a good fit for our company and we hope the exposure will lead to more sales and thus more in donations to bike advocacy."
Beyond the Elite men's team, Planet Bike is also adding 2007 17-18 Junior Girls U.S. National Champion Anna Young. Further, the team is bringing back Masters 55+ rider Diane Ostenso who won the team's first National Cross Championship in 2007.
Ridley Bicycles will be the bike sponsor and the Elite team will be riding the new 2009 Ridley X-Night in Planet Bike colors. "Ridley is in a class by themselves when it comes to Cross bikes and they have the Rainbow jerseys hanging on their walls to prove it," noted Downs. Challenge Tires will also be sponsoring the team with several new tire designs meant to give the team a great tire choice for all the variable cross conditions. In addition to these sponsors, Team Planet Bike will also represent the new CinQo Power meters, Lazer helmets, Thule, Shimano, Mavic and Vermarc clothing. An official team announcement party will be scheduled for late spring in Madison Wisconsin.