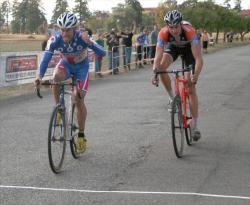 Tim Johnson (Cannondale – Cyclocrossworld.com) outsprinted Ryan Trebon (Kona) for a narrow win for the second stop and consecutive day of the North American Cyclocross Trophy series. Trebon led Johnson through the last 500 meters, surging through the grassy corners to a twenty foot gap he took into the pavement stretch. Johnson wasn't fazed though, and put his road racing skills to work and chased down Trebon, catching him 10 feet from the line.
The day was a stark contrast from the night before, without any cold or mud and no sign of last night's rain. The dry, dusty course, with long straightaways and an 80-meter run-up favored powerful riders and runners, as opposed to the bike handling skills needed to stay upright the night before. Even so, the start of the race started exactly the same as the night before, with Joachim Parbo (CCV Leopard Cycles) and Barry Wicks (Kona) taking the hole shot. Wicks flatted three laps in, leaving Trebon again to fight off the teammates of Johnson and Jeremy Powers. Powers, the overnight leader of the NACT, put in a powerful attack, gapping the group and holding a lead of 5 seconds as Trebon, Johnson, Andy Jacques-Maynes (Specialized – KMC – Cal Giant) gave chase.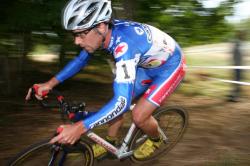 Parbo battled back after being dropped, but just as he rejoined, Trebon attacked, bridged to Powers and dropped him, with only Johnson able to respond. Wicks, gaining ground on the front group, then took a spill on a fast right hand turn, hitting the deck hard, leaving the final podium to the existing front five.
Powers soloed in after the Johnson/Trebon sprint, with Joachim Parbo nipping Andy Jacques-Maynes for the sprint for fourth.
In the women's race, Sue Butler (MonavieCannondale.com) and Wendy Simms (Kona) quickly went about reenacting last night's racing, dropping the rest of the field with ease a lap into the race. Coryn Rivera (Redline), the junior 15-16 national champion, had a blazing start, and led the chase up the Knapp time runup. Amy Dombrowski (Velo Bella – Kona), after finishing 11th at Star Crossed, was having a much better race, and quickly settled into third behind the leading two. Wendy Williams (River City Cycles) joined the chase, with a big group of four behind including Sarah Kerlin (HRS – Rock Lobster), Josie Jacques-Maynes (Specialized – KMC- Cal Giant), Emily VanMeter (River City Cycles) and Rhonda Mazza (Team S&M). On the last lap, simms attacked the run-up, dropping Butler and building a gap of 10 seconds and keeping it to the finish. Dombrowski, a sprinter on the road, outkicked Williams in dramatic fashion for third, while Kerlin surged on the last lap to finish 5th to round out the podium.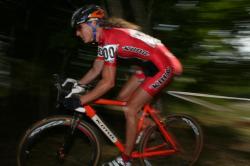 Full photos here. Video coming soon.