While most of us were sleeping, an international field of cyclocrossers was busy getting to work on the 2017/18 season at the Qiansen Trophy UCI C1 race in Beijing, China.
The first of the two races in Beijing was held in the Fengtai Changxindian district southwest of downtown Beijing. A total of 24 Americans, 11 Australians and 3 Canadians made the trip to China for the weekend of chasing quality UCI points and playing tourist. While getting ready for the Qiansen Trophy, riders such as Rebecca Gross (Gillespie Eye) fully embraced both the racing and tourist experience,
Top-Ranked Vanderbeken Defends Her Lofty Ranking
Belgian Joyce Vanderbeken (STEVENS Pro Cycling – Donen-Vondelmolen CX team) came into the Qiansen Trophy as the favorite, at least according to the UCI. She was able to defend her position on Sunday by holding off challenges from Americans Serena Gordon (Giant Factory Offroad Team) and Emily Kachorek (SQUID), who finished second and third, respectively.
The early animator in the race was Ceylin del Carmen Alvarado (Kleuropmaat/BNS technics Cyclingteam). The Dutch rider shot out early in the race and forced the other riders to catch up. The lead selection of Vanderbeken, Gordon and Kachorek eventually caught Alvarado and spent the middle part of the race vying for the top spot. Kachorek dangled on and off the lead group, and in the last lap, Vanderbeken finally pulled away from Kachorek and then Gordon to take the win.
Emily Kachorek made her third trip to China this year after finishing second at the Fengtai race in 2016. She said she enjoyed the more difficult additions to the course this year,
"I think I had good knowledge coming in," said Kachorek. "I knew that the first lap and the hole shot was very important in this race. Last year I ended up chasing back the whole race from a bad start. This year they took out a lot of the switchbacks at the bottom and added some more climbing, so I knew that was going to be difficult."
While most riders were likely excited the weather was a bit cooler than in past years, Kachorek said she was a bit bummed, "This year was also a little cooler," she said. "I do pretty well in the heat, so I was actually hoping it would be hotter. This year was, I think, a more fun race knowing I was going to have a battle instead of just catching up. With all the corners on the course, it's also difficult to pass, and the longer hill made it easier to switch positions. I think the course changes this year were really good and made for a more demanding race."
Samantha Runnels (SQUID) finished sixth, Rebecca Gross rode her pre-race chicken head meal to seventh, Kathryn Cumming (Jalepeno Cycling) took eighth and Laura Winberry (Topo Designs) finished ninth to round out the American contingent in the top ten.
Yorben Van Tichelt Makes It a Belgian Double in the Men's Race
The cultural heart of cyclocross may be in Flanders, but Yorben Van Tichelt (ERA – Circus) showed that the heart of cyclocross still beats in Beijing as the young Belgian made it two for two for Belgium on the day. Early on, it looked like Marcel Wildhaber (SCOTT-SRAM MTB Racing) was destined to defend his 18th-place UCI ranking after he and Craig Richey (Garneau-Easton Cycling) got out to a hot start. Squid's Anthony Clark and Van Tichelt had some trouble early on when their many arms—and bikes—got tangled in a crash.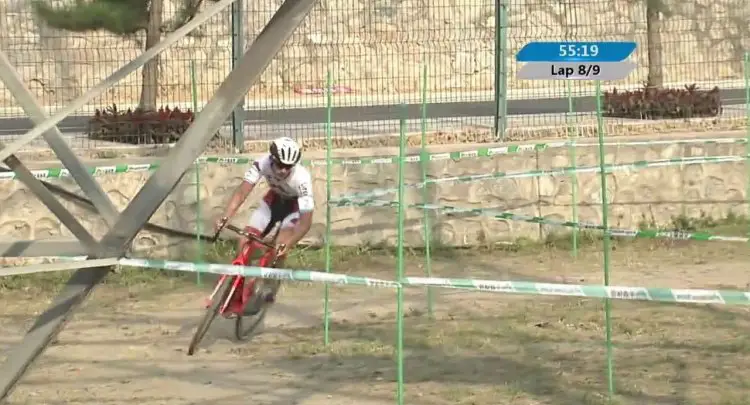 Early on in the race, two North American youngsters, Maxx Chance (Tenspeed Hero) and Isaac Niles (Garneau-Easton Cycling), also made their mark on the UCI C1 event by pulling into the top five. Chance would go on to finish 13th on the day.
After the early crash, Van Tichelt and Clark stayed patient and worked their way back to the front of the race. Once they made the catch, Wildhaber and Van Tichelt dropped Clark, and then Van Tichelt rode solo off the front during lap five. Marcel Wildhaber held on for second and Clark finished third. Michael Wildhaber (SCOTT-SRAM MTB Racing) caught a second wind on the windy day and finished strong for fourth place. Eric Brunner (Evol Elite Racing) was the other American in the top 10 in 9th and Richey finished 12th.
After breaking his hand midway through the 2016/17 season, Clark was excited to get back to racing. "I knew I was solo right around third place," said Clark. "I tried to catch these guys and just stay strong. It feels good to be back after last year, and it just feels really good to be back at 100 percent. Today was like the best race, the best day ever. For now, it feels awesome."
The second of the two Qiansen Trophy races is on Wednesday, September 6th. Stay tuned for more coverage and a link for the live stream for you U.S. night owls.
Andrew Yee and Zachary Schuster contributed to this report.
Women's Results - Qiansen Trophy - Fengtai Changxindian
| Rank | Bib | Last Name | First Name | Country | Age | Result |   |   |   |   |   |   |   |   |   |   |   |   |   |   |
| --- | --- | --- | --- | --- | --- | --- | --- | --- | --- | --- | --- | --- | --- | --- | --- | --- | --- | --- | --- | --- |
| 1 | 1 | VANDERBEKEN | Joyce | BEL | 33 | 00:39:38 | | | | | | | | | | | | | | |
| 2 | 8 | GORDON | Serena | USA | 38 | 00:39:44 | | | | | | | | | | | | | | |
| 3 | 3 | KACHOREK | Emily | USA | 37 | 00:39:46 | | | | | | | | | | | | | | |
| 4 | 5 | HOEKE | Geerte | NED | 27 | 00:40:42 | | | | | | | | | | | | | | |
| 5 | 10 | L?NNE | Rikke | DEN | 29 | 00:40:48 | | | | | | | | | | | | | | |
| 6 | 14 | RUNNELS | Samantha | USA | 26 | 00:40:54 | | | | | | | | | | | | | | |
| 7 | 16 | GROSS | Rebecca | USA | 37 | 00:40:54 | | | | | | | | | | | | | | |
| 8 | 4 | CUMMING | Kathryn | USA | 31 | 00:40:58 | | | | | | | | | | | | | | |
| 9 | 12 | WINBERRY | Laura | USA | 33 | 00:41:00 | | | | | | | | | | | | | | |
| 10 | 18 | HORMES-RAVENSTIJN | Reza | NED | 50 | 00:41:13 | | | | | | | | | | | | | | |
| 11 | 11 | KARAMI | Miyoko | JPN | 43 | 00:41:45 | | | | | | | | | | | | | | |
| 12 | 28 | ARMAN | Daniele | USA | 27 | 00:41:53 | | | | | | | | | | | | | | |
| 13 | 9 | BARSON | Ashley | CAN | 27 | 00:42:00 | | | | | | | | | | | | | | |
| 14 | 20 | MALLORY | Shannon | USA | 19 | 00:42:07 | | | | | | | | | | | | | | |
| 15 | 32 | HEYNS | Joyce | BEL | 19 | 00:42:19 | | | | | | | | | | | | | | |
| 16 | 15 | STEINBURG | Greete | EST | 26 | 00:42:23 | | | | | | | | | | | | | | |
| 17 | 6 | LOCKE | Rebecca | AUS | 37 | 00:42:27 | | | | | | | | | | | | | | |
| 18 | 23 | VERMEIREN | Tinne | BEL | 22 | 00:42:51 | | | | | | | | | | | | | | |
| 19 | 33 | JAUNSLAVIETE | Katrina | LAT | 26 | 00:42:59 | | | | | | | | | | | | | | |
| 20 | 26 | WEIDINGER | Chelsea | USA | 33 | 00:43:11 | | | | | | | | | | | | | | |
| 21 | 24 | STEERS | Campbell | USA | 28 | 00:43:38 | | | | | | | | | | | | | | |
| 22 | 31 | EASSON | Joanne | AUS | 23 | 00:43:47 | | | | | | | | | | | | | | |
| 23 | 7 | WILLIAMS | Naomi | AUS | 37 | 00:44:27 | | | | | | | | | | | | | | |
| 24 | 19 | FUKUMOTO | Chika | JPN | 24 | 00:45:13 | | | | | | | | | | | | | | |
| 25 | 17 | VARDAROS | Christine | USA | 48 | 00:45:23 | | | | | | | | | | | | | | |
| 26 | 22 | SUDOU | Mutsumi | JPN | 48 | 00:46:19 | | | | | | | | | | | | | | |
| 27 | 25 | DE BRUYNE | Meg | BEL | 21 | 00:46:35 | | | | | | | | | | | | | | |
| 28 | 21 | ARDAVA | Lelde | LAT | 32 | 00:46:47 | | | | | | | | | | | | | | |
| 29 | 27 | GINSBACH | Sarah | USA | 33 | 00:47:01 | | | | | | | | | | | | | | |
| 30 | 13 | RIEDEL | Stacey | AUS | 22 | 00:48:41 | | | | | | | | | | | | | | |
| 31 | 29 | FURMANE | Madara | LAT | 25 | -2 LAPS | | | | | | | | | | | | | | |
| 32 | 34 | MAROON | Mary Elizabeth | USA | 40 | -2 LAPS | | | | | | | | | | | | | | |
| 33 | 35 | ZEDN?KOV? | Iveta | CZE | 30 | -3 LAPS | | | | | | | | | | | | | | |
| DNF | 30 | VAN DER AA | Daisy | NED | 28 | | | | | | | | | | | | | | | |
| DNF | 2 | DEL CARMEN ALVARADO | Ceylin | NED | 19 | | | | | | | | | | | | | | | |
Men's Results - Qiansen Trophy - Fengtai Changxindian
| Rank | Bib | Last Name | First Name | Country | Gender | Age | Result |
| --- | --- | --- | --- | --- | --- | --- | --- |
| 1 | 2 | VAN TICHELT | Yorben | BEL | M | 23 | 01:03:10 |
| 2 | 1 | WILDHABER | Marcel | SUI | M | 32 | 01:03:24 |
| 3 | 7 | CLARK | Anthony | USA | M | 30 | 01:03:46 |
| 4 | 19 | WILDHABER | Michael | SUI | M | 27 | 01:04:08 |
| 5 | 13 | JANSSON | Henrik | SWE | M | 22 | 01:04:15 |
| 6 | 3 | VAN AMERONGEN | Thijs | NED | M | 31 | 01:04:24 |
| 7 | 24 | TAKENOUCHI | Yu | JPN | M | 29 | 01:04:33 |
| 8 | 9 | SAMPARISI | Nicolas | ITA | M | 25 | 01:04:40 |
| 9 | 36 | BRUNNER | Eric | USA | M | 19 | 01:04:46 |
| 10 | 10 | SAMPARISI | Lorenzo | ITA | M | 24 | 01:04:47 |
| 11 | 16 | VAN DER MEER | Gosse | NED | M | 22 | 01:05:15 |
| 12 | 18 | RICHEY | Craig | CAN | M | 33 | 01:05:25 |
| 13 | 8 | CHANCE | Maxx | USA | M | 21 | 01:05:34 |
| 14 | 11 | ERIKSSON | David | SWE | M | 22 | 01:05:39 |
| 15 | 6 | HANSEN | Kenneth | DEN | M | 26 | 01:05:41 |
| 16 | 14 | DECKER | Carl | USA | M | 42 | 01:05:41 |
| 17 | 29 | FISHER | Steve | USA | M | 27 | 01:05:54 |
| 18 | 45 | WEGNER | S?nke | GER | M | 35 | 01:06:02 |
| 19 | 5 | KOSAKA | Hikaru | JPN | M | 29 | 01:06:08 |
| 20 | 28 | JANSEN | Richard | NED | M | 22 | 01:06:16 |
| 21 | 35 | NILES | Isaac | CAN | M | 22 | 01:06:20 |
| 22 | 41 | CARSTENSEN | Lucas | GER | M | 23 | 01:06:27 |
| 23 | 25 | WALKERDEN | Ben | AUS | M | 19 | 01:06:58 |
| 24 | 23 | KOSAKA | Masanori | JPN | M | 54 | 01:07:05 |
| 25 | 21 | ODA | Hijiri | JPN | M | 19 | 01:07:14 |
| 26 | 20 | CHAPMAN | Tom | AUS | M | 22 | 01:07:24 |
| 27 | 30 | MCPHERSON | Ian | USA | M | 22 | 01:07:51 |
| 28 | 54 | SHARRATT | Brendon | NZL | M | 36 | 01:07:55 |
| 29 | 4 | HEKELE | Emil | CZE | M | 40 | 01:08:11 |
| 30 | 52 | NAKAZATO | Masaru | JPN | M | 25 | 01:08:15 |
| 31 | 39 | CAROZZO | Marco | ITA | M | 21 | 01:08:23 |
| 32 | 31 | B?TZOW | Philipp | LUX | M | 30 | 01:08:28 |
| 33 | 22 | BRADFORD-PARISH | Kevin | USA | M | 35 | 01:08:34 |
| 34 | 55 | SHIGETA | Kengo | JPN | M | 23 | 01:08:35 |
| 35 | 12 | THILTGES | Scott | LUX | M | 25 | 01:08:48 |
| 36 | 27 | SMITH | Nicholas | AUS | M | 20 | 01:08:49 |
| 37 | 53 | PARENTI | Nicola | ITA | M | 21 | 01:09:10 |
| 38 | 33 | SAITO | Tomohiro | JPN | M | 40 | 01:09:10 |
| 39 | 57 | SOROKIN | Dimitriy | RUS | M | 35 | -2Lap |
| 40 | 58 | TETZLAFF | Tobias | GER | M | 27 | -2Lap |
| 41 | 26 | JUILIANO | Andrew | USA | M | 29 | -2Lap |
| 42 | 46 | GARDNER | Sam | GBR | M | 42 | -2Lap |
| 43 | 38 | STAUDER | Benjamin | GER | M | 30 | -2Lap |
| 44 | 43 | DICKSON | Angus | AUS | M | 25 | -4Lap |
| 45 | 40 | SCHAEFER | Rainier | USA | M | 31 | -4Lap |
| 46 | 48 | HOWSON | Michael | AUS | M | 31 | -4Lap |
| 47 | 42 | MUKOYAMA | Koji | JPN | M | 39 | -4Lap |
| 48 | 56 | SNOVEL | Aj | USA | M | 25 | -5Lap |
| 49 | 37 | NELSON | Bradley | GBR | M | 23 | -6Lap |
| 50 | 49 | MCNAMARA | Matthew | USA | M | 48 | -6Lap |
| 51 | 59 | XIROGIANNIS | Konstantinos | GRE | M | 38 | -7Lap |
| 52 | 50 | MOHR | Sindre Reidar Hole | NOR | M | 19 | -8Lap |
| DNF | 51 | MOHR | Johan Andreas Hole | NOR | M | 21 | |
| DNF | 17 | ANDRESEN | Andreas Lund | DEN | M | 19 | |
| DNF | 44 | ERREBO | Oliver Emil | DEN | M | 18 | |
| DNF | 15 | ERIKSSON | Martin | SWE | M | 25 | |
| DNF | 47 | GARRISON | Keith | USA | M | 30 | |
| DNF | 32 | NORDEN | Nicholas | AUS | M | 22 | |
| DNF | 34 | LEWIS | Shaun | AUS | M | 31 | |