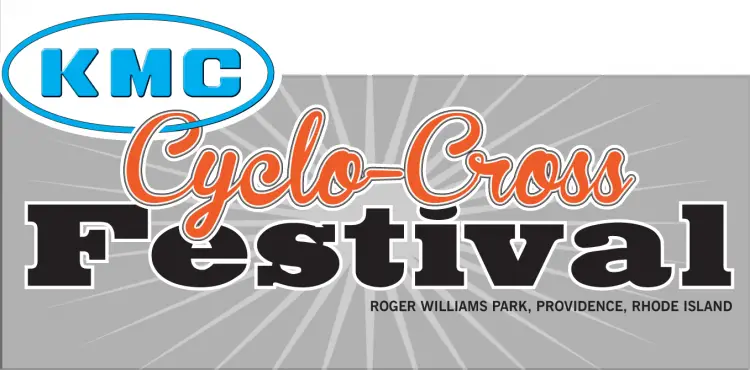 Press Release as follows:
Providence, RI — This weekend will mark one of the biggest cyclocross races in America, Providence's KMC Cyclo-cross Festival. The three days of racing in Roger Williams Park are be the grand finale of New England's Holy Week of Cyclocross, seven days of classic New England racing, all within just a week and a half.
Saturday's Elite races, ranked UCI C1, headline the exciting weekend of racing. Top-level athletes have arrived in New England to fight for the elevated C1 points up for grabs to the top 15 on Saturday. Among the athletes vying for the win will be national champions from all over the world, their battles on the course available for live stream from Behind the Barriers TV (BTB TV) in partnership with Bicycling Magazine. Sunday's C2 races are sure to be just as hotly contested, and spectators will enjoy amateur races in a range of categories from Friday through Sunday.
Katie Compton (Trek Factory Racing), ten-time US National Cyclocross Champion, will face two-time European Cyclocross Champion and eight-time British National Cyclocross Champion Helen Wyman (Kona Factory Racing) on the race course this weekend. Former French National Champion Caroline Mani (Raleigh/Clement) showed that she's still a formidable contender despite a wrist fracture last weekend at Rapha Super Cross Gloucester, where she notched a bold victory on day two. Meredith Miller (Noosa Professional Cyclocross Team) hopes to join the fray, but awaits doctor's orders following an injury last weekend.
US National Cyclocross Champion Jeremy Powers (Aspire Racing) looks like a strong bet to win after sweeping Rapha Super Cross Gloucester last weekend, but Allen Krughoff (Noosa Professional Cyclocross Team), off to a great start this season, is one to keep an eye on this weekend. Tim Johnson (Cannondale p/b Cyclocrossworld) and teammates Jamey Driscoll and Ben Berden (Raleigh/Clement) will surely not let Powers take the win without an epic battle.
The KMC Cyclo-cross Festival hosts the first Elite Junior Men's race serving as a qualifier for the US World Championships team this cyclocross season. Watch for some of the fastest juniors in the world as they try to make their mark on this course.
The festival doesn't just offer world-class Elite cyclocross racing. The whole family will enjoy activities like kids' races and bouncy houses in the Greater Providence YMCA Kidzone. Non-competitive cyclists participating in the Gran Fondo will get to enjoy a lovely New England bike ride with special guest, Tour de France competitor Ted King. Friday's fun races feature a singlespeed and team Madison race, followed by a celebration of fine, locally-made bicycles at the New England Builders' Ball. 12-time US Trials Champion Mike Steidley and his bike will be on hand with a stunning stunt show sure to wow the crowd. For a full listing of all the events, visit kmccrossfest.com.
Follow all the action live on Twitter at @providencecross and by following #KMCcxf on Twitter and Instagram. Don't miss the live coverage from BTB TV and Bicycling Magazine!
ABOUT THE KMC CYCLO-CROSS FESTIVAL: Formerly known as the Providence Cyclo-cross Festival, the event was selected as the best of American cyclo-cross by Outside Magazine and as the 2013 domestic event of the year by the editors of Cyclocross Magazine. The event will be held October 3-5 2014 in historic Roger Williams Park. The event hosts one of just nine UCI Category 1 cyclo-cross events in America. Family-friendly attractions include the a consumer expo, food courts, the Harpoon Beer Garden, the New England Builders' Ball, and the Gran Fondo New England. For more information visit www.K