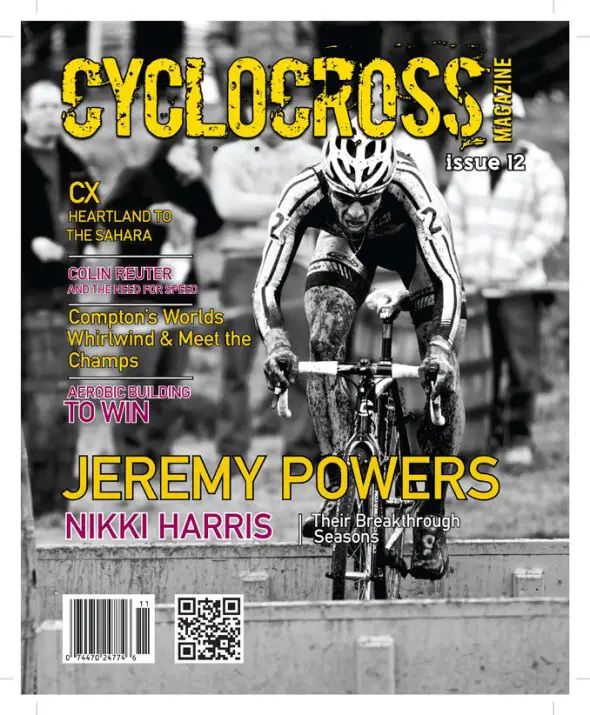 Most of our subscribers now have the latest issue of Cyclocross Magazine #12!, in hand, and they're showing up at the bike shops and book stores who stock our publication too [See our list of "Top Shops"]. Of course, you can always subscribe to the world's only dedicated cyclocross publication to make sure you never miss an issue.
Here's a sneak peek of what's between the covers:
• Who will be wearing the stars and stripes jerseys for 2011/2012? This is our fourth annual beloved feature on the winner of every category, in words and photos.
• We bring you behind the scenes access for Katie Compton's 72-hour Worlds whirlwind (Compton's husband, Mark Legg-Compton, read the article and tweeted: "Read Cyclocross Magazine's article by Dan Seaton. Best article written about Katie Compton ever. Brought me to tears."
• Take a look at the 'cross explosion in Indianapolis
• A 70-year-old Belgian Masters racer reflects on crossing the Sahara by bike
• Jeremy Powers and Nikki Harris relive their breakthrough seasons in exclusive, in-depth interviews
• Training: Build aerobic base now to win this fall
• Columns from Christine Vardaros and Mark Legg-Compton
• Reviews of the Cannondale SuperX, Fuji Altamira CX1.0, All City Nature Boy, Stan's No Tubes A340 Comp wheels  and much more!
Have some feedback for us, or want to share your favorite cyclocross photos? We really want to hear from you. Send us your letters to hugsorhate(at)cxmagazine.com, and please submit photos to crosseyed(at)cxmagazine.com for consideration for our reader's photo gallery appearing in every issue.
We're already hard at work to bring you Issues 13 & 14, and we'll be burning the midnight oil to speed our process and bring you  more content when you want it most – clustered around the 'cross season.