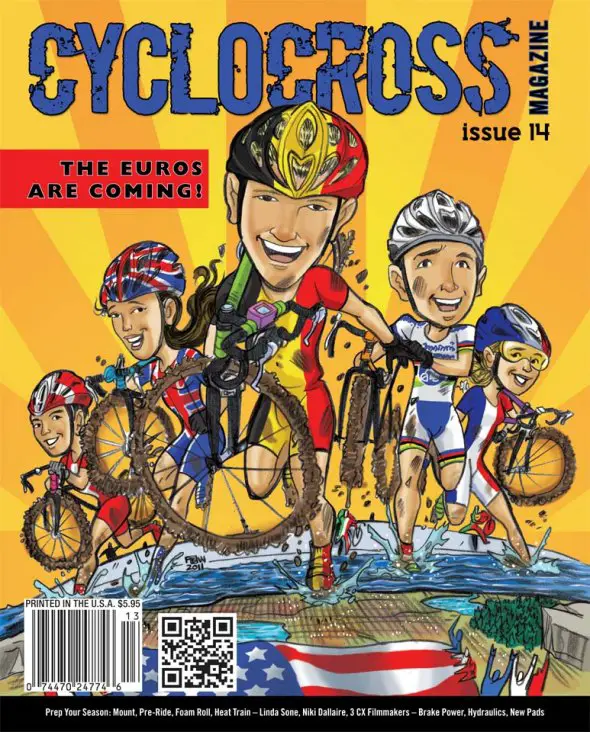 Our subscribers are just beginning to report receiving Issue 14 – and we're getting kudos both on its quality and our record-breaking turnaround time to keep the content coming during the season. Copies are also showing up at the bike shops and book stores that stock our publication too [See our list of "Top Shops"]. Of course, you can always subscribe to the world's only dedicated cyclocross publication (in print or now in digital, for those who love their iPads or who live outside of North America) to make sure you never miss an issue.
Here's a sneak peek of what's between the covers:
• This season has already featured an unprecedented quality and depth of Europeans racing on American soil. We feature these "Euro Invaders" in depth.
• We profile Niki Dallaire's "Irrepressible Spirit" after she bounces back from a life-threatening injury and Linda Sone, who balances a challenging job as a firefighter with mixing it up at the front of Elite cyclocross races.
• Cyclocross Filmmakers in Our Lens: read the stories of Sam Smith, Henry Jurenka and Hans Kellner.
• Self-Maintenance: The foam roller is the bad boy of body care.
• CXM Labs gets high tech to quantify the power of different brakes.
• Newbie Nook: Bart Bowen brings us the dos, don'ts and hows of getting on and off the bike.
• Lee Slone brings the first installment of his popular digital CX Comic to print!
• New column from Christine Vardaros.
• CXM Labs launches the "Cheap Bike" project. How little can you spend on a race-worthy rig?
• The Benefits – and Pitfalls – of Heat Acclimation Training: Use it to go faster in the cold, too.
• Experience the Green Mountain Double Century in Photos.
• Reviews of the Raleigh Hodala with Gates Carbon Drive, Traitor Crusade SS and Skuut kids bike; TRP's and 324 Labs' hydraulic disc brake adapters; and wheels from Cole, Zipp and Rolf
Have some feedback for us, or want to share your favorite cyclocross photos? We really want to hear from you. Send us your letters to hugsorhate(at)cxmagazine.com, and please submit photos to crosseyed(at)cxmagazine.com for consideration for our readers' photo gallery appearing in every issue.
We're already hard at work to bring you Issue 15, and we'll be burning the midnight oil to bring you more content when you want it most – clustered around the 'cross season!