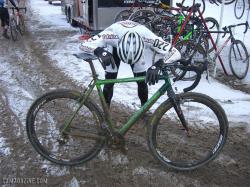 Unless you live in Colorado and are getting ready for Larry Grossman's Cult Cross Series starting this weekend, it's the off-season right? So that means not going to hard, and pacing yourself so you don't burn out before the season starts.
Well, not all our readers can heed this advice. Here's a short note from a friendly reader who just got his Issue 2 in the mail:
"Needless to say I was excited to see the new issue in the mail box when I arrived home yesterday. Not shortly thereafter I have to say that I was fairly disappointed, in myself. In one (long) sitting I had burned through the entire issue. At this point I started to feel a bit like a junkie with a serious problem. I wish I had paced myself. I just couldn't stop.
Well done guys, well done."
So even if the USPS is unfortunately following this advice to pace themselves and hasn't yet delivered the goods, when it arrives, perhaps learn from our reader's regret, and save a little. There's a ton in there – enough to spread over a few days at least. While we're doing our best to ramp up, you've probably got another two months or so before the next one arrives.
But if you too couldn't stop and need to get another fix, we're adding our Issue 1 articles to our site. Based on our poll results, we've first added your top two favorites, our exclusive interviews with Jonathan Page and Katie Compton. They can be found in our Issue 1 Archives section here. Stay tuned – more will be coming. And if you haven't voted for your favorite, do it now in our poll; it just might determine what's posted next.