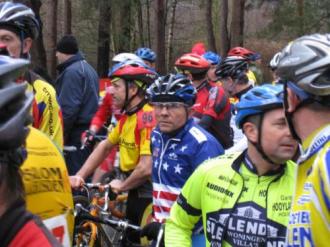 This is a continuing series of (slightly delayed) diary entries by Utah's Lew Rollins, the reigning national Men's 60-64 National Champion. He traveled with a group from Utah to contest the UCI Masters World Championships, see the sights, and watch a few UCI World Cup 'cross races. You can read his first entry here and second entry here.
Day 10 (1/18) Today started with a final look at tomorrow's course. Each of us rode the course several times. The initial combination of sand stretches continues to be the toughest part of the course. The lengthy opening sprint to these stretches of sand is also difficult and not my strength. I expect to be running and not riding several stretches of the sand. Once again, we worked on our bikes…ate dinner and went to sleep early.
Day 11 (1/19) Got up early…ate breakfast…put on my kit and headed for race day registration a Zilvermeer. The weather is classic CX for Belgium…windy and rainy. Registration was easy once I figured out which line to stand in. Cost was 12.50 Euros or about $19.00 US. Your registration includes a 12″ X 15″ color participation certificate at the end of the race. The women raced first at 10 am followed by the old guys, like me, at 11 am. Next, came younger old guys on the hour from noon until 3 pm. Starting positions are random…among our group I got the best position with a place on the front row. Unfortunately, it did not make me any faster in the opening sprint or across the early stretches of sand. My running legs did not do me any favors while my biking legs were strong. However, once into the single track it became very difficult to pass other riders. This was especially true as we caught slower riders from groups that started before us. Simply put, I did not have a good race with respect to final results. I did have a good race with respect to participation and camaraderie with other racers. Among our group, Sam had the best results. Roughly, nine USA women raced at Zilvermeer with Katherine Sarvary winning a gold medal. Among the roughly 23 USA men racing at Zilvermeer, Will Black had the best result with a 6th place finish. At this point there is no more riding or racing in Belgium for this crew. After dinner, we spent time cleaning bikes and boxing them away for our trip home.
Day 12 (1/20) We arose fairly early and were off to Hoogerheide, Netherlands for the final World Cup CX race (#9) of the season before World's. This was a 120 km round trip for us. The cleanliness we see practiced daily in Belgium extends to the Netherlands. That is also true of CX crowds and their participation. Both Belgium and Netherlands are extremely supportive of their teams and racers. The venue at Hoogerheide was set up so that you would enter via the team areas and see teams preparing bikes for racing. You also got a glimpse of your favorite riders warming up as well. Regardless of the group, U23, Elite men or women, most spent some time riding warm up laps on the course. This was our second World Cup race during this trip. Clearly this was going to be a tougher course than the drier, faster course in Lievan, France (#8). It was longer, muddier & had multiple surfaces (cobbles, grass, mud & asphalt). In the U23 race Niels Albert was head and shoulders above the rest of the field. In the first lap he had a 30 second lead and went on to extend it with every lap. He finished almost two minutes ahead of the second place rider Jempy Drucker (Fidea). Our best USA rider was Nicholas Weighall riding for Rad Racing NW.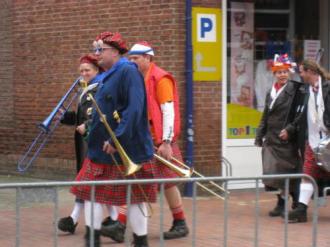 The women's race came next with the winner Hanka Kupfernagel of Germany blowing away the field much like Niels Albert in the U23. She opened an early lead and finished over a minute ahead of the second place rider Maryline Salvetat of France. Our best USA rider was Sue Butler riding for River City Bicycles. They had a great kids race involving almost 200 kids before the elite riders took to the course. It was a battle for several laps between Lars Boom (Rabobank), Bart Wellens (Fidea) and Erwin Vervecken (Fidea). However, with about two laps to go Lars pulled away from both and rode to a clear win. Our best USA rider was Jonathon Page riding for (Sunweb-Projob). He rode hard and fast throughout the race. In the final straight, he powered away from two Rabobank riders and Sven Nys. We estimated the crowd at this race to be about 15,000 fans. What a venue and race!!! Another great part of this race was the opportunity to talk with Jonathon Page and his family after the race. Our day ended with a stopover in Brussels for a light dinner…buying Belgium chocolates for loved ones at home and the ride back to Mol.
Day 13 (1/21) We packed the car last night and were up early and on the road to Brussels by 6 am. Our flight was on time and we all left Brussels' together on the same flight for Atlanta. Atlanta was packed when we arrived due to yesterdays snow storm and the weather delays it created. Jon and I traveled on the 4:30 pm flight to SLC, UT while Sam and Jeff where slated for the 5:30 pm flight.
As we wind down we can only express our deepest gratitude to Jon Gallagher who was our travel agent (wheels & lodging) guide, driver, cook and confidant. He made the trip a great experience for everyone of us…thanks Jon!!! Sam, Jeff & Mike…I'll see you all again!!!