This is a continuing series of (slightly delayed) diary entries by Utah's Lew Rollins, the reigning national mens 60-64 National Champion. You can read his first entry here and his last entry here.
Day 4 (1/12) began early as we were on the road by 0630 for a 300 Km round trip to Langemark BE. The CX race in Langemark is part of a series called the Flemish Cup. Race day registration only…passport, international licence & USCF Permission to Race in a Foreign Country letter. Registration took place in a local café called De Sportman. You paid a refundable deposit for your race number. Apparently, almost every CX race in this area is a basically mud fest. We raced across farm fields and local roads. There was deep mud everywhere. The classic was a 35 meter long mud pit that was 8-12 inches deep with mud. No one rode this mud pit. Your biggest concern was losing one or both of your bike shoes in this quagmire. Cleanup for riders & cycles was pretty easy. Water hoses were provided for bikes and a Kleed Kamers for the riders. The Kleed Kamers is a heated tent with heated water and plastic chairs that riders use to get cleaned up and changed out of their muddy kit. A racers only requirement is to bring a container to hold warm water. After racing hard in the mud we chose to reward ourselves with dinner in the Centre of Brussels. Our day ended in Mol at about 11 pm.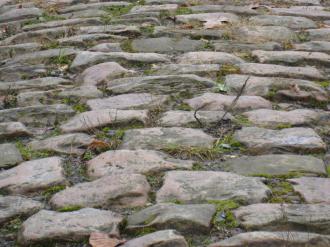 Day 5 (1/13) began early again as we were on the road by 0630 for another 300 Km trip. This time we headed to Lievin FR for a World Cup CX race. Along the way we stopped to ride the cobbles of the Arenberg Forest as part of the Paris-Roubaix route. Only Mike, Sam & Jeff rode the cobbles while Jon & I took pictures and videos. What a stretch of cobbles. We arrived at the World Cup CX Race about 30 minutes prior to the start of the elite mens race.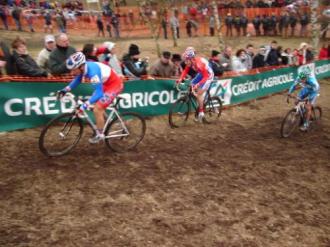 The course layout was rugged and fast. Mostly grass…very little mud & five climbs. One of the climbs was only ridden early on by a small number of the leaders. Another climb was ridden regularly by only 25 of the little over 65 racers that started the race. The three race leaders eventually built a significant gap on the rest of the field.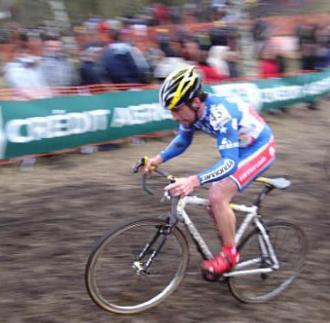 Among the US riders, Tim Johnson & Jonathan Page had very good races while Ryan Trebon did not. The French crowd was not very energetic or boisterous. The tire of choice for this race was the Dugast 32 & 34 at very low pressure. We left Lievin and headed for the Roubaix Velodrome where the Paris-Roubaix race ends. Once again Mike, Sam & Jeff rode their bikes around the Roubaix Velodrome. We stopped in the Centre of Gent for pizza on our way back to Mol. Another late night as we arrived back in Mol around 11 pm.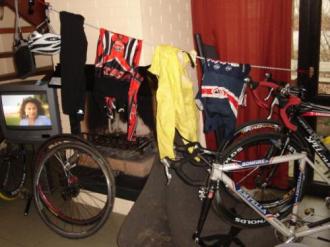 Day 6 (1/14) was a cobble day along the Ronde van Vlaanderen or Tour of Flanders. We got on the road by 10 am for a 200 km round trip to Ninove BE. About 20 km down the rode and my legs were dead. Fortunately, Jon knew a route I could take through Brakel & Geraadsbergen so that I could ride the cobbles of the Muur-Kapelmuur and still circle back to Ninove. The rest of the crew road seven sections of cobble. They included the Oude Kwaremont, the Koppenberg and the Muur-Kapelmuur. At the end of this ride everyone was just plain tired. We stopped in the Centre of Geraadsbergen for dinner. Our last late night as we arrived back in Mol around midnight.
Day 7 (1/15) Recovery is our primary pursuit for today. Sleeping in or taking a nap. Jon and Mike got up early and left for the Brussels airport at 6 am as Mike is heading back to the USA…work is calling him home. Sam, Jeff and I headed for the Masters World CX course to see if it is laid out yet and if so ride some easy laps. The course itself is located about one mile from our place in the Zilvermeer Leisure Park in Mol, BE. We got carried away and spent almost 3 hours riding the course. It is going to be a tough course…lots of sand…more sand and did I mention the sand. The rest of our day was spent working on our bikes and shopping for food at the local Super GB market. We cook most of our meals in our kitchen. Generally, oatmeal, bananas, honey and fresh made bakery bread for breakfast. Lunch is usually on the fly at a local café. Dinner has been pasta, rice & beans, bread, vegetables and chicken with canned or packaged sauce mixtures for flavor. Fluids include water, coffee, tea and beer. Did I mention that the Belgium's are famous for making somewhere around 3000 different kinds of beer. I don't imbibe, however, Jeff and Sam are making a small effort in tasting most of them.
Day 8 (1/16) Everybody slept in late this morning. After breakfast we headed for Zilvermeer and more laps on the Masters CX course. The course is set among a pine forest. The majority of the course features a sandy and clay riding surface. It absorbs the daily rain and mist of Belgium without a lot of puddles of water. Unfortunately, nothing seems to make the 4 sandy stretches and the sand pit any easier to ride. The start and beginning portion of the course is approximately 400 meters of asphalt road followed by a 90 degree turn onto the first stretch of deep sand. This 50 meter stretch cannot be ridden by the vast majority of every field. It's shoulder your bike and run. The next stretch is roughly 35 or 40 meters and is ridden by most riders. The 3rd stretch of sand is deep and approximately 20 meters. Roughly 10-15% of the riders will ride this part of the course. The course is now in the forested area with two additional stretches of deep sand. The course now resembles narrow single track winding through a forest. There are 2 log run-up's with a sand pit inserted between them. The run-up's have 6 or 7 wide log steps in their ascent followed by a short sandy section as part of their descent. The sand pit has a short, steep lip followed by a short, steep drop into the deep sand within the pit. It's approximately 20 meters across this section. Roughly 10-15% of the riders will ride this part of the course. Most will choose to run the pit. The narrow single track exits onto the same asphalt road as the start but extends it by another 200 meters. See the attached photos of the course.
Day 9 (1/17) More late sleepers today. More practice on the course at Zilvermeer. We are beginning to see more USA riders. We ran into Gary Noe and his wife. Both have been here in Belgium since early October. Next we ran into Henry Kramer and Myall Gannon of Giant Berry Farms. Next we met Bill and Donna Stevens. They are on their honeymoon and racing the Masters World CX. That's teamwork without a doubt. Finally, we met some other racers. First, Eric Teck…8 times finishing on the podium and with at least one Masters World Championship. He works at Zilvermeer and gave us some great Belgium insight in how to ride this course…particularly the sandy sections. Another character is a Frenchman by the name of Christian Jupillat. He is 61 and has 9 World Master Mountain Bike titles in his resume plus two Master Olympic golds. This guy is fit and fast. Clearly, when you watch other riders on the course, the Belgium's as a group have the skill set to do well on this course.
Read Lew's final diary entry here, which includes reports on the big event and the World Cup in Hoogerheide, Netherlands.