Rabobank's Lars van der Haar, the 2013 Elite World Championship bronze medalist in Louisville, has announced via Twitter that he will start his season this at Erpe-Mere racing his Giant TCX Advanced cyclocross bike equipped with hydraulic disc brakes. Van der Haar is the first high-profile European cyclocross pro to commit to racing disc brakes this season.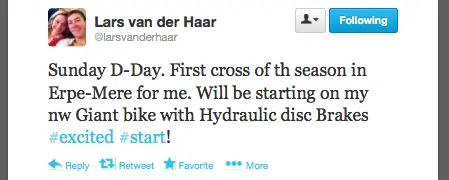 Which brand? Which model? Van der Haar has historically ridden Shimano components, and this season he will likely match his Dura-Ace Di2 9070 component group with the new Shimano R785 cyclocross/road hydraulic disc brake and XTR rotors.
Cyclocross photographer Balint Hamvas (see his new cyclocross photography book) captured a few great images of van der Haar's new bike on display at Eurobike, including this shot clearly showing the R785 markings.  The former U23 World Champion's bike also was seen dressed with the ultra-rare XTR carbon tubular wheels unveiled at Sea Otter this year.
The current World Champion, Sven Nys, seemed genuinely surprised that van der Haar will beat him to the Shimano hydraulic discs, and Tweeted that he (translated) "never had a chance to test this system…too bad!"
Cyclocross Magazine got an exclusive chance to inspect and handle the new R785 calipers in early August, and the caliper looked to be a rebadged Deore XT M785 hydraulic caliper, paired with lighter, pre-existing XTR rotors. (We'll have our first full ride on the system on Monday of Interbike, so check back for our ride impressions.)
The 2011 Cross Vegas winner Van der Haar said that he has been testing the brake for several months, and reports that "The larger braking force is definitely an advantage," according to the Dutch site cyclo-cross.info. But if they aren't working well later this season? "They go right back out," he says.
While many top Americans adopted disc brakes last season, almost all of the European pros have resisted. Belgium-based American Jonathan Page, racing for Fuji this year, will also make the switch to disc brakes this season (Stay tuned for our profile of Jonathan Page's new Fuji Altamira 1.1 disc brake cyclocross bike).
Will we see Nys make the switch too? We're guessing it will happen this season, but perhaps not until his new bike sponsor is announced in January. Or maybe he'll surprise everyone with a rainbow-striped Shimano R785 hydraulic disc brake caliper at CrossVegas? We'll know in just a few days.