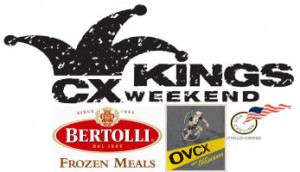 KINGS CX TO HOST ROUND 2 OF PUR RIDE WITH KIDS SERIES
Sponsored by Pur Water Filters
The Kings CX Weekend on September 18th and 19th is the kick-off weekend for the influential Zipp OVCX Cyclocross Tour. This year, the race in Deerfield Township in suburban Cincinnati will also be part of a new grassroots ride series called the "PUR (pronounced "pure") Ride With Kids Series," sponsored by PUR Water Filters. Designed as the gentlest possible introduction to competitive cycling for children and their parents, the PUR Ride with Kids is not an actual race, but an opportunity for adults to ride with their kids on a safe, closed race course. According to Corey Green, the lead promoter of the Kings CX Weekend, "This is a series sponsored by PUR Water Filters to encourage kids to ride with their parents or an adult on a real race course and get an idea for what real racing involves."
The PUR Ride With Kids event at Kings CX on Sunday, September 19th, in conjunction with the Pro-Am Zipp OVCX Tour, will be the second event of a four-"race" series. The first was at the PUR Tour road race earlier this summer. The final two rides will take place in conjunction with the three-day Cincinnati UCI3 International Cyclocross Festival. The third ride will take place at the Java Johnny's/Lionhearts International UCI cyclocross in Middletown Ohio on October 9th, and the final ride will take place the next day as part of the grand finale of the UCI3 International Festival at Harbin Park in Fairfield, Ohio. All riders in the PUR Ride With Kids Series will have their own race numbers.
There is another connection between the Kings CX Weekend and the Java Johnny's/Lionhearts International, other than that both are part of the Zipp OVCX Cyclocross Tour and hosting PUR Ride With Kids events. Proceeds from the Kings CX Weekend will benefit the Lionhearts Junior Cycling Team, the namesake team of the Java Johnny's race.  Lionhearts is a team of children between the ages of nine and 13 dedicated to cyclocross. Each child on the team, which has doubled in size since last year, typically participates in more than 10 races per year.
In concept, the PUR Ride With Kids events are similar to "Kids Run the Bases" day at Major League ballparks or race car ride nights at local Saturday night stock car tracks. In all three cases, children can be inspired by having the opportunity to experience what it's like to be on the other side of the fence. Doug Dobrozsi, who is a major part of Junior cycling in southern Ohio as well as the promoter of the Java Johnny's/Lionhearts International, explained some of the motivation behind the creation of the PUR Ride With Kids Series. "What's true, especially in modern suburbs, is that kids just don't have a safe and fun place to ride.  By giving them the race course for a little while, we're giving them a small chance. A second point is that it really takes a friendly adult to help a kid go ride. The adults literally 'give the gift of cycling' to kids. Just about every Junior who races had such a person. The PUR Ride With Kids series is designed to encourage that a little."
With Junior-specific teams, kid- and-parent friendly introductions to the sport, multiple opportunities to race and a new permanent cyclocross facility in Covington, Kentucky, that literally overlooks downtown Cincinnati, the future of cyclocross and other cycling disciplines looks set to continue its torrid growth in the Midwest.