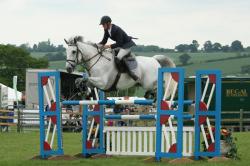 Cyclocross is a brutal sport for sure, with its varied off-road surfaces, epic conditions, and the need to jump over barriers at speed in front of crowds. Unfortunately, a few bad apples turn to "juice" to seek an edge in 'cross and deal with the pain. Well, such riders aren't alone. It appears that when faced with cyclocross-like demands, horses aren't immune to the temptation of doping as well.
According to the Associated Press, 15 of 49 horses were drug tested at the Beijing Olympics and four of them have tested positive for the banned pain reliever Capsaicin, a derivative of chili peppers. The drug is not typically administered by mouth (you probably can keep eating those burritos) but topically via a lotion or paste – think very hot embrocation. (Which company will be the first to have habanero embrocation debuting at Interbike?)
Over 25% of the horses tested positive for a banned substance, and yet cycling is still getting a bad rap for its drug problems?
Rumor has it that the bronze-medal Norwegian horse is appealing the suspension in attempt to keep the medal, and may be hiring attorneys Howard Jacobs, Maurice Suh, and Robert Redford to help its case.
Read more about this latest doping scandal at Yahoo Sports.