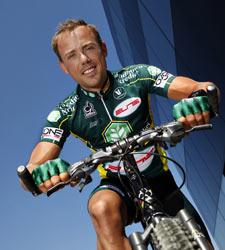 Multiple UCI Cyclocross World Cup Winner and former World Champion Sven Nys is lining up for Belgium to race the best mountain bikers in the world in the Olympic mountain bike race on Saturday. With newly added technical features and the inevitable mud promised by Thursday's rains, Nys, like skilled American mountain bike and cyclocross racer Adam Craig, can be considered a medal contender. Belgium is counting on Nys to change its Olympics fortune, as its current medal count is zero. Bookmakers aren't so sure, leaving Nys' odds at 20:1.
Cyclocross Magazine's Euro-correspondent and columnist Christine Vardaros secured an exclusive interview with the Belgian celebrity to chat about this coming 'cross season, his new team, his training secrets, and of course, his upcoming Olympic mountain bike race. Here's an excerpt from that interview about his Olympic debut, to be published in full in Issue 4, due out late September.
CXM: Congratulations, your first MTB Olympics. You must be thrilled!
SN: Yeah, I'm a little bit nervous and I am really happy that I can go with the 60 strongest mountain bikers in the Olympics. Three years ago when I was world champion in St. Wendel I said to myself, OK, now I want something new – something that is totally different and the Olympics was a dream when I was a child so of course it is not so easy to do it. It is a different discipline but now it is one week before I go to Peking and I am really excited.
CXM: What are you expectations for the race? Or does that depend on getting to the base of the hill 200 meters into the race first?
SN: Well, I traveled there to look at the track to see how it is. I went there for 3 days – one day on the plane, one day for training, and one day flying home. I saw that the track is really good for a cyclo-cros specialist. Not a tough mountain bike race so I think that is very good for me. The only problem is the heat. I think maybe it is a problem for everybody but I know that I am a little bit less suited for the heat. There is more power in my legs in winter when it's 5 degrees (celcius) than when it is 30-33 degrees (celcius) but we'll see. The condition is good, the shape is good so I will try have a good race and I hope that I can be there with the ten best racers – then I'm happy.
CXM: You are the biggest name for the Olympics here in Belgium because you have the fans from mountain bike and cyclocross – as well as road – watching you.
SN: I think maybe we can do something new in Belgium. Mountain Biking is not so popular in Belgium. Not like cyclocross. But I see in the last three years that there is more interest from press and from television because I am racing now also on mountain bike. I think it is good for the younger riders for the mountain biking in Belgium.
CXM: Now that you've been focusing more on mountain bike than road racing over the summer this year more than road riding, how do you think that will affect your upcoming cyclocross season?
SN: I still race on the road because it is best to have the condition and the speed and explosive acceleration. I race on the road even though it is a different discipline. But when you have enough rest it is possible to do it. But the races on the road at the moment are just for training – just for the explosive accelerations for the speed but the important races [this summer season] are of course mountain biking. And after mountain bike season, cyclocross season.
CXM: With the Olympics on your schedule, will you start cyclocross season later than normal? Which race will be your first?
SN: One week later. Normally the season starts Erpe-Mere 14 sept, but I will start one week later in Neerpelt. But over the whole season I try to race I think 10 races less than last year because I see that the young riders are doing fewer races than me and I must try to be good at the end of the season also. So 30-35 races is enough for me in the winter now. For the last years we raced about 45 races in a season. That is a little bit too much. There's no time for training anymore so you see that the condition is going a little bit down. It's better to train a little bit and have some more rest so you can be good at the end of the season.
I think I'm gonna be good in the beginning of the season because the race in Peking is the last week of August. One month later is the start of cyclocross season. I don't think I'm gonna rest more than one week but the condition is not gone in one week. Then after training for three to four weeks and go to the first cyclocross race, I can race for the victory I think. And of course the peak is coming November with Asper-Gavere, Koppenberg – very important races for me . But I think the condition is good enough to race the whole season on a high level.
See the rest of our in-depth interview with Nys in Issue 4. Not a subscriber yet? Subscribe today!