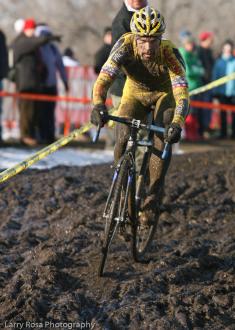 This past Saturday on a brand new Ridley mountain bike and through an increasing rain, Jonathan Page tuned up his cyclocross fitness by winning the 2008 Chequamegon Fat Tire Festival 40 mile mountain bike race. The Festival is one of the midwest's biggest mountain bike races. Just like Ryan Trebon and Katie Compton did at the Teva Games earlier this summer, and as Compton did in the short track event at the mountain bike national championships, Page, a cyclocross specialist, traded in his skinny knobbies for fat ones and beat the mountain bikers at their own game. Jonathan Page will start his 'cross season this weekend at the 2008 KTR DoubleCross UCI C2 races in Michigan.
Full press release below:
Cable, Wis. – For Jonathon Page (Ridley/Planet Bike), the 2008 Chequamegon Fat Tire Festival was only the second ride on his new mountain bike, but he made the most of it. The 2007 World Cyclocross silver medalist bridged across to Jeff Hall (Salsa) with eight miles to go and then powered away from Hall on the last climb to win the Chequamegon 40 by eight seconds. T.J. Woodruff (BMC) rolled in 40 seconds behind Page for third place.
Hall, the 1995 Chequamegon champion, attacked alone about halfway through the race, just before Martel's Pothole, and managed to pull away. "It knew it got skinny in there, more like a mountain bike race," he said. "It was muddy so that helped too." With thirteen miles to go, Hall had built his lead to 45 seconds over a chase group of a dozen riders. By the time he cleared the Seeley Firetower Climb, he'd increased his lead to one minute.
Woodruff led an eleven-man chase group up and over the Firetower Climb, sensing that Hall was slipping away. The group more or less stayed intact until Page launched his attack on the relentless climbs of the Birkebeiner Ski Trail and quickly bridged up to Hall. "I knew it (the course) got harder," Page said, after waiting until the closing miles of the race to make his move. Page had ridden the last miles of the course the night before, his first ride on his Ridley mountain bike, and knew those hills were coming. "He (Hall) was very strong. I just capitalized on the situation."
Hall, who had been alone at the front for nearly 15 miles, managed to stay with Page until the last climb up Telemark Hill, a mile from the finish. "I felt pretty good just to stay with him," Hall, who was only riding his second race of the year, said. "He just had a little more at the end."
In the women's race, Lea Davison (Trek/VW) moved up from her third place finish last year, beating by nearly three minutes the 2007 champion Jenna Zander (Cannodale/Sobe).
Zander forged ahead to an early lead when she got around a horrific crash on Railroad Avenue in Hayward, a half mile into the race. "I heard all these people going down behind me," Zander said. She found herself the only woman in a lead group of 40 riders as the race exited the pavement and entered the Birkie Trail at Rosie's Field. "I was dangling at the back of the lead group."
Davison quickly bridged the gap, though, and caught Zander a few miles later. "I felt phenomenal. I'm having the season of my life," she said. Davison attacked Zander and moved away in a small group and had a comfortable lead by Highway OO, 16 miles into the race.
By the Seeley Firetower, she had built her lead to three minutes. "I didn't know if she was on my wheel or not," Davison said. She didn't want a repeat of 2007, when Zander, Davison's Trek/VW teammate Sue Haywood and herself were together with 200 meters to go. Zander won that sprint.
But that was not to be, as Davison cruised in at 2:19:26 for a comfortable win, over two-and-a-half minutes ahead of Zander. Three-time champion Catherine Walberg took third, crossing the line in 2:31:06.
Jake Richards of Callaway, Minn. won the men's 16-mile Short & Fat in 51:32. Aristotle Peters was second in 52:10 and Luke Baker came in third at 52:29.
In the women's Short & Fat, Mary Langdon of Cloquet, Minn. won a close race, beating Cindy Bijold by 13 seconds. Langdon finished in 1:02:06. Local rider Bean Linzmeyer of Hayward, Wis. took third.
See cheqfattire.com for complete results.